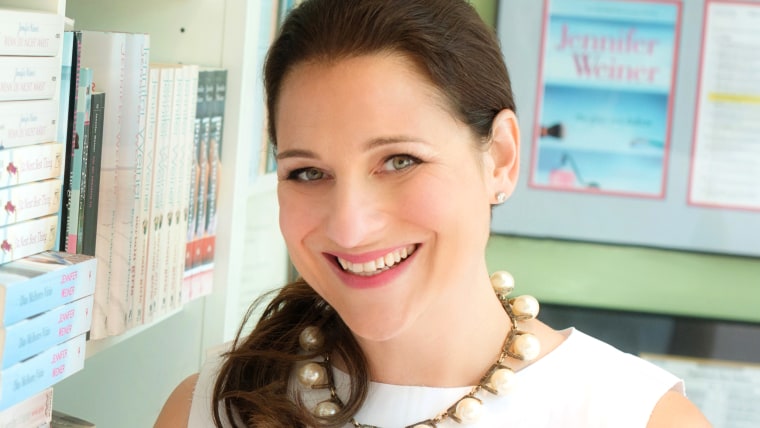 Jennifer Weiner, the #1 New York Times bestselling author of 11 books, is out with a brand-new novel: "All Fall Down," which hits stores June 17. "All Fall Down" tells the story of Allison Weiss — a suburban mom struggling with addiction and finding her way back up again. You can check out an excerpt here!
Weiner, whose books include "Good in Bed" and "In Her Shoes," lives in Philadelphia with her family. So how does this publishing powerhouse start her days? Here, she shares her morning routine with TODAY.com:
Wake-up is generally around 7 a.m., prompted either by a restless little dog or a small child entering the bedroom.

From 7 a.m. to 8 a.m. I get myself dressed and fed and supervise the dressing and feeding of 6-year-old Phoebe — big sister Lucy, 11, protects her privacy and clothing choices fiercely, and takes care of herself. Phoebe's big thing these days is "being little Lucy." She wants to dress like her big sister, who indulges this at least some of the time. So Phoebe, dressed in her undies, will sidle through their shared bathroom and into Lucy's bedroom, where she will hesitate on the perimeter.
"Do I have permission?" she'll ask. (For years, Lu had a sign on her door that said "NO ONE UNDER SIX ALLOWED THIS MEANS YOU PHOEBE," so Phoebe always asks.) If she has permission, and if Lu divulges her wardrobe choice, it's then my job to rifle through Phoebe's dresser and find, if not an exactly matching outfit, at least something that's close enough.
I supervise tooth-brushing, braid hair, get the lunches out of the fridge and herd everyone out the door. By 8 a.m. (during the school year), or 8:45 a.m. in the summer, we're in the car, on our way to the girls' school, about two miles away. (My gentleman companion walks [our dog] Moochie). Some mornings I'll stop at the supermarket to pick up something for dinner. I'm usually home by 9 a.m.
For breakfast, I have a protein shake! 100 calories, 20 grams of protein and it tastes like watery chocolate milk. 
I try to exercise four or five days a week, for physical and mental health. Lately, I've been doing hot yoga, which is 90 minutes of undiluted agony…but I feel great when it's over!

If it's a yoga day, I'll pack for yoga, and be in a taxi by 9:45 a.m. If it's a work-out-at-home day, I'll either head out for a run or down to the basement to do some kind of weight-bearing workout (squats, lunges, jumping squats, burpees, planks, more lunges, side planks, more squats...).
I try to be writing by 11 a.m. (non-yoga days) or 12 p.m. (yoga days). No music — I like it quiet! I try to start where I stopped the day before, and I aim for 2000-3000 words a day. Plus, I'll tweet (@jenniferweiner), Facebook, answer email and sometimes shop for things.

On yoga days, I'll have lunch when class is over. On work-out-at-home days, I'll take a shower, then head to my desk, which is in my closet.
By way of explanation, I basically have Carrie from "Sex and the City"'s closet…except, due to lack of interest (mine and the designer's), I do not have Carrie's wardrobe. Thus, my ginormous closet has become a combination library/clothing storage space/office.
There's a vanity with a gigantic round light-up mirror where a lady of the house with different inclinations would probably do her makeup, but it's where I work…

….usually with Moochie snoozing at my feet. 
Check out more morning routines here.