/ Source: The Associated Press
Beck is back, and he's not a loser, baby. This week also brings new albums from Aslyn, 112, John Pizzarelli, Slunt and The Hip Hop Hoodios.
"Guero," BeckBeck's "Guero" sounds a little bit like deja vu, and a whole lot deconstruction.
But nearly a decade after fusing acoustic guitar riffs with scratching turntables and drum samples on "Odelay," the gangly kid from Los Angeles who took up cut-and-paste music making and called it his own hasn't lost his effectiveness.
Reuniting with the Dust Brothers on "Guero" — Spanish for "white boy" — the album continues Beck's melting pot mix of rap, funk, folk and rock. While the approach could lead to a rehashing of that sound, instead, Beck has discovered something fresh in all that he has done before.
The pseudo-dance tracks "Hell Yes" and "Girl" revisit the mood of 1999's "Midnight Vultures," a highly produced album that critics panned for its neon-light contrast to the Beck everyone knew. But these songs are more perfected and less absurd.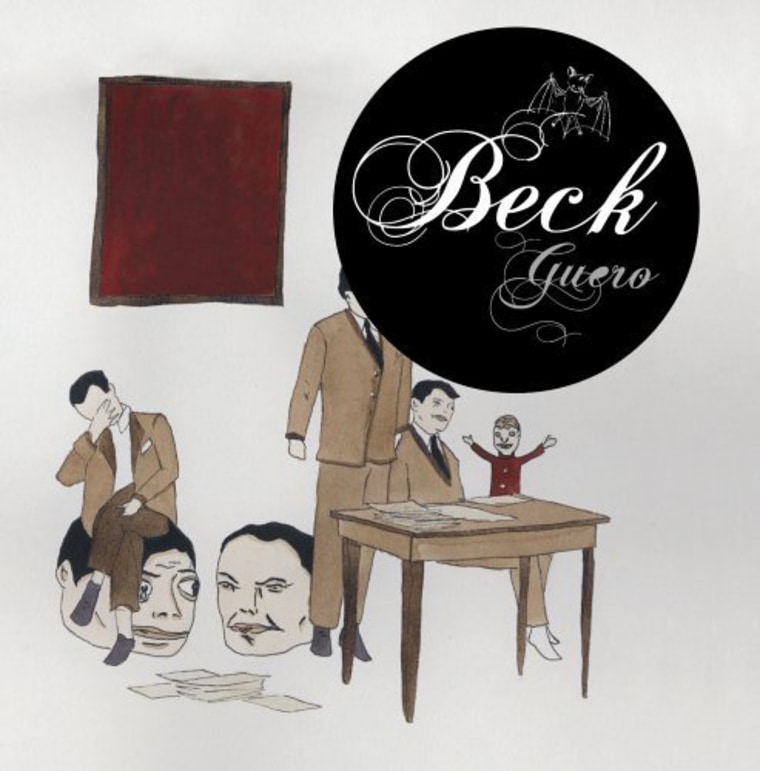 And while Beck once sang — or better yet, rapped — about getting crazy with cheese whiz, "Guero" finds him singing about matters seemingly too serious for a someone who has posed with an acoustic guitar while wearing a gas mask.
"It's a little too much to ask of faith. It's a little late to wait for fate. So tell the angels what you seen, a scarecrow shadow on a Nazarene," Beck sings on "Emergency Exit," a loping hymn that stews in video game sound effects with an emotive chorus and jarring acoustic guitar.
Coming on the heels of 2002's "Sea Change," a somber acoustic album of mellow, even depressing songs, some may wonder whether "Guero" is meant to rekindle past glories amid slipping sales and unfavorable criticism.
Maybe. But what critics loved about "Odelay" was the postmodern disregard for structure. What separates "Guero" from that is Beck's maturity now: what he sings about and how he does it.—Ryan Lenz
"Pleasure & Pain," 112Listening to a 112 album is sort of like getting the supermarket version of your favorite product: while the group is lacking a brand name, they still have all the right ingredients to keep you satisfied.
"Pleasure & Pain," the latest disc from the soulful male quartet, mostly contains the former instead of the latter, as they croon about sex, infidelity, and love with seductive ease. The men seem to be at their best when apologizing for being at their worst, like on the repentant "What If," where a trifling boyfriend realizes he's been a trifling boyfriend a little too late in the game.
Surprisingly, it's the attempts to give the group some A-list cache that mars the disc. Jermaine Dupri's club track "Way" falls way flat, while "Closing the Club" with Three 6 Mafia is a crude throwaway song that's jarring considering the suave tone of the rest of the album. This is one time when the generic version is the preferred one.—Nekesa Mumbi Moody
The Bravery, "The Bravery"If you spent your teen years in the 1980s holed up in your bedroom, listening to New Wave, dressing in black and wearing your dad's trench coat to school, you probably won't enjoy The Bravery's debut release.
There's nothing new here. Nothing original. Nothing that doesn't make you say, "That sounds like The Cure-The Smiths-The Church."
But for those born in the '80s who missed the good stuff, the recycled version must be an adequate substitute because The Bravery is selling out shows like crazy. It's all here — the synthesizers, the drum machines, the angst. And it's darn catchy.
The songs are simple, the lyrics are cliche-laden and all you need is one listen to start singing along. The Bravery's Sam Endicott sounds most like The Church's lead singer, Steve Kilbey, but with less talent. His voice is so synthetic, so distorted, so electronic. He says he decided to start a band in 2001, declaring he wanted to be in charge and he wanted to sing even though he "can't sing a note." He was right.
But the band seems more about style than substance anyway. Their poseur looks with tight pants, over-gelled hair and goofy Adam Ant-ish makeup are as overproduced as this CD.—Kim Curtis
"Lemon Love," Aslyn
A business called Polyphonic HMI invented software that it claims can prophesy whether a song will sell by comparing its mathematical patterns to those of past smash hits. The company boasts that it forecasted the unrelenting success of Norah Jones' record "Come Away with Me" before the avalanche.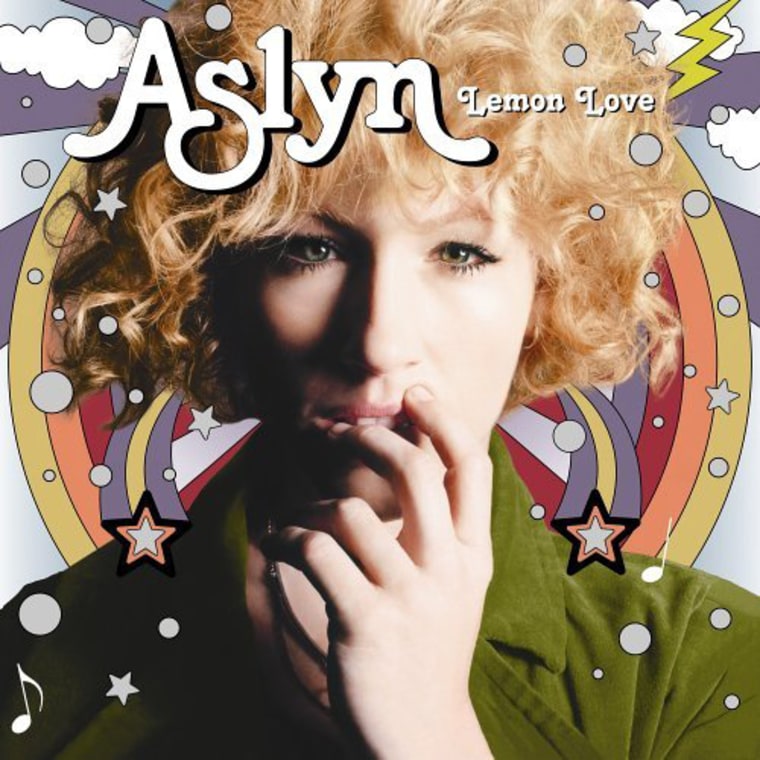 Now, Polyphonic predicts that Aslyn — a dishwater blond singer-songwriter plucked out of Atlanta — has more than a few hits under the hood of her debut "Lemon Love." Polyphonic claims the album is "mathematically coherent."
I'm not so good at math, but I can kind of guess what Polyphonic is alluding to. Aslyn has a sweet, honeyed timbre, kind of like balladeer Jill Sobule — but without those pesky witty lyrics of Sobule's that might turn off people who don't like to think too much about what's going on in a song.
Aslyn's record is populated with peppy piano accents — sort of like Ben Folds's — but adds armies of strings, percussion and synths so that the plain ol' piano doesn't get lonely and listeners don't get bored. Aslyn certainly sounds like she has boy problems, but in that huge adult contemporary demo fashion rather than teenybopper.
Pleasant. Unchallenging. Attractive. Aslyn.—Caryn Brooks
"Get A Load Of This," SluntThe immediately insignificant band Slunt has released its debut album, "Get A Load of This," full of brass and bluster, but plenty short on ingenuity or anything of substance to offer the listening public.
It's easy to sour on a band whose lead singer Abby "Abbylicious" Gennet appears to have spent more time primping for the pages of Stuff magazine than working on her vocals. She sounds like a pretty girl who wishes she was the talented lead singer of a hard rock band. And the album is the unfortunate proof that she is indeed that girl.
Hackneyed, staccato guitar stabs lace tracks like "OK OK" and "Hawg," as Gennet huffs on the latter track, "That's the last time you'll ever taste me on your lips," a song about a tough breakup and the physical dynamics that keep troubled couples together.
The unraveling begins with Gannet's faux-tough rock voice. There's not an ounce of sincerity as she sings, mostly, about sex. Her contrived groans sound like she sat in a studio chair and oozed them without another musician in sight.
For that matter, all Slunt's musical parts sound disparate, and nowhere near as cohesive as a band should be.
Drummer Charles Ruggiero should consider hooking up with a better outfit. His strong work here easily outclasses his bandmates and it would be a shame for his skills to dwindle away with Slunt's future, based on this album.—Ron Harris
"Knowing You," John PizzarelliAfter taking a detour into Brazilian music with last year's "Bossa Nova" CD, guitarist-vocalist John Pizzarelli is back doing what comes naturally to him — tastefully and effortlessly swinging his way through familiar and lesser-known Broadway and pop standards, in this case paying tribute to songwriters he's felt close to during his 25-year career, including Johnny Mandel, Sammy Cahn and Jimmy McHugh. On "Knowing You," Pizzarelli augments his trio/quartet with some musician friends — most notably tenor saxophonist Harry Allen, clarinetist Ken Peplowski and organist Larry Goldings — and the rich colors they add to the mix make this among the best of Pizzarelli's 19 albums as a leader.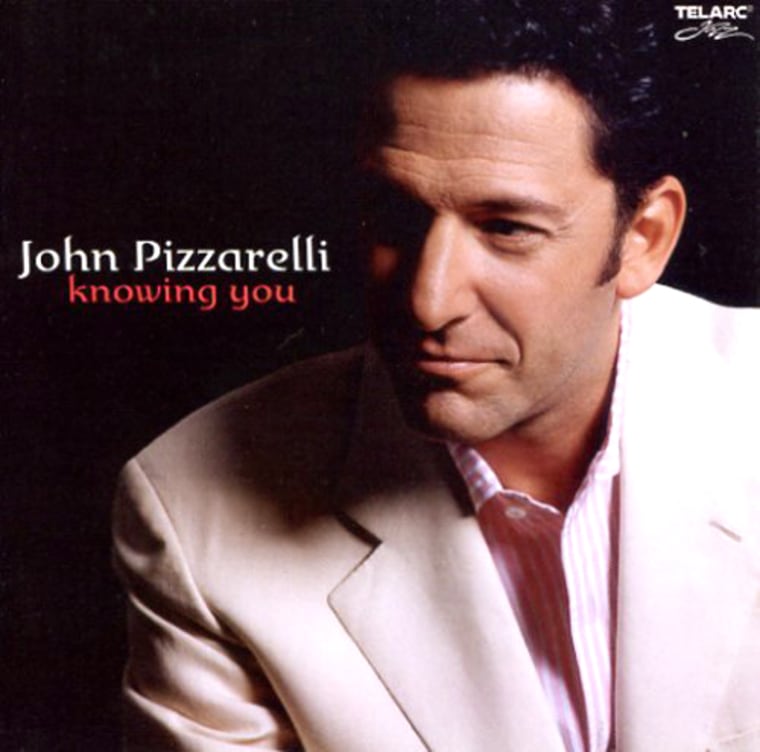 The CD opens with the perky "Coffee, Black," from the Richard Maltby-David Shire musical "Big," on which Pizzarelli scats while he improvises on guitar and playfully throws in some quotes from the Maxwell House jingle. Pizzarelli deftly mixes snappy uptempo numbers such as the Frank Sinatra-Dean Martin classic "Ain't That a Kick in the Head" (by Sammy Cahn) and Jerome Kern's "Pick Yourself Up" with mellow, slow-paced ballads such as Mandel's "The Shadow of Your Smile" and Frank Loesser's "Say It (Over and Over Again)," with Allen contributing some Stan Getz-style breathy and lyrical tenor sax solos. Pizzarelli also throws in the occasional curve ball — for example "Quality Time," Dave Frishberg's witty parody of overly busy two-career married couples, which finds Pizzarelli trading lines with his wife, singer Jessica Molaskey.
Sometimes Pizzarelli takes a minimalist approach, abandoning the guitar to focus exclusively on his delicate vocals — performing the Gershwins' "How Long Has This Been Going On?" in a duet with pianist Tony Monte, and in a more contemporary vein, Brian Wilson's "God Only Knows." Pizzarelli also contributes two original ballads among the 15 tracks — the title track, "Knowing You," written with his wife, and the instrumental "The First Hint of Autumn."
"Knowing You" is a classy, urbane session that should appeal even to those who only know Pizzarelli from his jingle-singing on the TV spots for the Foxwoods Casino in Connecticut.    —Charles J. Gans
"Agua Pa' La Gente," Hip Hop HoodiosIt doesn't get much more multicultural than this: An international and bicoastal collective of Latino Jews melding Latin rhythms with traditional Jewish harmonies for a new take on hip-hop that mixes up Hebrew, Spanish and English. Somehow it works.
The Hip Hop Hoodios (say hoo-DEE'-ohs) take their name from the Spanish word for Jews, "Judeos." Led by Josue Noriega and Abraham Velez, the group gets help from a host of Jewish Latinos from acclaimed Latin-rock bands such as Santana and Jaguares.
The lyrics are provocative, clever and funny — at least to those who are not completely offended by the band's use of language that in any other circumstance would be seen as anti-Semitic. The Hoodios take on subjects as large as Jewish history and the cultural connections to Latin America such as in "Ancient" and "1492," and as personal as a mantra rallying opposition to plastic surgery on "Nose Jobs."
Musically, the 12-song album is an intriguing mix of modern and classical instruments, cutting-edge sensibility and ancient echoes. The Hoodios are indeed onto something funky, fresh and fun.—Michelle Morgante