/ Source: The Associated Press
The Beatles are back, not in the U.S.S.R, not on "The Ed Sullivan Show" or even at Shea Stadium — but on the Las Vegas Strip as the focus of international theater troupe Cirque du Soleil's surrealistic portrayal of the Fab Four's career.
Friday's grand opening performance of "Love" was to feature red carpet arrivals at the retooled Siegfried & Roy Theatre at The Mirage hotel by Paul McCartney and Ringo Starr along with the widows of John Lennon and George Harrison, Yoko Ono and Olivia Harrison.
The deconstructed musical trip through the Beatles' past is filled with characters from their songs — the walrus, Lady Madonna, Sgt. Pepper — parts of songs, outtakes and fragments that are sure to please fans and at the same time leave them full of questions.
"John? Who knows about John," said George Martin, the Beatles' longtime producer about John Lennon, who was shot and killed Dec. 8, 1980.
"If he saw the show, he'd probably say, 'Yeah, but it could be better,"' said Martin, who worked with son, Giles Martin, to create the 90-minute show's soundscape. "John was never satisfied with anything that he ever did in his life. In his mind, he had a dream world which could not be realized."
In "Love," the Beatles' dream world does appear onstage.
'We're not here to teach the Beatles story'The performance explodes early at the hotel-casino's $130 million, 2,013-seat theater in the round with "Get Back," the band's 1969 hit, as dancers and acrobats jump and twirl in the air.
Set to blended, reversed and enhanced parts of 130 songs and unpublished outtakes, the acrobatic and dance spectacle takes the audience through World War II, the 1960s era of "Beatlemania," the band's reclusive studio years and a psychedelic time that produced songs such as "Strawberry Fields Forever" and "Lucy in the Sky with Diamonds."
Some moments allude to real-life events, according to creator Dominic Champagne. Hooded figures throwing knives at a cross hint at threats made by the Ku Klux Klan against the Beatles after Lennon famously proclaimed in 1966 that the band was "more popular than Jesus."
Also dramatized to "A Day in the Life" is Julia, Lennon's mother, whose death in a traffic accident early in his life is thought to have created a bond between Lennon and McCartney, whose own mother died when he was young.
"I tried to get inspired by the lyrics, but also the moments and the motion of their careers," Champagne said. "We tried to be spiritual and physical without trying to be too didactic. I didn't want to do the live version of 'The Anthology.' We're not here to teach the Beatles story to people."
What emerged is a multitude of symbols and metaphors that will have dedicated fans dusting off their LPs and looking through lyric books.
Harrison's desire sparked show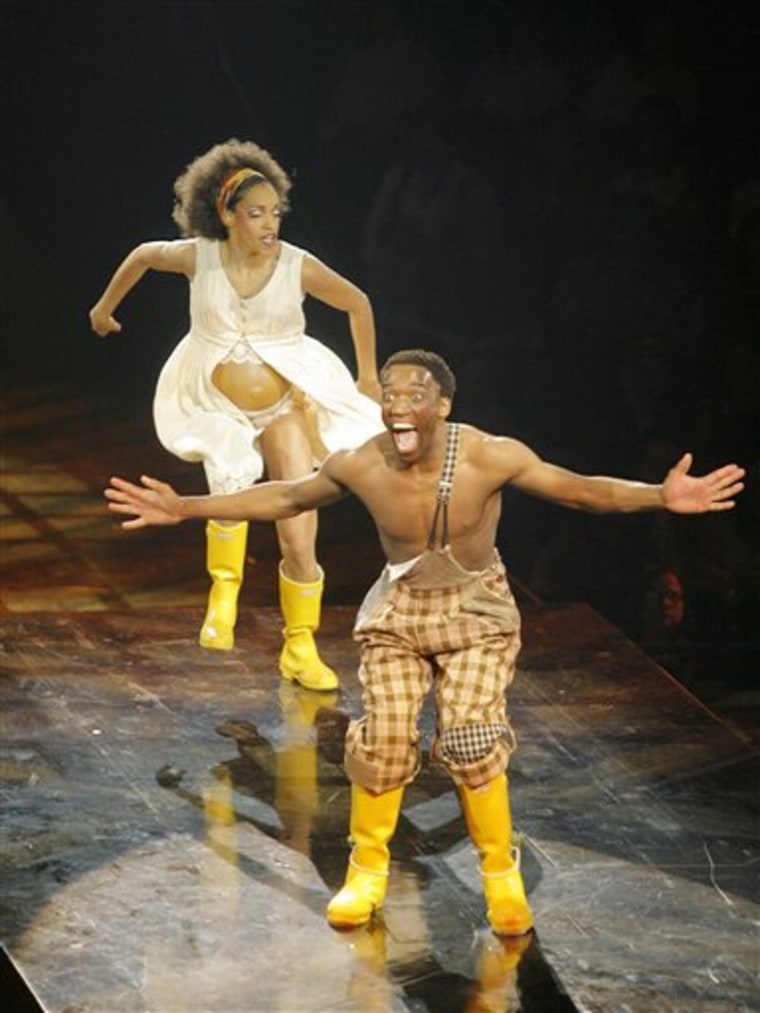 A South African tap dance in yellow gumboots to "Lady Madonna" evokes the "children at your feet" line from the song. A lonely looking "Eleanor Rigby" drags her belongings like a bag lady behind her on stage, while "Doctor Robert," who allegedly gave the band LSD in their tea, merrily carries teapot in hand.
It was Harrison's desire to do more with the Beatles' legacy and his personal friendship with Cirque founder Guy Laliberte that sparked development of the project. The Beatles' company, Apple Corps Ltd., then signed off on "Love."
The production is the first major theatrical partnership for Apple Corps, which has earned a feisty reputation for having sued companies from Apple Computer Inc. to record label EMI to protect the band's legacy. It also marks the company's most significant endeavor since 2000 when it released "1," a CD collection of 27 No. 1 singles that has sold more than 24 million copies.
Giles Martin likened the long hiatus to the quiet time from 1966 to 1967 that his father spent in the studio with the Beatles to create their seminal album, "Sgt. Pepper's Lonely Hearts Club Band."
"'Sgt. Pepper' was done because the Beatles stopped touring," he said. "And this was done because the Beatles aren't here."