Whoever takes over in the White House come January, there's a pretty good chance that what went down in the Rose Garden Monday won't happen a second time: Lin-Manuel Miranda, creator of Broadway's hippest, hottest ticket "Hamilton," performed some freestyle rap with President Obama.
But as we learned when Miranda sat down with TODAY's Jenna Bush Hager, he can lay down a fluid freestyle beat no matter where he is!
"That's what I'm rapping about," he sang as Jenna held up subject cue cards (and beatboxed!). "Savannah Guthrie, oh what's up? No doubt. The TODAY Show, all day, yo. I'm playin' with my poker face, my Al Roker face. I got the weather and what's goin' on outside. TODAY Show, I'm wavin' outside with pride."
But could Miranda find a rhyme for 'Lauer' in his TODAY freestyle? Yes! "I'm Matt Lauer. And oh yeah, I'm runnin' around like Jack Bauer..."
Clearly, Miranda knows his morning programs as well as he knows his US history. But "Hamilton's" origins are actually rooted in his own family history as well: His dad Luis was a political adviser for former New York City Mayor Ed Koch, and Lin-Manuel himself wrote political jingles (including one for former Governor Eliot Spitzer).
MORE: 'Hamilton' actor Chris Jackson talks Broadway musical on TODAY Show
"The first inspiration of making 'Hamilton' into a musical was when I realized he left his island in the Caribbean [the future first Secretary of the Treasury was born in the then-British West Indies] because he had a chance at an education," said Miranda. "My dad did the same thing."
For the elder Miranda, seeing his son succeed so wildly has been an incredible experience. "I sort of pinch myself all the time," he said. "It's the American dream."
MORE: 'Hamilton' star Lin-Manuel Miranda goes 'viral' with White House freestyle
Meanwhile, Lin-Manuel is using his newfound celebrity prowess to be heard in other ways: While in Washington D.C. he lobbied Congress to raise awareness about the island's serious financial crisis.
"These are American citizens in Puerto Rico," he said. "And they're suffering."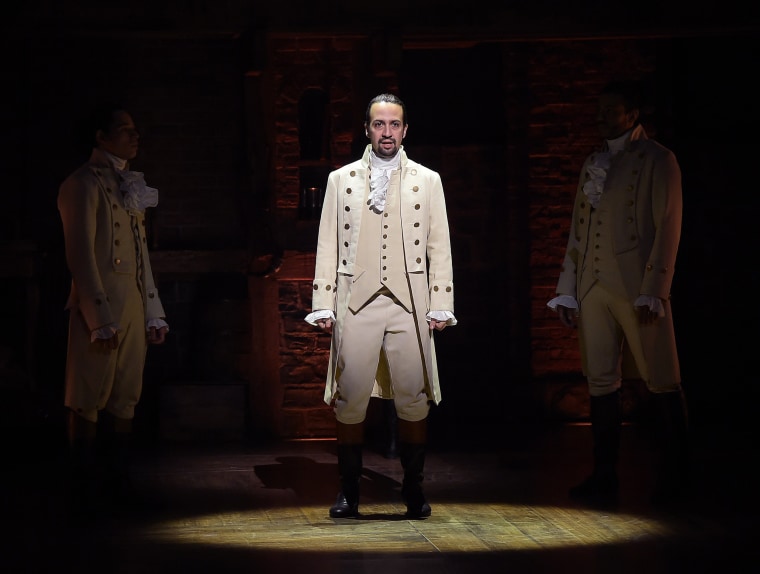 Be sure to check out Lin-Manuel's freestyling, whether on TODAY or in the Rose Garden ... and if you can, snag a "Hamilton" ticket! All are experiences you won't soon forget.
Follow Randee Dawn on Twitter.