While being a lifeguard requires water skills and life-saving techniques, playing a lifeguard comes with its own unique job requirements — like looking buff in a bathing suit and keeping that barely there costume in place.
Good thing the cast of "Baywatch" had Dwayne "The Rock" Johnson showing them the tricks of trade.
Stars Kelly Rohrbach, Ilfenesh Hadera and Jon Bass visited TODAY Tuesday and revealed some of the advice the actor-producer gave on set.
"We had to do a photo shoot, and we all had to be shirtless," Bass recalled. "Dwayne, all of the sudden, I see him in the corner putting all this oil on, and I'm like, 'What's going on over there buddy?' ... And he was like, 'You want some of my oil?'"
Not only did Johnson share the shiny stuff, he shared some wisdom.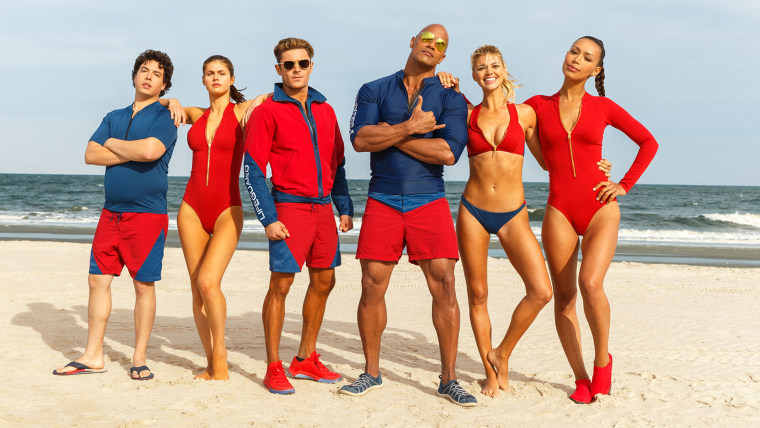 "I lathered myself completely up and I was like, 'What do I do? How do I pose for the picture?'," Bass said. "He just looked at me really confidently and said, 'Own it brother!'"
That's the kind of pro tip you can only get from a guy who first gained fame in a wrestling ring wearing little more than a Speedo — and so is this:
"He actually taught me about butt glue," Rohrbach revealed. "We were all struggling with our suits."
"I always heard hairspray," Hadera said of the best bikini solution. "But if Dwayne says, butt glue, I'm going with butt glue."
It's as simple as that.
You can see how well the "butt glue" worked when the action-comedy — complete with wedgie-filled outtakes during the credits — hits theaters May 25.
RELATED