Here's a sticker price that could make even billionaire Bruce Wayne think twice before buying. 
The first of six Batmobiles produced for the 1960s ABC "Batman" TV series has sold at auction for $4.6 million. The crowd at the Barrett-Jackson house in Scottsdale, Ariz., whooped and cheered, and the auctioneer hummed the theme to the classic show.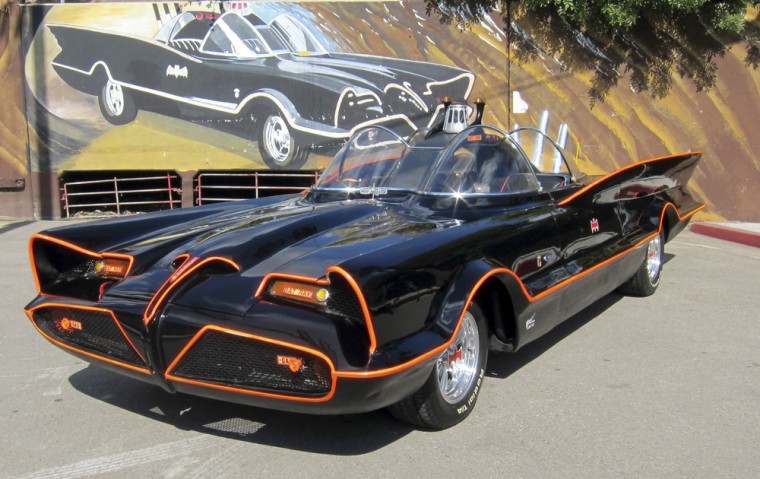 The car, designed by legendary Hollywood car customizer George Barris, sold for the upper end of its early estimates.
Photos from THR: Batman through the years
Barris constructed the Batmobile in just 15 days in 1966. It was built for $15,000 over a 1955 Ford Futura concept model (purchased for $1). It's been in Barris' personal collection ever since, and contains Batman gadgets such as a Batphone and an oil squirter fashioned from lawn sprinklers. As an added bonus, it's road legal, should its new owner care to take it for a spin.
The winning bidder was Rick Champagne, a businessman and car collector from the Phoenix area who has been attending Barrett-Jackson auctions for 15 years.
Photos from THR: Batman's greatest onscreen villains
Champagne said he grew up watching the TV show and came to the auction determined to walk away with the car. Asked where he planned to store the car, the new owner joked, "in the living room. I'm going to tear down a wall and put in my living room."
The Batmobile ties the record for the highest price fetched for a movie car at auction. In 2010, the Aston Martin DB5 driven by Sean Connery in "Goldfinger" set the record when it went $4.6 million. In 2011, the "Chitty Chitty Bang Bang" car auctioned for $805,000, shy of the $1 million it was expected to fetch.
Related content:
More in The Clicker: