Mystery solved! Iconic kids series "Barney and Friends" ran for 13 seasons, from 1991 through 2001, with the show revolving around Barney, a giant purple dinosaur who delighted in singing and dancing with kids.
Earlier this week, Business Insider revealed the man inside the suit to be 53-year-old David Joyner.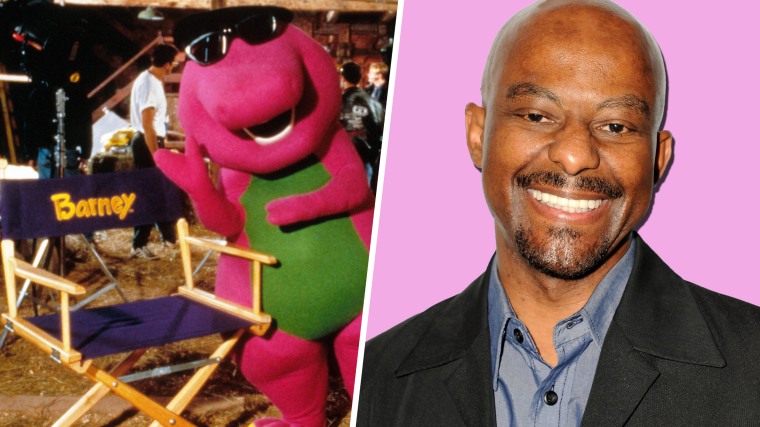 Joyner worked as a software analyst at Texas Instruments and as a "live mannequin" prior to landing the plum role, for which he donned the large purple suit for an impressive 10 years.
"Being inside this costume is pretty cool," he said in a clip the website shared on Twitter. "Now Barney is about 70 pounds and it can get over 120 degrees inside, so inside you're sweating profusely. It's a T. rex, so you're basically up to your elbows in being able to move, and then also, Barney's feet were huge."
The prolific actor — he would go on to star in "That '70s Show," "Hip Hop Harry" and "The Young and the Restless" — explained there were other parts to the costume that were difficult to deal with.
"I did have some sneakers on inside that were glued to the bottom of the feet," he said. "The head doesn't come off; the head doesn't swivel. There's no facial expressions that can be made. I can only see a certain amount — when Barney's mouth is closed, I can't see anything."
To prepare himself for his time on set back in the day, Joyner said he would practice playing the part at home. "So what I would do is I would walk around my apartment as if I was blind," he said. "I would close my eyes and I would try to feel energy — and try to feel the energy of anything that was around me, and then try to pick things up."
Joyner had to coordinate his movements into what he called "dino-sync" with Bob West, the person behind the voice of Barney. "As I had my headphones on, I can literally hear him taking his breath," said Joyner. "And knowing that as he's about to speak, I'm almost inside of him, knowing exactly what he's about to say."
Joyner added that landing the role was a dream come true for him because he wanted to be on television "so bad" since an early age, so much so that he would often "stand in front of the television and basically lip-synch."
While the gig had its physical challenges, it apparently paid well. "I remember receiving the first residual check, and the check was so big," said Joyner. "And I was just like, 'Oh my God, are you kidding me?" He ended up paying for a beautiful white stucco home with those residuals.
After leaving the show, Joyner pursued other interests outside of acting as well, becoming a tantra massage specialist, a spiritual energy healer and a reiki practitioner.