"The Late Late Show's" James Corden usually takes the driver's seat beside the talent for Carpool Karaoke, but he's the one who needed a ride in the latest installment.
Good thing legendary singer Barbra Streisand was around to give him a lift.
Well ... it was sort of a good thing, at least until he found out she failed her driving test — three times!
After the 76-year-old superstar let the wheel get away from her for a moment, she let out a "whoops!" and confessed to those test results from the last time she renewed her license.
"This is a huge mistake," Corden said, fearful for his immediate future.
Streisand went on to explain that, although she eventually passed the test, an accidental trip up an interstate ramp left her less than eager to drive at all.
"I thought, 'That's it! I'm not driving anymore,'" she told him. With a grin, she added, "So, you're lucky!"
And after some thought, he laughed and resigned himself to whatever fate had in store.
"I've got to be honest, if this is how I go out, I'll take it!" he assured her. "It's a good way to go. 'How did he die? Barbra Streisand.'"
With his nerves comically in check, they continued the ride in the traditional fashion — filled with music, like "Memories," "Enough Is Enough," a medley of classics and even her new single, "Don't Lie to Me."
But soon the topic turned to her fears, which had nothing to do with driving.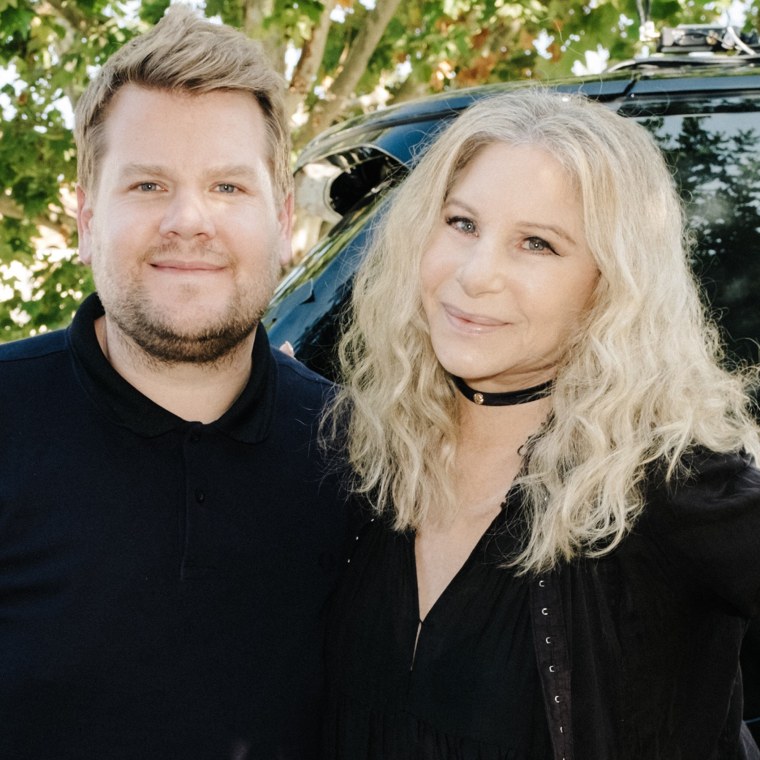 Streisand is well-known for battling stage fright so daunting that it led to a 27-year absence from the stage.
"I don't get nervous-nervous," she said of performing these days. "But I don't enjoy it. I get scared."
The source of that fear? "I don't want to disappoint people."
That was hard for her pal in the carpool lane — or frankly any fan — to imagine.
But she also revealed her mantra to get through that feeling: "Let go and let god."
Maybe those words helped Corden get through the rest of the trip — that plus the simple fact that was riding shotgun with an absolute icon.
However, Streisand told him she didn't see herself that way at all.
"Well, you must do on some level. You must think, 'I'm Barbra Streisand!'" he said. And when she continued to insist otherwise, he came up with a pretty convincing counterpoint: "Didn't you call up (Apple CEO) Tim Cook to get him to change how Siri says your name on an iPhone?"
And more to the point, Cook promptly took care of the pronunciation problem.
"That's different," she shot back, chalking it to a customer service issue she simply took to the top.
When Corden asked for more details, her answer proved his point.
"I once called Steve Jobs, you know, when I couldn't figure out something on my computer," she said, adding that the late co-founder and CEO of Apple got right back to her (and blamed the issue on Microsoft).
Yeah, she's kind of a big deal.