"Comedians in Cars Getting Coffee" will feel downright presidential when the popular Web series returns Dec. 30.
That's because Barack Obama will be Jerry Seinfeld's guest for the premiere of Season 7, whose later episodes on Sony's Crackle platform will feature a return to full-time comedians, including Will Ferrell and Steve Martin.
The president can be heard — but not seen — supposedly answering a White House phone in a YouTube trailer posted Monday, but a Crackle press release photo appears to show Obama sharing a laugh with Seinfeld. Astute fans of Seinfeld's conversational series will note that, unlike previous "Coffee" installments that feature the host doubling as a chauffeur, the photo relating to the Obama episode shows both the host and guest as passengers in a vehicle emblazoned with a presidential seal.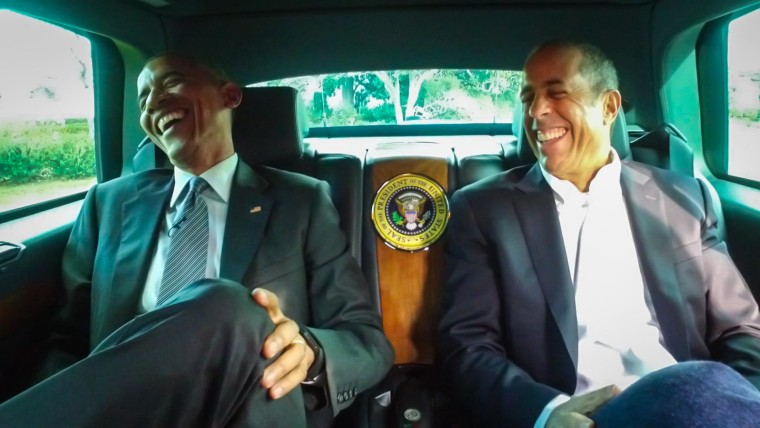 However, they took turns taking the wheel of a different vehicle at another point of their conversation.
"The episode featuring President Obama was shot at the White House earlier this month, and features both the President and Seinfeld driving a 1963 Corvette Stingray Split Window Coupe, and talking about life in the White House over coffee," reads part of Crackle's press release, issued Monday.
In a statement, Seinfeld found the experience to be out of this world.
"Growing up in the '60s my kid dream was always to be an astronaut — doing a comedy show with President Obama in and around the White House felt like going into space," he was credited as saying. "'How did I get here?' 'Is this really happening?' The president's humor and generosity are the only reasons this was even possible. He was so easy and fun to be with. Being president and just a cool guy to hang out with at the same time made the experience my own personal moonwalk. It was an unforgettable day."
Although the commander in chief isn't likely to headline at the Improv in the near future, he's been in on the joke on more than a few occasions. After his "Saturday Night Life" cameo as a presidential candidate, the world leader would go beyond the requisite roasting of fellow politicians at the annual White House Correspondents' Dinner to zing Zach Galifianakis on the Funny Or Die series "Between Two Ferns."
RELATED: Star-spangled laughter: 17 presidential candidates who appeared on 'SNL'
Garry Shandling, Kathleen Madigan and Sebastian Maniscalco are other guests to grab "Coffee" with Seinfeld this season, launching a week earlier than previously announced. The Obama episode will be available to stream at 11:30 p.m. Dec. 30.
Follow TODAY.com writer Chris Serico on Twitter.