Warner Brothers Pictures' Gangsters Collection
Before "The Sopranos," before "Goodfellas" and "The Godfather," gangsters on screen were the domain of Warner Brothers. In the 1930s especially, while other studios preoccupied themselves with escapist fare in the forms of lavish musicals or screwball comedies, Warners blazed a grittier path, churning out hard-boiled sagas of pistol-packing tough guys, swell dames and the riches they craved.
Finally, aficionados of the gangster genre can rejoice. Warner Brothers has released "Warner Brothers Pictures Gangster Collection," with six of the most powerful and influential films from their library.
Four of the pictures are headlined by James Cagney, a Warners contract player with an independent streak who, because of the respect and immense popularity he generated, had more clout when it came to creative input than most of his peers. And it shows.
The four Cagney films are "The Public Enemy," "Angels With Dirty Faces," "The Roaring Twenties" and "White Heat." Those pictures are inextricably linked to Cagney's legacy. So, too, are the other two films in the set with their stars: Edward G. Robinson in "Little Caesar" and Humphrey Bogart in "The Petrified Forest."
All of these films were groundbreaking for their time, and still hold up today. "The Public Enemy" and "Little Caesar," released in 1931, catapulted Cagney and Robinson to stardom, which is fascinating because each did not seem destined for that path with these projects. Cagney was set to play the supporting role of Matt Doyle. But his work in another picture caught the eye of Warners' executives, and they switched him to the starring role of Tom Powers. And Robinson was a genteel, dignified man, an art collector, and selling him as the ruthless and deadly Rico took some doing.
Bogart's star also got a boost in "The Petrified Forest," a role he originated on Broadway.  "Angels With Dirty Faces" and "The Roaring Twenties" are good, old-fashioned melodramas with a guttural pull that will keep you enthralled and riveted.
The gem of this collection, though, is "White Heat," which Cagney did in 1949, after taking a 10-year break from gangster films because he was tired of doing the same types of characters. With the mentally unstable Cody Jarrett, Cagney created one of his most unforgettable characters. "White Heat" is not to be missed.
Each of the six disks in this DVD set are constructed similarly. Each features commentary by a film historian — the best being Rick Jewell's on-the-money analysis of "Little Caesar" — plus a Warners Night At The Movies, which constructs a typical lineup of entertainment for a theater at that time, including newsreel footage, a cartoon and a short.
The most fascinating work is included on the featurettes. Each disk has a distinct mini-doc for that film, using a rotating collection of experts, including Martin Scorsese. The six featurettes are loaded with juicy tidbits about the making of these films, including one about "Angels With Dirty Faces" relating how Cagney scolded Leo Gorcey of the "Dead End Kids" when the latter tried one time too many to improvise dialogue.
If you're a fan of gangster pictures, you owe it to yourself to venture back to where it all began.
Warner Home Video, $68.92 for the set, $19.97 individually
Two Jacques Becker films:
"Touchez Pas Au Grisbi" and "Casque D'or"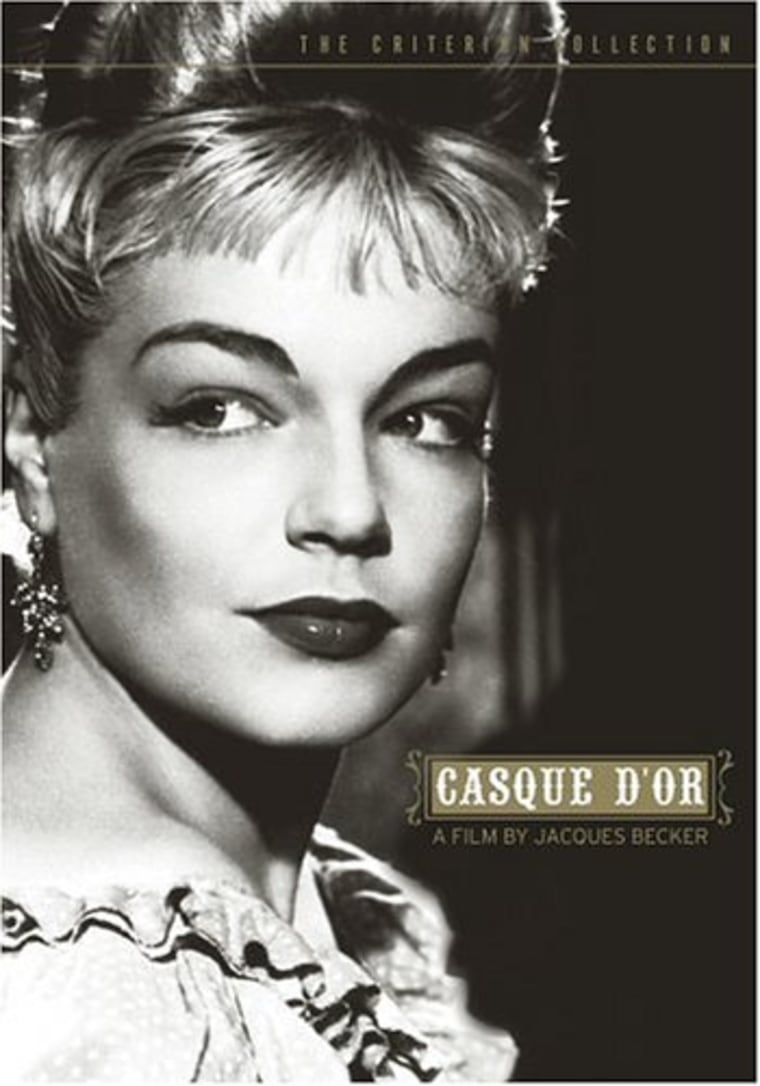 Like many directors before and after him, Jacques Becker had a fascination for gangsters. But his take on them was more elegant, more character-oriented, and less dependent on filling bad guys full of lead.
The Criterion Collection has released two of Becker's most memorable films, each dealing with the subject of organized crime from an understated and contemplative approach.
"Casque D'Or" stars Simone Signoret as a gangster's moll who falls in love with a carpenter. Naturally, this period romance, set around the turn of the 20th century, is doomed from the start. But Becker skillfully keeps us fixated on the slow-burning conflict between the lovers and the forces that will eventually tear them apart.
This picture bombed at the box office when released, partly because French audiences were expecting a traditional, rough-and-tumble gangster film, not a period romance amid the backdrop of cheap hoods and ramshackle bars. But it found its audience overseas, and then returned to France triumphantly.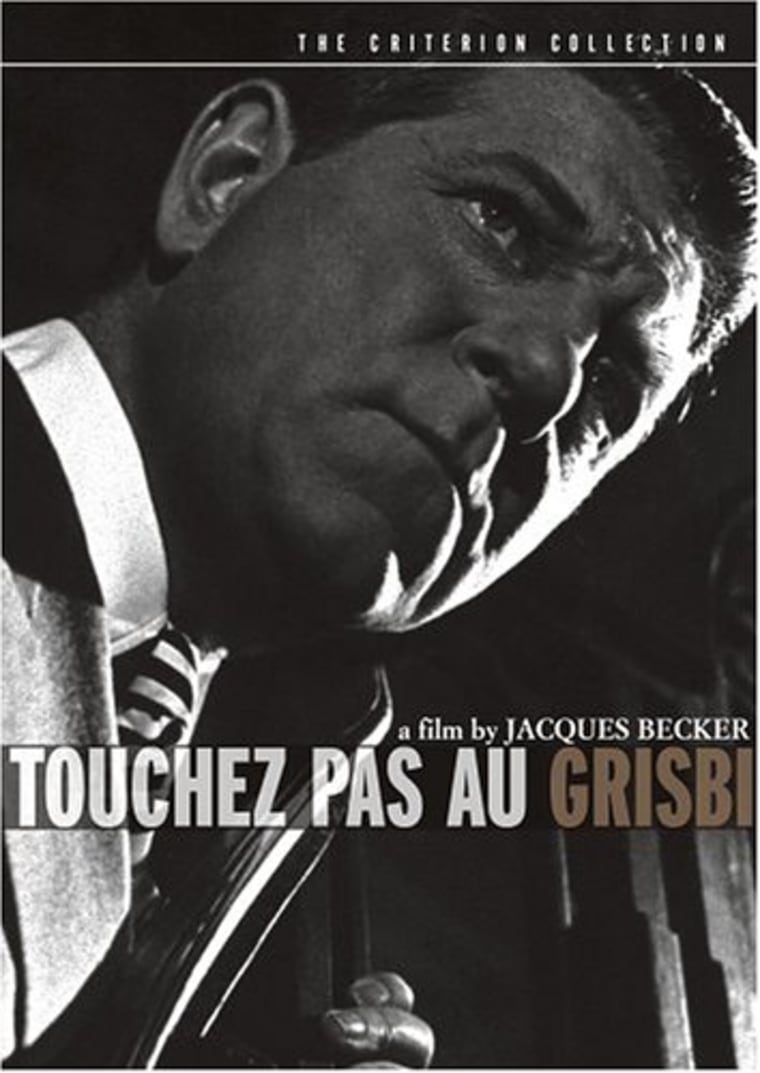 The other Becker film here is "Touchez Pas Au Grisbi," and the translation of the title — "Hands Off The Loot!" — tells you this one is more nourish, albeit barely. Jean Gabin, the great French actor best known for turns in "La Grande Illusion" and "L' Air de Paris," among many others, plays the weary Max, an aging hood who gets drawn into a dispute with a rival mob over a load of money.
Both of these pictures are well worth seeing because they take the gangster genre in a different direction, building tension in tiny increments while revealing character.  They are vastly different films, which speaks to Becker's intelligence and versatility.
"Casque D'Or" comes with a commentary by film scholar Peter Cowie, which is excellent, plus some old interviews with Signoret and Serge Reggiani, who plays her lover Manda, which are passable. "Touchez Pas Au Grisbi" is a little thinner, featuring mostly interviews with some of the participants. The best extra here is an excerpt from a French TV show discussing Becker that also features Francois Truffaut.
French gangsters? Don't knock them until you've tried them.
Criterion Collection. "Casque D'Or," $39.95; "Touchez Pas Au Grisbi," $29.95.