Award shows may be a family affair for Oscar-winning brother-sister duo Billie Eilish and brother Finneas O'Connell, but Finneas is making a name for himself as a solo act at this year's Grammy awards. 
Known mononymously as Finneas, the 25-year-old is nominated for best new artist and is up against other Internet fan favorites like Olivia Rodrigo, Saweetie and the Kid LAROI.
He's also nominated for a slew of other Grammys, and will perform with Eilish at the April 3 show. Aside from being the big brother of the "Happier Than Ever" singer, here's what to know about Finneas ahead of his performance. 
He and sister Billie Eilish write music together
Finneas is a singer, songwriter and producer — and the mastermind behind the song that skyrocketed Eilish to success, "Ocean Eyes."
Eilish shared the song's origin story in an interview with Teen Vogue. Finneas originally wrote the song, which featured then 14-year-old Eilish's vocals, for Eilish's dance teacher to use for a work of choreography. The song grew in popularity on SoundCloud, and Eilish gained attention as a singer.
Ever since their breakout success in 2015, the two have been working side-by-side, including on "Happier Than Ever," an album up for multiple awards at the 64th Grammys.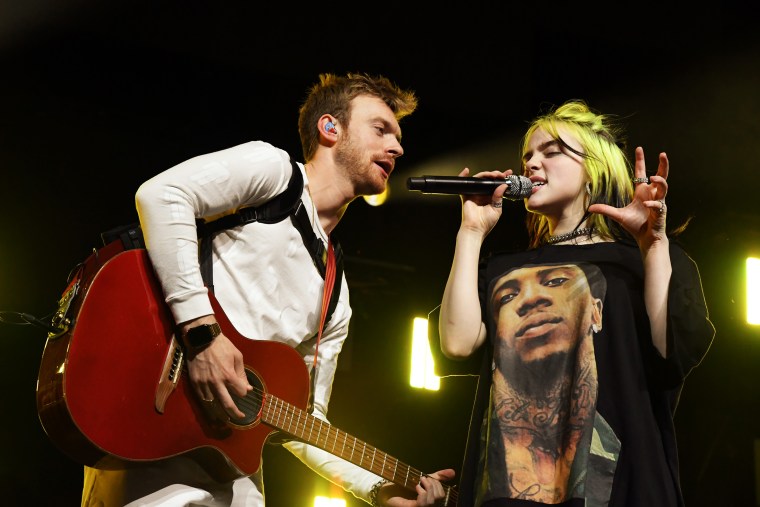 Finneas said on the Zach Sang Show that "Happier Than Ever" is his favorite song off of the album of the same title, though he is "bursting with pride" about the rest of the songs as well. 
"There's something about that song that I've been trying to make for 15 years of the kind of Bohemian Rhapsody, starts in one place and goes to a completely different place," Finneas said.
Finneas has a unique style a producer
To set his songs apart, Finneas incorporates everyday household items into his work.
"I'll walk around with an iPhone … and if I hear an interesting sound I'll record it and then later I'll listen through and I'll go, 'I wonder how I can use that,'" Finneas told Jimmy Fallon.
These sounds include an Australian street crossing signal in "bad guy" and the whizzing sound of a dentist's tool that adds a creepy effect to Eilish's "bury a friend."
He's worked with many other artists, including Justin Bieber
For his work on "Happier Than Ever" as a producer, sound engineer and songwriter, Finneas is nominated for record of the year, album of the year and song of the year in 2022.
The 64th Grammys also show the extent of Finneas' work with other artists. Finneas is also nominated as a producer, engineer and songwriter for album of the year for Justin Bieber's "Justice."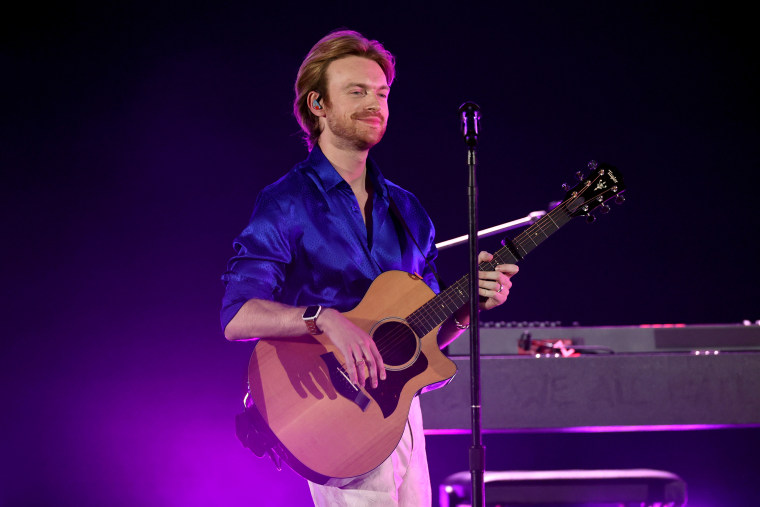 Bieber's sixth studio album features the TikTok-popular song "Lonely," which Finneas wrote with producer Benny Blanco, and was inspired by his own experiences.
Speaking Entertainment Tonight Canada, Finneas said he drew from his experiences watching his sister rise to fame at a young age, like Bieber did.
"'We should just write a song about what it's like to have everybody think they know everything about you but not actually know what it's like to be you,'" Finneas recalled thinking.
Finneas' other credits are extensive — he's produced many top artists, including Selena Gomez, Ringo Starr, Halsey, Kid Cudi, Bruno Major, Ben Platt, Demi Lovato and Tove Lo.
Finneas wrote about his longtime friendship with Ashe on their collaboration, "Till Forever Falls Apart." He also appeared in the video.
As Ashe told Variety, it's a friendship love song, not a romantic love song. "So often romantic love isn't 'I'll love you forever till I die,'" Ashe said. "It's much more like, Finneas is going to be in my life forever, and I'm going to love him forever til I die. The song is much more like a friendship love; it's deeper than romance."
He and Eilish co-wrote 'Nobody Like U' from 'Turning Red'
In the 2002-set Disney Pixar movie "Turning Red," Meilin and her friends love nothing more than the boy band 4*Town.
And the catchy 4*Town songs that Mei sings? They're the work of none other than Eilish and Finneas, who created three original songs for the film. Their song "Nobody Like U" debuted on the Billboard Top 100.
Speaking in a featurette for Pixar, Finneas named all the ingredients of a boy band song from that era: Catchy melody, harmonies, claps, choreography, and "these young heartthrob-y teens."
Finneas actually plays one of 4*Town's teen heartthrobs, along with Jordan Fisher, Topher Ngo, Grayson Villanueva and Josh Levi.
Finneas is dating YouTuber Claudia Sulewski
Finneas has been publicly linked to YouTuber Claudia Sulewski since September 2018, their first Instagram post. He shared a heartfelt message on their third anniversary in 2021.
"It's not that I can't imagine my life without you, it's easy to — it would be a life with infinitely less joy and love and and laughter and purpose. A life I have no interest in," Finneas wrote.
Sulewski has been a YouTuber since 2010, and hosted a Teen Vogue series called "On Set with Claudia" in 2015. Recently, Sulewski has moved into acting: She appeared in the 2016 show "Tagged" and starred in the 2022 comedy "I Love My Dad" with Patton Oswalt. 
Finneas and Sulewski two share a dog together named Peaches. 
Yes, he was on 'Glee'
Before he made a name for himself in the music world, Finneas starred as Alistair in the the final season of "Glee." Finneas, who was 18 when the season premiered in 2015, rocked shoulder-length red hair and a beanie for most of his time on "Glee." 
He recently won an Oscar
Finneas co-wrote "No Time to Die," the 2020 song from the James Bond film of the same name, with Eilish. The sibling duo took home the Oscar for best original song in 2022.
In their speech, they thanked their parents, Maggie Baird and Patrick O'Connell, both actors. The siblings grew up in Los Angeles.
"We want to thank our parents, who have always been our biggest inspirations and heroes, and we love you as parents and we love you as real people too," Finneas said while accepting the award, with his mother and girlfriend Sulewski sharing proud expressions from the audience. "Thank you so much to the Academy, we promise not to lose these."