Shania Twain impressed us much with her Grammys look.
The country superstar arrived to the 2023 Grammy Awards in a black-and-white, polka dot Harris Reed ensemble that included extra wide flared trousers, matching blazer and oversized hat.
She further made the look her own with Messika jewelry and a bright red wig and matching lipstick.
"I needed to have a little bit of a splash of color," she told E! News of her hair choice on the red carpet.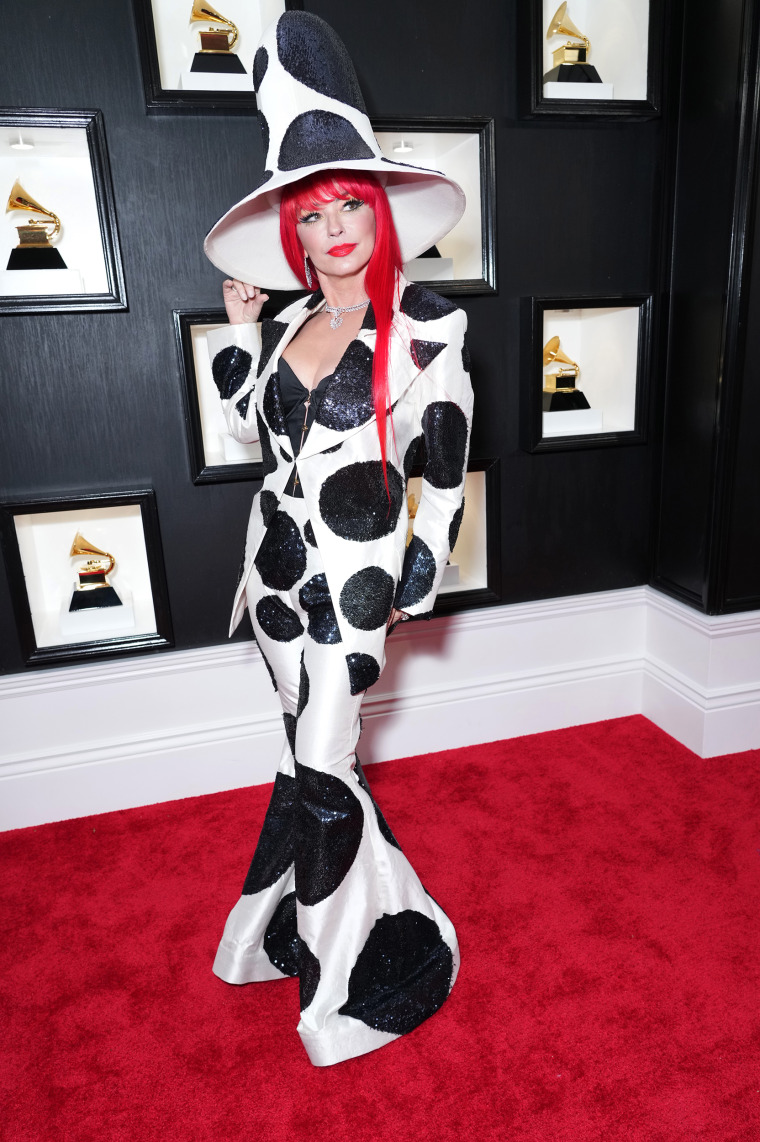 E! also reported on the red carpet that Twain's look was also a subtle homage to Harry Styles. The British singer has previously said that Twain is his style icon and frequently collaborates with the designer who created the country icon's look for the Feb. 5 awards ceremony.
Twain, who released her new album "Queen of Me" this week, added that she does plan to collaborate with Styles someday in the future.
"I think we would sound very good together we would blend really lovely," she told E! News. "He's busy. I'm busy. We will do it."
Twain said after releasing her "heavy" album, she's in a "very happy place right now."
"So it puts me in a very celebratory spirit, very optimistic mood," she told E! News on the carpet, gesturing to her clothes. "And I think just coming out of this whole COVID phase makes me feel light and bubbly and happy and fun."
Twain has been having fun with her looks lately. Earlier this week, she was unrecognizable in a platinum blonde wig while at an event in Los Angeles.
In December, she attended the 2022 People's Choice Awards, wearing an updated version of her iconic leopard print "That Don't Impress Me Much" outfit and light pink hair.
At the time, she told TODAY.com on the red carpet that her pink color was temporary. However, she was considering adding more color and keeping it. 
Hosted by comedian and former "Daily Show" host Trevor Noah, the 2023 Grammys are broadcast live from the Crypto.com Arena in Los Angeles at 8 p.m. ET/5 p.m. PT. They are available to watch on CBS and various streaming platforms.
Beyoncé leads the list of nominees with nine nominations, with stars like Harry Styles, Adele, Bad Bunny and more also up for awards. Performers include Styles, Lizzo, Bad Bunny and more.
Follow TODAY.com for complete Grammys coverage, including this year's winners, unexpected moments, and can't-miss performances from the biggest names in music.