It's not every day that Marrah Delmont, 24, buys an impulse plane ticket — but after learning she was selected to be a seat filler at the Grammys, she knew she had to attend.
The Missourian bought a last-minute ticket to LAX, booked a hotel room and headed off on the spontaneous adventure at the Crypto.com Arena.
"It was such an awesome experience," Delmont tells TODAY.com.
Her journey to that seat in the star-studded event space on Feb. 5 began two years ago, when she encountered the site seat-fillers.com in a TikTok video.
Seat fillers, as Delmont learned, are civilians who are hired by awards show production to maintain the image of a filled audience during the telecast. As guests shuffle on and off the stage, seat fillers do just what their title says: Fill seats. Entrance to the event is free, but seat fillers have to provide their own clothing, lodging and transportation.
Delmont says she applied for the opportunity for two years with no luck. This year, she was finally selected to be a seat filler at the Grammys via the lottery. The experience lived up to the hype.
"You're in the same room with all of these celebrities. You're gonna get any other opportunity like that. It's like a free concert for people. I do it again in a heartbeat," she says.
This year, the Grammys audience was split up into intimate tables (Lizzo sat with Adele, for example). While other seat fillers moved tables throughout the event, Delmont stayed with the daughter of Latin Grammy nominee Marco Antonio Solís the whole time.
Even though the event itself was the highlight for her, Delmont says the experience was a whole day affair.
The day of the Grammys, Delmont reported to a parking garage near the Crypto.com Arena in L.A. at a designated time. They were instructed to wear formal attire — specifically, black and dark blue gowns for women and suits and ties for men.
What came next was a whole lot of waiting. After taking COVID-19 tests, they stood in a series of lines: In the parking lot, at the venue, in the arena. "We didn't actually get to go in until 15 minutes before the show started," Delmont says.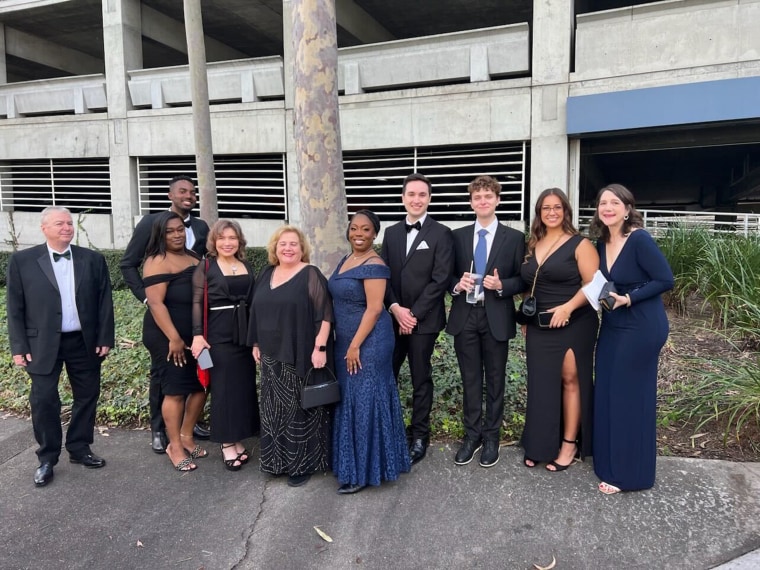 Gina Morello Huguet, 56, another seat filler from New Orleans, tells TODAY.com she was behind Delmont on the four-block walk to the arena. They became friendly with the other seat fillers around them.
Huguet experienced her first surprise of the evening on the walk over to the arena when her shoe strap broke. Determined to make it into the arena, Huguet says she "sucked it up."
Once inside, Huguet and Marrah waited yet again before being cordoned off into different parts of the stadium. People in front of her were sent to the back of the stadium — but not Huguet. She ended up moving closer and closer to the stage.
"I was like 'I'm getting a seat on the floor even if it kills me, I'm gonna get down,'" she recalls.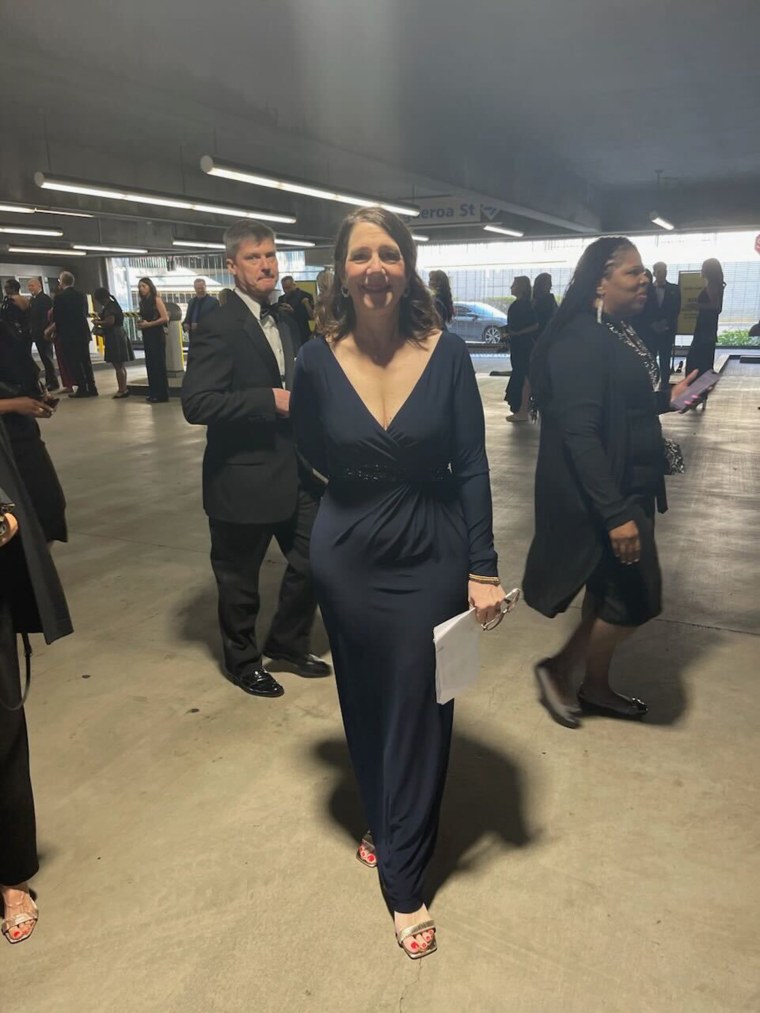 As Huguet made her way down, she noticed someone calling for a seat filler on the floor. She sat down, a wise move for someone with a broken shoe, because no one went on to claim the seat.
"I sat there the entire time on the floor. The whole show was right in front of me," she adds.
And she means that literally. From her vantage point, during the night, she saw Sam Smith, Dwayne Johnson, Smokey Robinson and Machine Gun Kelly make conversation.
Ethan Appleton also found himself surrounded by A-listers. The 19-year-old even spotted himself on TV when Harry Styles won album of the year.
"It was so surreal," Appleton tells TODAY.com. "It's not every day a 19-year-old gets to see himself at the Grammys."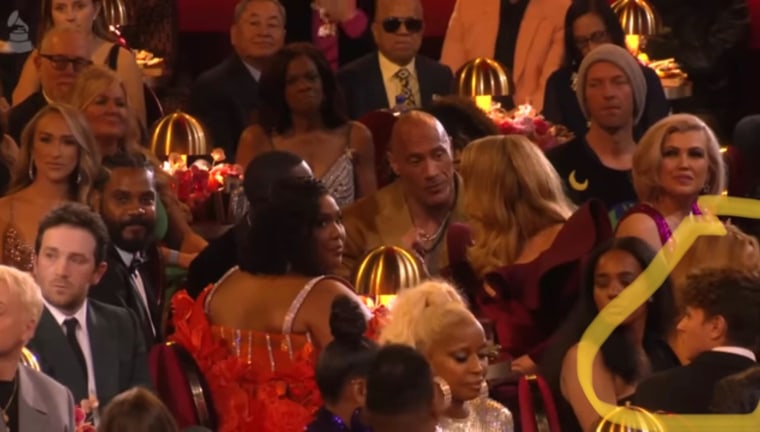 Cameron Carlson, a seat filler from North Dakota, 27, did more than watch Styles up close: He fist-bumped him.
Carlson was seated on the right side of the arena at a table behind Olivia Rodrigo. Award recipients would frequently pass by his seat on their way to pick up their award. It was during one such victory lap that Carlson's fist found Styles'.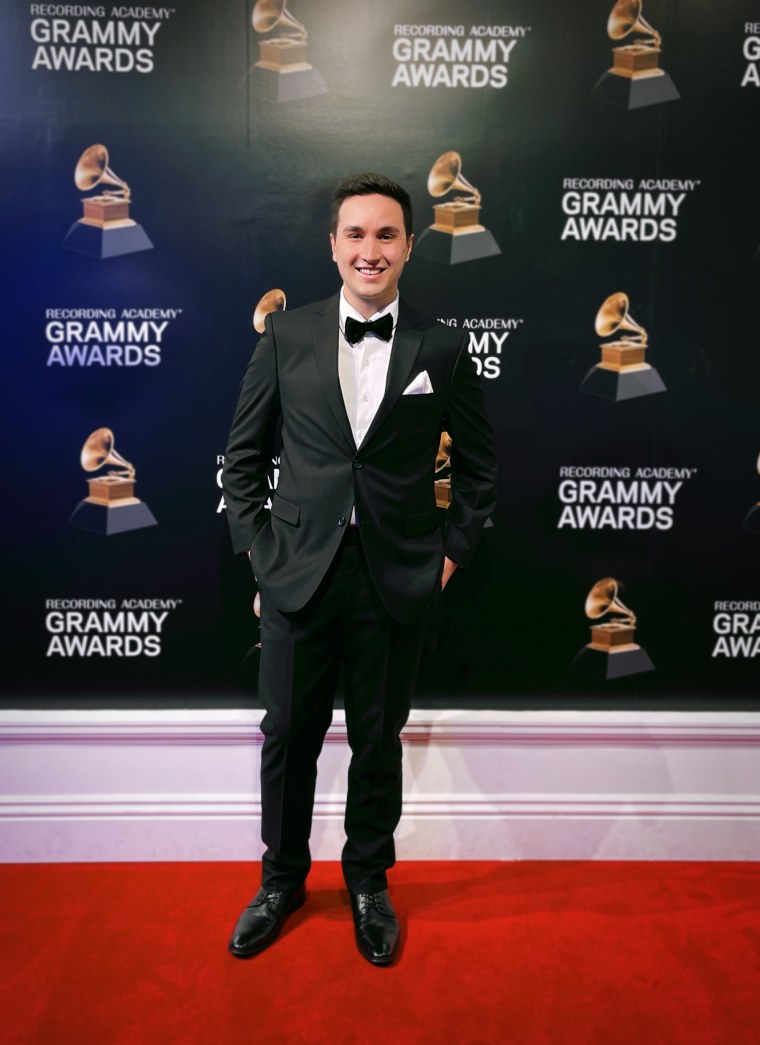 The pinnacle of Carlson's night happened during Styles' performance. At one point, he says James Corden and Rodrigo were dancing when Rodrigo knocked down her chair.
"I was like 'OK, I'm here to be the hero," Carlson tells TODAY.com. "I ran over there, and I picked up the chair and she said thank you, gave me a half hug. It was very crazy."