If you or someone you know is in crisis, call 988 to reach the Suicide and Crisis Lifeline. You can also call the network, previously known as the National Suicide Prevention Lifeline, at 800-273-8255, text HOME to 741741 or visit SpeakingOfSuicide.com/resources for additional resources.
The 29th annual Screen Actors Guild Awards feted Sally Field for her enduring Hollywood career Feb. 26.
But before the 76-year-old icon took the stage to accept her life achievement honor, she took a moment to celebrate another star who couldn't be there — her late friend and "Mrs. Doubtfire" co-star, Robin Williams.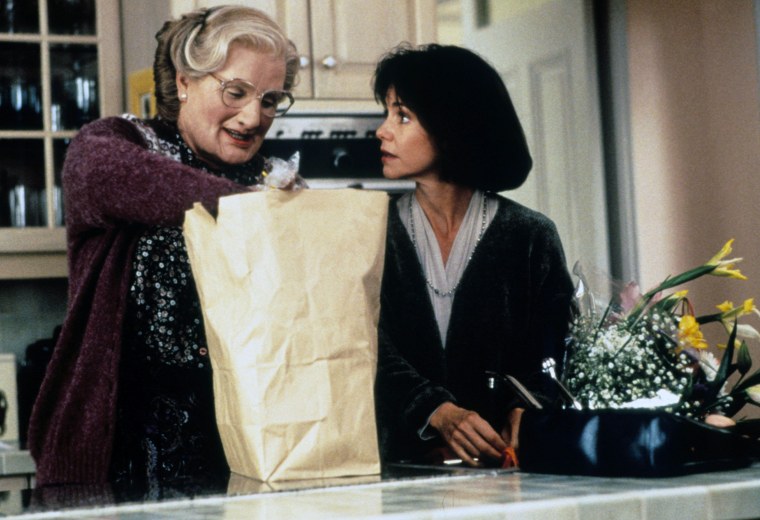 During a red-carpet chat held moments before the ceremony kicked off, Field was asked about her work on the 1993 blockbuster comedy, in which she starred opposite Williams, who played her ex-husband-turned-family nanny.
She told reporters that when it comes to that film, "what you think about immediately is Robin."
Speaking during the "People and Entertainment Weekly Red Carpet Live" show, the star went on to say, "There isn't a moment of (that film) that's not filled with my love and joy at being in his presence. I mean, Robin was Robin. He was everything he seemed to be: a generous, loving, sweet, geniously talented man."
Williams died by suicide in 2014 while suffering from Lewy body dementia.
"We all miss him," Field added. "He should be growing old like me, for God's sakes. I hate it that he isn't here."
Then, once the awards show got underway, Field stepped up to the mic and spoke about what it's like to be part of Hollywood's surviving old guard as she accepted her own award.
"I've flown on wires and surfed in the ocean, rode on horses, on wagon trains, in fast cars," the "80 for Brady" star told the audience of her decades in film. "I've had multiple personality, worked in a textile mill, picked cotton. I've been Mrs. Doubtfire's employer, Forrest Gump's mother, Lincoln's wife and Spider-Man's aunt. I've done scenes wearing 50 pounds of period dresses, been fully clothed, semi-clothed and totally naked."
And she wouldn't change a thing.
"I have been lucky enough to be a part of projects, to work on projects whose screenplays were so good that my hands shook the first time I read them," she continued. "Projects with such deep and complicated characters that the process of understanding them, of owning them somewhere inside changed me. They opened and revealed parts of myself I would not have known otherwise."
Related video: