Michelle Yeoh reflected on the challenges she has faced since coming to Hollywood in her powerful and honest speech as she accepted the award for best performance by an actress in a motion picture at the 80th Golden Globe Awards. 
The actor was honored on Tuesday, Jan. 10 at the star-studded ceremony at The Beverly Hilton as she won for her leading role in "Everything Everywhere All at Once."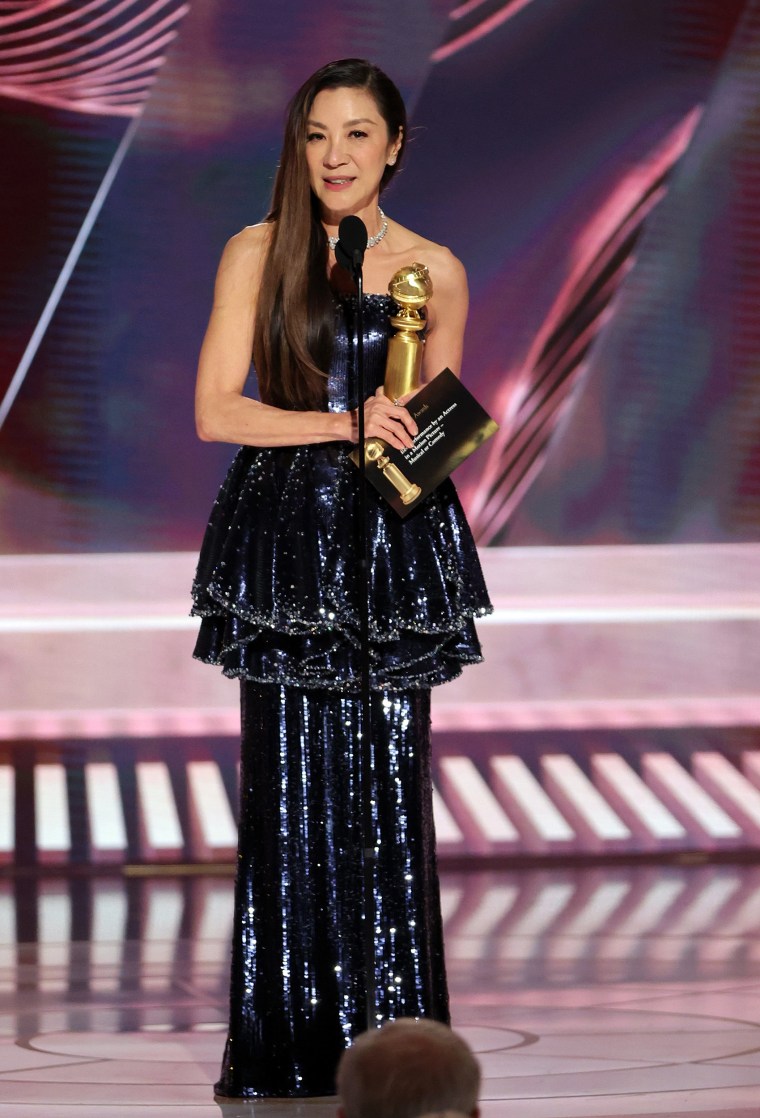 When she walked on stage, Yeoh looked out at the crowd and said, "I'm just going to stand here and take this all in. 40 years. Not letting go of this."
She thanked the Hollywood Foreign Press Association for recognizing her work and said it took "an amazing journey, an incredible fight" to get her to this moment. 
"I remember when I first came to Hollywood, it was a dream come true until I got here," she recalled. "Look at this face. I came here and was told, 'You're a minority. and I'm, like, 'No, that's not possible.'"
She said she faced people who were surprised to discover she could speak English. 
"Then I said, 'Yeah, the flight here was about 13 hours long, so I learned,'" she said as the audience laughed. 
The "Crazy Rich Asians" star mentioned that she celebrated her 60th birthday last year. 
"I think all of you women understand this as the days, the years, and the numbers get bigger, it seems like opportunities start to get smaller as well," she shared. 
Yeoh said she began to question if her career had plateaued after working with directors like Steven Spielberg, James Cameron and Danny Boyle. 
"Then along came the best gift, 'Everything Everywhere All At Once,'" she said before expressing gratitude for the film's producers and directors, "the Daniels" — Daniel Kwan and Daniel Scheinert. 
She said the directors "had the courage to write about a very ordinary immigrant, aging woman, mother, daughter, she was being audited by the IRS, played by the most amazing Jamie Lee Curtis." 
"I love you," she told the "Halloween" star. 
Yeoh spoke about her character, Evelyn Wang, in the sci-fi adventure flick. She continued, "I was given this gift of playing this woman who resonated so deeply with me and with so many people because, at the end of the day in whatever universe she was at, she was just fighting. Fighting for love for her family."
She also complimented co-stars Ke Huy Quan and Stephanie Hsu for their work on the film. 
Before leaving the stage, she added, "And this is also for all the shoulders that I stand on, all who came before me who look like me, and all who are going on this journey with me forward. So thank you for believing in us."
Yeoh's win followed Quan being presented a Golden Globe as well. He won for best performance by an actor in a supporting role in any motion picture.