Celebs, they're just like us!
After Lizzo was caught pulling a silver flask out of her bag and taking a sip at the 2023 Grammy Awards, she revealed that her and her table mate Adele were so drunk they had no idea which categories were being called.
Both artists took home some of the biggest awards of the evening: Adele for best pop solo for "Easy on Me," and Lizzo for record of the year for "About Damn Time."
"I legitimately was so drunk. Me and Adele were drinking so much that we didn't even really know what the categories were at this point," Lizzo said on the "Elvis Duran and the Morning Show" on Feb. 10. "We were like, 'Wait did they do the best new artist?' We didn't even know. When it was time and they would call our names, we would just be like, 'Smile, smile.'"
Lizzo added she actually had two flasks that night: one filled with tequila, and another with sauvignon blanc that she intended to give to Adele. "And then I drank hers," Lizzo said while laughing.
The singer continued, saying she was "in total shock" when they announced her as the winner of one of the night's "big four" awards.
"When they called my name, I was actually in total shock because I didn't expect to win at all, let alone in a big one," she said. "That's a big award to win, record of the year."
She added, "I always knew I had record of the year."
Lizzo was the first Black woman to win record of the year since Whitney Houston won for "I Will Always Love You" in 1994.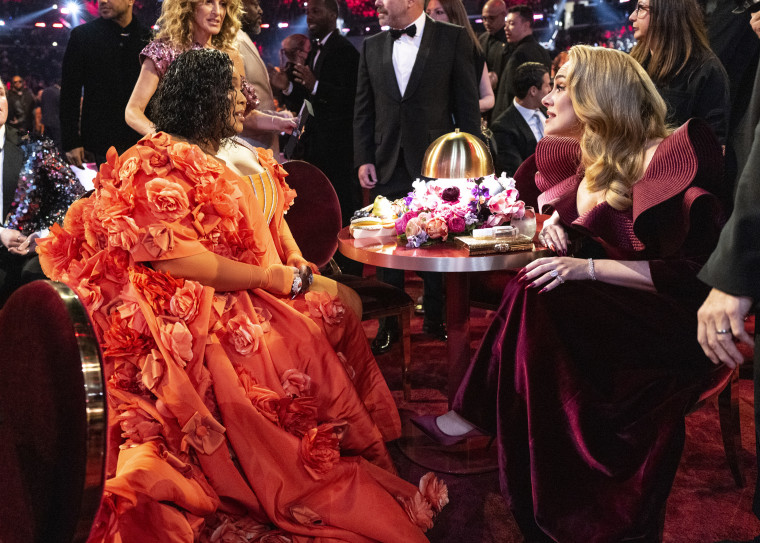 Based on photos, Lizzo and Adele, Taurus power duo, appeared to have the time of their lives sitting together at the ceremony. They were joined by their boyfriends, Myke White and Rich Paul, respectively.
Lizzo said Adele personally requested they sit at the same table.
"I had zero say in where I was sitting, but Adele had 100 percent say in where she was sitting, so therefore Adele FaceTimed me when I was in (a) Grammy rehearsal a few days before and she was like, 'Oh my God, oh my God, we're sitting next to each other,'" Lizzo said in a rendition of Adele's British accent.
"She was like, 'I want to sit next to you.' I was like, 'Well, great, because I wanted to sit next to you!'"
Lizzo performed the winning song, "About Damn Time," earlier in the evening, along with "Special." In her acceptance speech for record of the year, Lizzo thanked Beyoncé, who was sitting in the audience, and told her how much she meant to her growing up, to this day.