Ke Huy Quan is making history and racking up awards seemingly everywhere all at once.
The Vietnamese American actor cried tears of joy on Feb. 26 and thanked those who "asked for change" when he became the first Asian male to win outstanding supporting actor in the film category at the Screen Actors Guild Awards.
The "Everything Everywhere All at Once" star, who made his name as a child actor in the 1980s before struggling to find roles for decades, delivered a passionate speech encouraging other frustrated actors to "keep going" because "the spotlight will one day find you."
Quan's historic victory comes on the heels of his first Oscar nomination as well as a Golden Globe victory in January.
"This is a really emotional moment for me," he said in his SAG Awards speech.
He recalled being told that he would be the first male Asian actor to win in the outstanding supporting actor category.
"This moment no longer belongs to just me," he said. "It also belongs to everyone who has asked for change."
Quan, 51, rose to fame in 1984 as the child sidekick Short Round in "Indiana Jones and the Temple of Doom," and also starred as Data in the classic 1985 movie "The Goonies." He noted in his speech that he then stepped away from acting for years "because there were so few opportunities" for Asian actors.
"The landscape looks so different now than before," he said. "So thank you so much to all of you in this room."
Quan's victory was also part of a banner night for the cast of "Everything Everywhere All at Once." Michelle Yeoh, 60, whom Quan thanked in his speech, won outstanding female actor in a leading role for the film category, and Jamie Lee Curtis, 64, won outstanding female actor in a supporting role.
They all had a special moment together when they won the award for outstanding performance by a cast in a motion picture and dedicated it to their 94-year-old castmate, James Hong.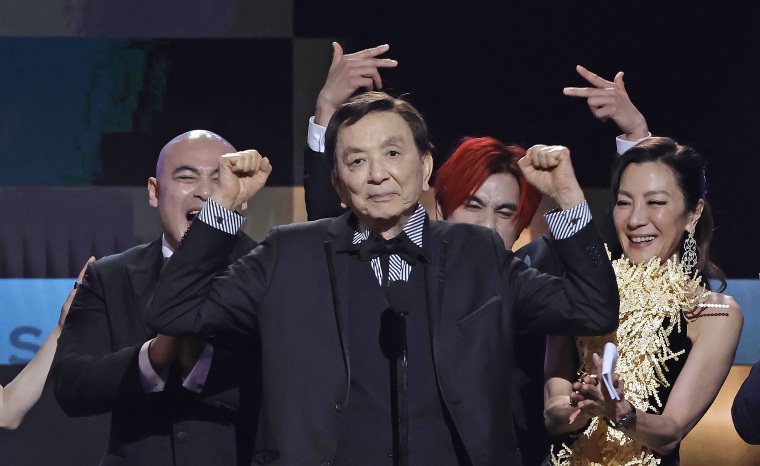 Hong delivered a speech to a standing ovation, noting that his first film role came almost 70 years ago in a movie starring Hollywood legend Clark Gable.
"But back in those days, I have to tell you that the leading role was played by these guys with eyes taped up like this and they talk like this, because the producer said the Asians were not good enough and they are not box office," Hong said. "But look at us now, huh?"
Sunday night was the latest awards haul for "Everything Everywhere All at Once," which has been nominated for 11 Oscars, including best picture, at the upcoming Academy Awards on March 12.