Just watching a few seconds of her Oscars speech for the first time was enough to get the happy tears flowing again for Jamie Lee Curtis.
The "Everything Everywhere All at Once" star had not seen any footage of the moment she delivered her speech two days earlier, but the emotions rushed right back live on TODAY on March 14 when she saw it for the first time.
The newly minted Oscar winner wiped her eyes after seeing herself on stage thanking her family and fans before remembering her late parents.
"I hadn't watched that," she told Hoda Kotb and Savannah Guthrie on Tuesday. "That was the first time I've seen it. Thanks everybody, good morning!"
Curtis, 64, took home best supporting actress for her first Academy Award in a career that started in 1977. She beamed and fought back tears on the stage in Los Angeles as she drank in a moment decades in the making.
"I know it looks like I'm standing up here by myself, but I am not. I am hundreds of people," she said in her speech.
The "Halloween" star thanked her family and support system, as well as the fans of the "genre movies" she has made over the years.
In a theme of much of the acceptance speeches by the "Everything Everywhere All at Once" cast, she also thanked her mother. At the end of her speech, Curtis referenced her late parents, Janet Leigh and Tony Curtis, a pair of Hollywood stars, before saying in disbelief, "I just won an Oscar."
She reflected on that moment on TODAY.
"They've been my beautiful shadow my whole life," she said. "It was always — they walked in the room before I did anytime I went anywhere, and I always understood and accepted it with the grace I tried to.
"They were both nominated for Oscars and never won one," she said.
Curtis also expressed her gratitude for the support of her husband, actor and director Christopher Guest, and their two daughters. She said she's referring to her Academy Award by using specific pronouns in honor of their 26-year-old daughter, who is non-binary.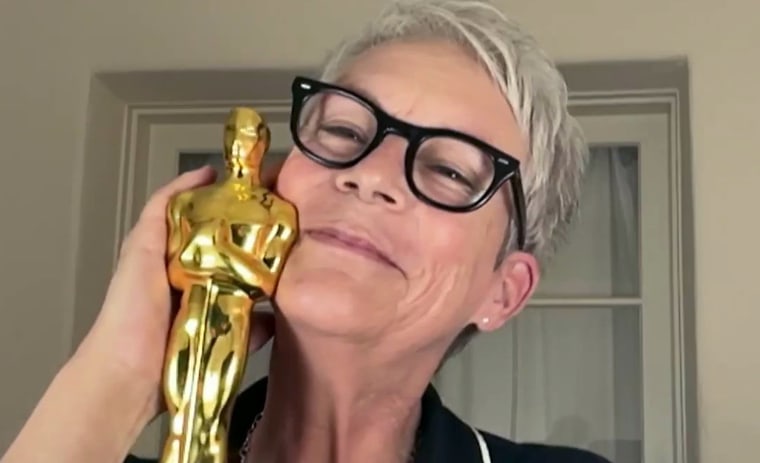 "In support of my daughter Ruby, I'm having them be a they/them," she said about the statue. "I'm going to just call them 'them,' and they are doing great. They're settling in.
"In my life I never thought in a million years that I would have this couple days, and I'm very moved by the whole thing."
Curtis also thanked her friends "who wanted this for me more than I ever would've dreamt of wanting it."
She joked that she was "a little weepy," but she is grateful for validation for her peers after more than four decades in Hollywood.
"The longing for attention and appreciation for your work is universal," Curtis said. "Whatever job you do, you hope someone appreciates you. And this is a really lovely, shiny gesture of appreciation."