For a few minutes, the Crypto.com Arena in Los Angeles turned into Harry's House.
The nine-time nominated singer took the stage at the 65th Grammy Awards, performing "As It Was" from his latest record, "Harry's House," nominated for album of the year. "Harry's House" also took home best pop vocal album.
A hush fell over the crowd before the sound of a child's voice resounded, and the song kicked in.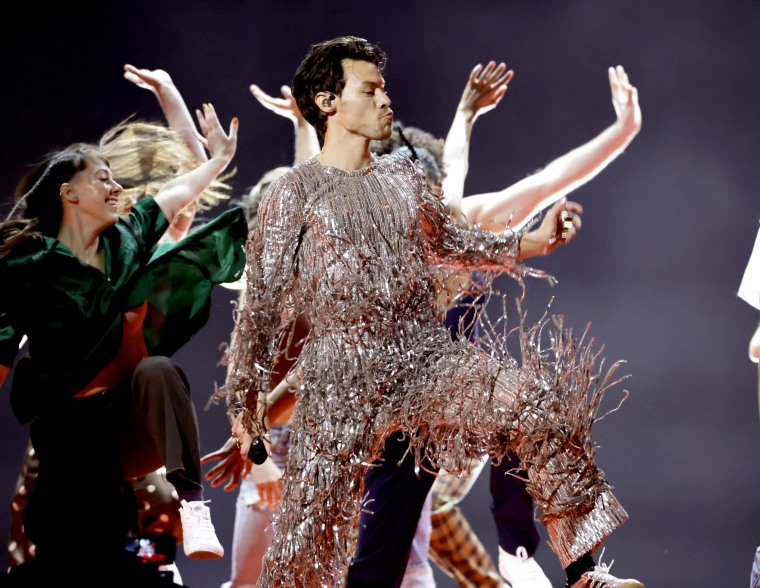 Decked out in a sparkling silver jumpsuit (switching from the crystal jumpsuit from the red carpet), Styles jumped across the stage, almost tripping before making a smooth recovery. The singer literally ran in circles, moving on a rotating stage in his performance.
Shania Twain was on her feet dancing during the performance. At the end of the song, Taylor Swift, whom he dated over a decade ago, was seen giving him a standing ovation.
Earlier in the night, Styles was subjected to some teasing from host Trevor Noah in his opening monologue.
"Women throw their panties at this man, and then he puts them on, and he looks better in them than they do, easily the world's sexist man," Noah said. "There's no competition. Sex symbol of the globe, especially now that they killed off the green M&M."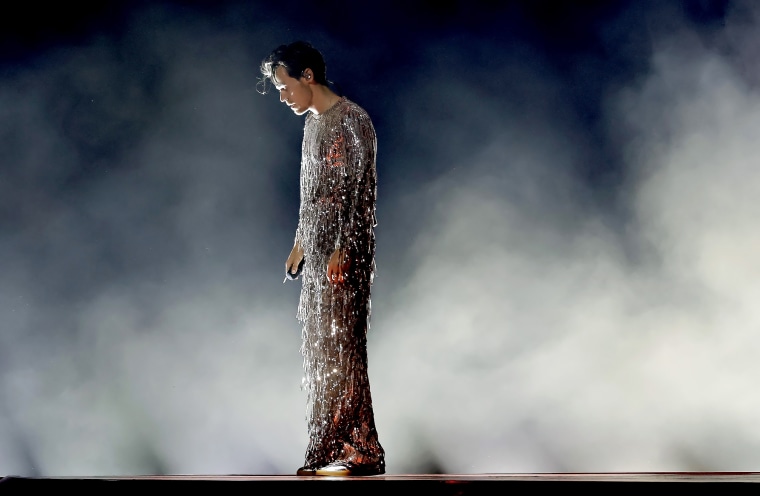 In total, Styles was nominated for six awards at the 2023 Grammys. Going into the ceremony on Sunday night, Styles had one Grammy Award under his belt from 2021 for best pop solo performance for "Watermelon Sugar." Before performing, the singer won best pop vocal album for "Harry's House."
In addition to Styles, nominated singers Bad Bunny, Lizzo, Sam Smith, Kim Petras, Mary J. Blige, Brandi Carlile, Luke Combs and Steve Lacy performed, among others.
Styles' third solo album was released May 20 last year and includes hit singles like "As It Was" and "Late Night Talking." Styles described the record as a "a collection of all of my favorite things" and his most personal album yet.
Styles' performance at the Grammys comes amid his Love On Tour, which includes a run of residencies in cities like New York, Austin and Chicago. At one concert in Los Angeles on Jan. 26, the singer split his pleather pants while singing "Music for a Sushi Restaurant." He smoothly recovered, covering the tear with his hand and not missing a note.
Hosted by comedian and former "Daily Show" host Trevor Noah, the 2023 Grammys are broadcast live from the Crypto.com Arena in Los Angeles at 8 p.m. ET/5 p.m. PT. They are available to watch on CBS and various streaming platforms.
Beyoncé leads the list of nominees with nine nominations, with stars like Harry Styles, Adele, Bad Bunny and more also up for awards. Performers include Styles, Lizzo, Bad Bunny and more.
Follow TODAY.com for complete Grammys coverage, including this year's winners, unexpected moments, and can't-miss performances from the biggest names in music.