Halle Berry and Michelle Yeoh shared a meaningful moment on stage at the Academy Awards on Sunday night.
Berry was on hand to present the award for "Actress in a Leading Role," which Yeoh won for her role in "Everything Everywhere All At Once."
Wearing white ethereal gowns, Berry and Yeoh were bonded by fashion — and by achievement. Berry and Yeoh are the only two women of color to win in this category in 95 years of Oscars history. Yeoh is also the first Asian actress to win the award.
When Yeoh took to the stage to accept the honor, she shared a warm embrace with Berry, who was visibly emotional. During her acceptance speech, the 60-year-old spoke to the significance of the moment both for herself and for the people watching.
"For all the little boys and girls who look like me watching tonight, this is a beacon of hope and possibilities. This is proof — dream big and dreams do come true," she said.
At the end of her speech, the actor thanked the academy and ended with the following message: "This is history in the making."
During a press conference after the ceremony ended, Yeoh elaborated on what the award means to her.
"I really have to thank the academy for acknowledging, embracing diversity and true representation. I think this is something that we have been working so hard towards for a very long time and tonight we freaking broke that glass ceiling. I kung fu'ed it out and shattered it," she said.
The star then explained why representation matters so much in the highly visible entertainment industry.
"We need this because there are so many who have felt unseen, unheard. It's not just the Asian community. This is for the Asian community but for anybody who's been identified as a minority," she said. "We deserve to be heard. We deserve to be seen. We deserve to have the equal opportunity so we can have a seat at the table. That's all we're asking for. Give us that opportunity. Let us prove we are worth it."
Much like Yeoh, Berry also made history for her Academy Awards win in 2002. At the time, she took home an award in the same category for her role in "Monster's Ball." In doing so, she became the first Black woman and first woman of color to win best actress. She remains the only Black woman to have won that accolade.
As she accepted the award, Berry cried and explained that the moment was "so much bigger" than her.
"It's for every nameless, faceless woman of color that now has the chance because this door tonight has been opened," she said.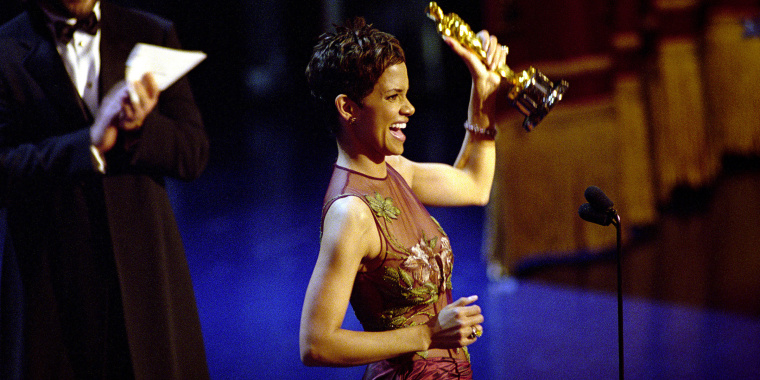 Another similarity? Fans also pointed out that both Berry and Yeoh were in James Bond movies with Pierce Brosnan.
From Bond girl to Oscar winner, Berry and Yeoh are on this journey together.
Throughout the month of March, TODAY.com is celebrating women across generations who have made history and continue to move the conversation forward by breaking stigmas, sparking dialogue and inspiring the next generation.