Jerrod Carmichael was not afraid to call out the Hollywood Foreign Press Association for its past controversies in his opening monologue for the 80th Golden Globe Awards on Tuesday, Jan. 10.
The 35-year-old comedian, who was the award show's first Black host, kicked off the return of the award show by addressing the HFPA's lack of diversity. 
Carmichael appeared on the stage wearing a velvet black suit and repeatedly asked the room full of A-listers to "settle" until it was almost uncomfortably quiet.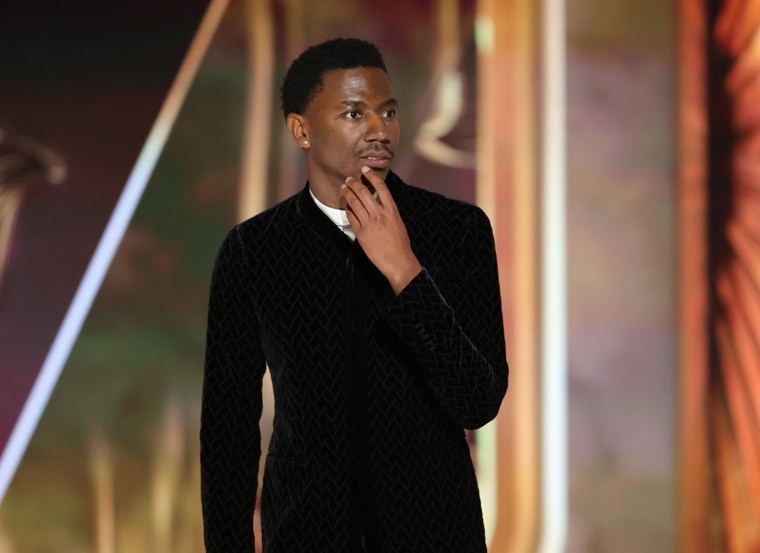 He paced back and forth across the stage as he introduced himself. 
"I am your host, Jerrod Carmichael, and I'll tell you why I'm here," he said. "I'm here because I'm Black." 
As the crowd laughed, he continued, "This show, the Golden Globe Awards, did not air last year because the Hollywood Foreign Press Association — which, I won't say they were a racist organization, but they didn't have a single Black member until George Floyd died. So do with that information what you will."  
He recalled that he was sitting at home when he received a phone call from producer Stephen Hill informing him that he was tapped to host the 2023 Golden Globes. 
"One minute you're making mint tea at home. The next you're invited to be the Black face of an embattled white organization," he told the audience. 
The former star and creator of "The Carmichael Show" said he had a "moral racial dilemma" and called his friend to explain he was offered $500,000 to emcee the show. 
He added that he also spoke to his publicist who said Helen Hoehne, the president of the HFPA, wanted to speak to him. 
Carmichael joked that he declined. "I'm like, 'Or what? They're gonna fire me? Then haven't  had a Black host in 79 years they're gonna fire the first one? I'm unfireable,'" he said.   
The host then revealed that he would have taken the job even if the HFPA did not plan to address its past. 
"Congrats to them, whatever," he said. "Sure. But it's not why I'm here. I'm here, truly, because all of you I look out into this room and I see a lot of talented people, like people that I admire. People that I would like to be like and people that I'm jealous of. People that are actually really incredible artists."
He added, "And regardless of whatever the Hollywood Foreign Press Association's past may be, this is an evening when we get to celebrate. And I think this industry deserves evenings like these and I'm happy you all are here."
He received a round of applause as he announced Jennifer Hudson would be presenting the first category for best supporting actor in a comedic film.  
This was the Emmy-winning comedian's first time emceeing the 80th annual award show, which was held at The Beverly Hilton in Beverly Hills, California.
He was the first person to step into the hosting role after the show did not air last year on NBC. In 2021, Tina Fey and Amy Poehler hosted the ceremony together.
 Last year, the Golden Globes, which typically kicks off the award season, was not shown live and did not have a host due to the Hollywood Foreign Press Association being under fire following a Los Angeles Times investigation. 
The outlet published an article in February 2021 detailed the lack of diversity and the ethics criticisms the organization faced. The investigation also confirmed that there were no Black members in the HFPA at the time. 
In May 2021, the HFPA announced that it was taking steps to add new members and that it would hire a chief diversity officer.