"Mom, I just won an Oscar."
The biggest winners of this year's Academy Awards were the cast and directors of "Everything Everywhere All at Once," but their mothers were a close second.
Stars Michelle Yeoh, Ke Huy Quan and Jamie Lee Curtis, plus directors Daniel Kwan and Daniel Scheinert, all thanked their moms during their emotional speeches after taking home the night's biggest awards. It's fitting, considering the movie is about one mother reconciling with her daughter and regret over her own life path (all while saving the world).
Scheinert and Kwan made sure to spotlight the women who inspired them when they took home the award for best director during the ceremony on March 12.
"We want to dedicate this to the mommies, all the mommies in the world, to our moms," Scheinert said. "Specifically my mom and dad, Ken and Becky, thank you for not squashing my creativity when I was making really disturbing horror films or really perverted comedy films or dressing in drag as a kid, which is a threat to nobody."
After thanking the cast and crew, Kwan then grew emotional when sharing what his parents meant to his career.
"We are all products of our context, we are all descendants of something and someone," he said. "And I want to acknowledge my context — my immigrant parents. My father, who fell in love with movies because he needed to escape the world and passed that love of movies on to me.
"My mother, who is a creative soul who wanted to be a dancer, actor, and singer, but could not afford the luxury of that life path, and then gave it to me."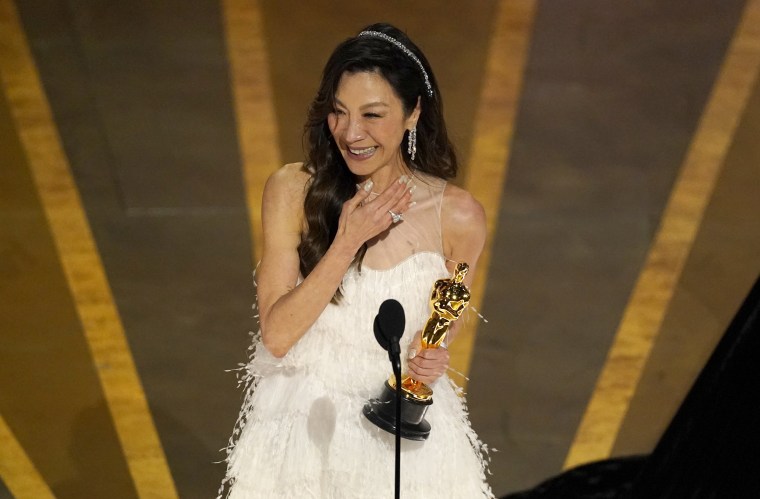 Yeoh, 60, immediately thought of her mother when she made history as the first Asian woman to win a best actress Oscar. She said her 84-year-old mother was able to see her shining moment while home in Malaysia.
"I have to dedicate this to my mom, to all the moms in the world, because they are really the superheroes," she said in her speech. "Without them, none of us would be here tonight."
Yeoh plays a mother herself in the movie, which also took home best picture honors. She goes from a woman running a failing laundromat being audited by the Internal Revenue Service to a hero who helps save the universe.
The most emotional dedication of them all came from Quan, 51, who clutched his best supporting actor trophy and started crying.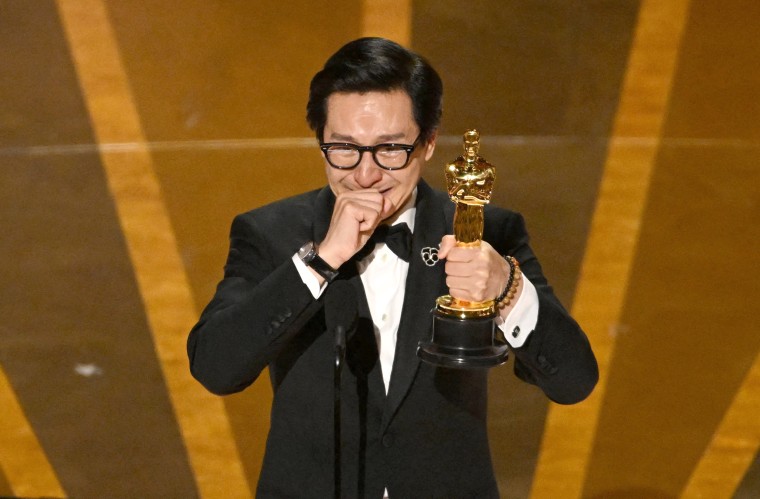 "My mom is 84 years old, and she's at home watching," he began his speech. "Mom, I just won an Oscar."
He then expressed his gratitude for all her support.
"Thank you to my mom for the sacrifices she made to get me here," he said. "To my little brother David, who calls me every day, just to remind to take good care of myself, I love you, brother."
Curtis, 64, also was overcome when she accepted her award for best supporting actress. Her late mother, Janet Leigh, was an Oscar-nominated actor best remembered for starring in the 1960 thriller "Psycho." Her father, Tony Curtis, was also an Oscar-nominated actor who had roles in several classic films.
Curtis won her first Oscar more than 40 years after her film debut, and she dedicated it to her late parents.
"My mother and father were both nominated for Oscars in different categories," she said before fighting back tears and looking upward, as if to send her speech's final words to her parents. "I just won an Oscar."