Colin Farrell welcomed an unexpected visitor at the 95th Academy Awards on March 12.
About halfway into the show, host Jimmy Kimmel brought out a donkey onto the stage of the Dolby Theatre. Farrell's sidekick in the Oscar-nominated movie "The Banshees of Inisherin" was a miniature donkey named Jenny.
No word on whether this was the real donkey who appeared in the best picture nominee or a lookalike. Still, Farrell seemed downright delighted to see the animal. Farrell, seated next to his son Henry, 13, blew the donkey a kiss.
"Not only is Jenny an actress, she's a certified emotional support donkey. Or at least, that's what we told the airline to get her on the plane from Ireland," Kimmel joked.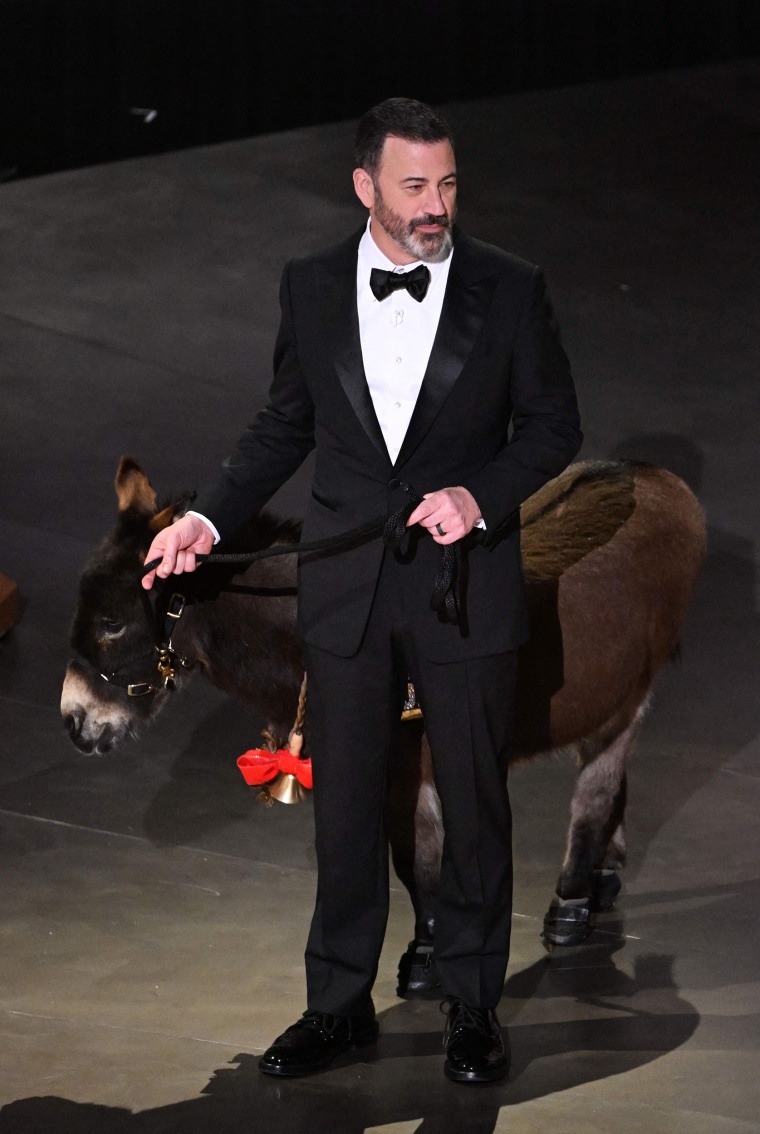 "So, if you're feeling upset or you win or you're anxious or maybe you just love mules, feel free to come up and give her a hug," he said.
Kimmel then pointed out Farrell and "Banshees of Inisherin" co-star Brendan Gleeson sitting in the audience, and referenced the movie's plot.
"And Jenny, I want you to see — there's your friend Colin right there. And there's your friend Brendan (Gleeson), whose finger you ate. You want to say thank you?"
The Twitterverse couldn't get enough of Farrell's reaction to seeing the equine.
"Find someone who looks at you the way Colin Farrell looks at Jenny the donkey," someone joked.
"The PURE JOY on Colin Farrell's face when they brought out Jenny the donkey," another person commented.
"Find someone who looks at you the way Colin Farrell looks at a donkey," another viewer wrote.
Others craved that feeling: "I want colin farrell to look at me like he looked at jenny the donkey."
The night will have its winners and losers — but according to Twitter users, we all won, looking at Farrell look at a donkey.'
"No matter what else happens tonight Jenny, and we, are the real winners. The pure unadulterated glee on Colin Farrell's face here. Magic," another fan wrote.
Hosted by Jimmy Kimmel for the third time, the 2023 Oscars are broadcast live from the Dolby Theatre in Hollywood in Los Angeles at 8 p.m. ET/5 p.m. PT, with the red carpet starting earlier. The 2023 Oscars are available to watch on ABC and various streaming platforms. 
Leading the list of nominees include "Everything Everywhere All at Once" and "The Banshees of Inisherin." The list of performers and presenters includes Rihanna, following her Super Bowl halftime show, and the viral Telugu-language hit "Naatu Naatu."
Follow TODAY.com for complete Oscars coverage, including this year's winners and unexpected moments.