The NAACP Image Awards had a special moment of honor for WNBA star Brittney Griner, who received a standing ovation and called for the release of other Americans held abroad.
Queen Latifah introduced Griner in a surprise moment at the awards show on Feb. 25 in Pasadena, California, saying, "Back here tonight with us where she belongs, our sis, Brittney Griner, and her wife, Cherelle."
The crowd erupted into applause and was immediately on its feet, according to a clip posted to the NAACP's Instagram. Among the attendees were Gabrielle Union and husband Dwyane Wade, tennis legend Serena Williams, actor Jonathan Majors, civil rights lawyer Benjamin Crump and actors Tracee Ellis Ross and Yara Shahidi.
Brittney and Cherelle Griner held hands and beamed from ear to ear as they took the stage. Queen Latifah bowed to the two-time Olympic champ, who received the sign of respect with a smile and a hand to her heart.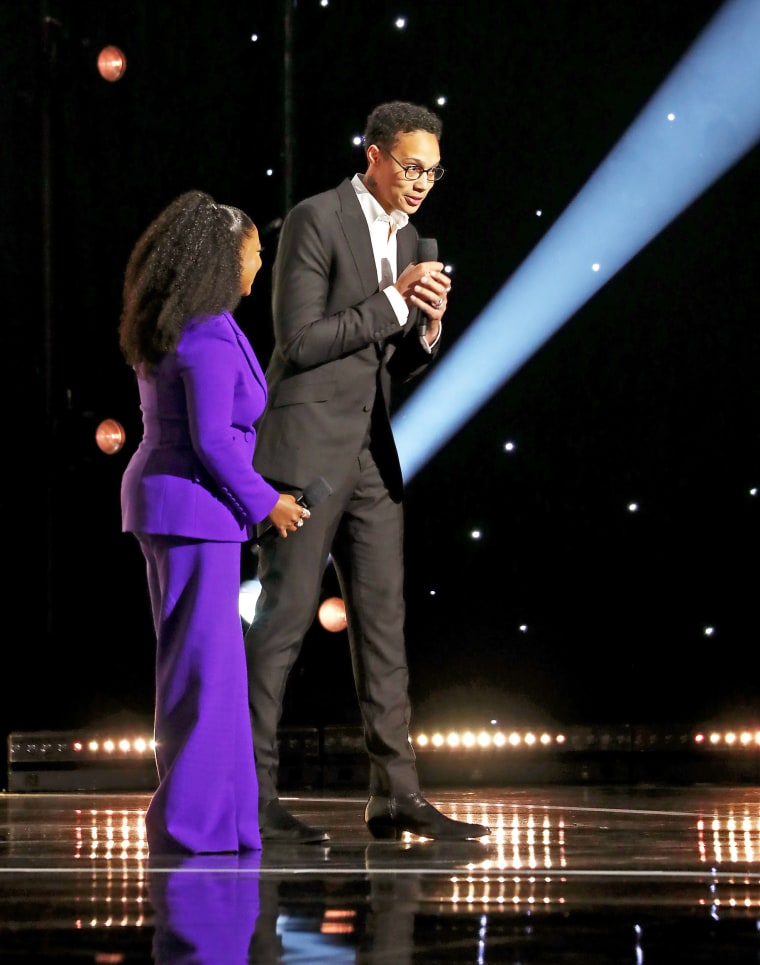 "Thank you for that beautiful applause," Cherelle Griner said after the clapping finished.
"We are just truly so thankful to all the people, many of whom are Black women and Black-led organizations, who fought so hard to bring BG home," she continued.
Brittney Griner, still grinning, took a moment to thank her wife.
"It feels so good to be here, especially with my beautiful, amazing wife, and with all of you all here today," she said. "I want to thank everyone, and let's keep fighting to bring home every American still detained overseas."
The WNBA star, who recently re-signed with the Phoenix Mercury, later posted on Instagram a thank you to the NAACP for acknowledging her.
"Humbled from the love shown by my people," she wrote. "Thank you @naacpimageawards for having me and my beautiful wife tonight."
The awards show on Saturday was one of Griner's first public appearances since her release from a Russian prison in December.
Also notable at the event was the change in her hairstyle. The former Baylor University star's trademark locs were gone, cropped into a much shorter cut.
Her lawyer, Maria Blagovolina, told Sports Illustrated last month that Griner cut her hair in prison because the locs would freeze after getting wet, causing her to get sick.
"It's very cold in there, and every time she washed her hair she got cold and would get a chill," Blagovolina told SI.
Last year, Griner, 32, was imprisoned in Russia for nearly 10 months on drug charges. She was released in December after the Biden administration negotiated a prisoner swap for notorious arms dealer Viktor Bout.
A week after returning to the U.S., Griner said on Instagram that she was grateful to be back.
"It feels so good to be home," she said at the time. "The last 10 months have been a battle at every turn. I dug deep to keep my faith and it was the love from so many of you that helped keep me going. From the bottom of my heart, thank you to everyone for your help."