Billy Porter's look at the 2023 Golden Globes Awards has a special meaning.
The "Pose" star is known for his fashionable looks on the red carpet, and his ensemble at the 80th annual awards show on Jan. 10 was one for the books. But as Porter told Zuri Hall and Justin Sylvester on red carpet at The Beverly Hilton, it was an homage to his iconic custom Christian Siriano tuxedo gown that he wore to the 2019 Oscars.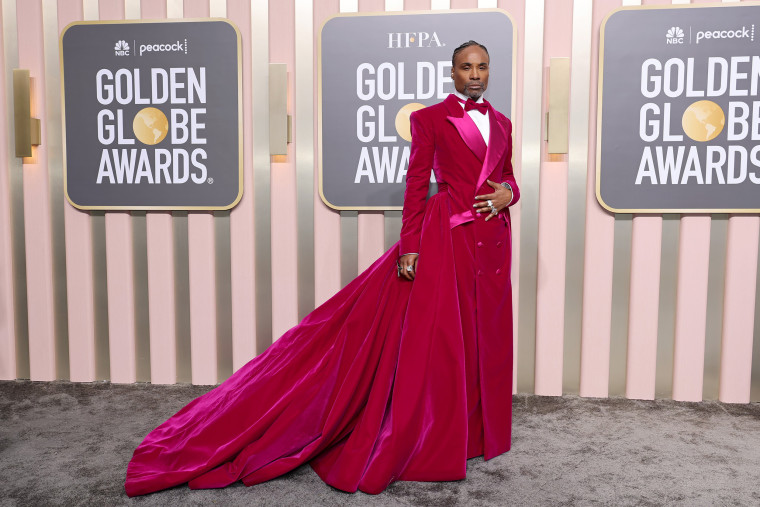 "I'm giving you full on Christian Siriano, again," Porter said. "We have to have another moment. I'm giving the Lifetime Achievement Award to Ryan Murphy tonight, the Carol Burnett Lifetime Achievement Award, and he wanted me to wear the Oscar dress."
"And I was like, no, I can't repeat," he added with a laugh.
Tuesday night's look for the Globes was similar in the velvet tuxedo element and elegant draping, but this time Porter opted for a vibrant crimson color. The performer accessorized with Yeprem ear cuffs, Stéfère, House of Emmanuele and Shine Like Me Brand rings, and a Tiziano Colasante clutch.
Porter had everyone talking when he stepped out onto the 2019 Academy Awards red carpet in the black tuxedo dress.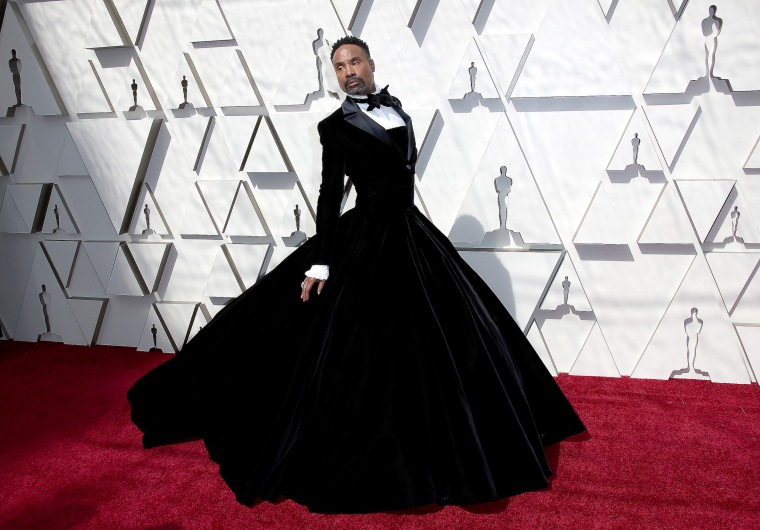 When Murphy took the stage later to accept his award, he celebrated Porter and called him "one of the most iconic actors of his generation."
"Billy Porter has changed our perceptions by changing fashion," Murphy said. "He did this, he's the one who ushered in this new movement by wearing a black velvet tuxedo gown on the Oscars red carpet.
"I asked him to wear that outfit tonight and he said, 'Bitch it's in a museum!'" Murphy said, as the audience laughed. "But he whipped up this fuchsia replica for me and I love it."
Porter has previously spoken about his 2019 fashion choice that made headlines around the world. He told Vogue it was about self-love and inclusivity.
"(At the first gown fitting,) I felt alive. I felt free. And open, and radiant. And beautiful!" he told the magazine. "Which has not always been the case for me. I haven't always felt so good about myself. It really is astonishing how much of an effect clothes have on your spirit."
Porter grew up loving fashion and was inspired by his grandmother and mom.
"They were always stylish. I grew up loving fashion, but there was a limit to the ways in which I could express myself. When you're Black and you're gay, one's masculinity is in question," he continued. "I dealt with a lot of homophobia in relation to my clothing choices... When I landed a role in 'Kinky Boots,' the experience really grounded me in a way that was so unexpected."
"Putting on those heels made me feel the most masculine I've ever felt in my life. It was empowering to let that part of myself free," he said.