Fans are praising Austin Butler for his "chivalry" at the Screen Actors Guild Awards. 
The "Elvis" star, 31, offered a helping hand to two of his fellow actors during the Feb. 26 ceremony — Sally Field, who was honored with the 2023 SAG life achievement award, and "White Lotus" star Jennifer Coolidge. 
As Field, 76, moved toward the stage to accept her award, Butler gave her his hand, helping her navigate the stairs in her heels and floor-length dress.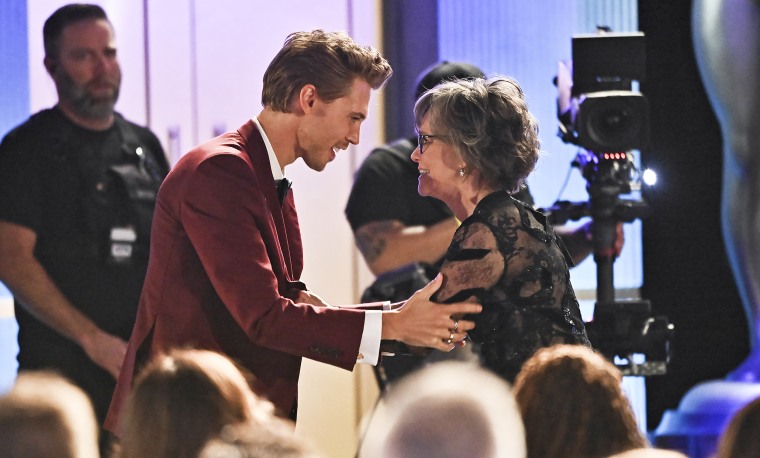 Field shared a sweet exchange with Butler at the top of the stairs, thanking him and adjusting the lapels of his jacket before turning to presenter Andrew Garfield and giving him a warm hug.
Viewers loved the wholesome moment, with one person on Twitter calling it the "cutest thing ever."
"Gifting your timeline with chivalry. Austin Butler escorting Sally Field to the stage," another person wrote on Twitter, sharing a photo of the moment.
"Austin Butler escorting Sally Field to the @sagaftra stage has me all up in my feels," another person tweeted.
Another fan focused on their caring exchange at the top of the stairs, gushing over "the way Sally Field fixed Austin Butler's suit after he helps her to the stage."
One of the best tweets of the night came from Field's son, writer and producer Sam Greisman, 35.
"She has better game than me," he deadpanned, sharing a photo of his mom standing between Butler and Garfield.
Butler also offered a hand to "White Lotus" actor Jennifer Coolidge, 61, as she accepted the award for outstanding performance by a female actor in a drama series. 
"He just escorted Jennifer Coolidge up the stairs too," one fan tweeted. "(He) definitely gets the best gentleman award of the evening."
"i need more of jennifer coolidge and austin butler interacting," another person wrote.
"Austin Butler kindly helping ladies up the steps to the stage when he isn't even sitting next to it is so pure," another fan tweeted.
Coolidge herself praised Butler's kindness in a brief interview with "Entertainment Tonight" after the ceremony, calling the moment "incredible."
Butler was nominated for a SAG Award for outstanding performance by a male actor in a leading role for his performance in "Elvis."