Austin Butler is still talking like the King...sort of.
The actor walked the red carpet at the Academy Awards on March 12, and in his interviews, he still had a hint of his deep Elvis Presley voice.
Butler has made headlines this awards season for how low and twang-infused his speaking voice has become since playing Elvis Presley in the Oscar-nominated film "Elvis."
In an interview with ABC on the red carpet March 12, Butler spoke in his deeper voice, without quite as much twang.
"I've been acting since I was 12 years old, and this always felt like an almost impossible dream to be here," he said. "I just gotta pinch myself every moment, because I cant believe it's actually real."
Priscilla Presley previously said that Butler spent two years studying the King before they filmed the movie, taking both voice and singing lessons to prepare.
"The voice was down to a tee. I mean I … couldn't believe it. I truly couldn't believe it," she said.
In a previous interview with E! News correspondent Laverne Cox at the 2023 Golden Globes — where Butler won best actor in a drama motion picture for his role — he said the criticism of his voice staying in Elvis-mode had been "hard for me to talk about."
"It's sort of like you're a kid and you're growing that's why you have to draw lines on the wall," he said at the time. "I can't really reflect on it too much. It's just this process that I don't know the difference."
Fans have both loved and hated the actor's voice change. Some have even shared previous clips of the star in his early Hollywood days to illustrate his original speaking voice.
Cox didn't ask the actor about his voice at the Academy Awards, but she did press him to reveal his favorite takeaway from being a part of "Elvis."
"It's hard to list just one (favorite moment)," he replied. "It's just such a part of my life. My best friends that I've made along this journey, just all the personal things that I had to dig out of myself in order to go on the journey in the first place."
He agreed with Cox that he feels like "a different man" now.
"And also it started four years ago and tonight is literally the close of that chapter."
In his monologue opening the show, host Jimmy Kimmel also quipped about Butler's speaking voice.
"As a first time nominee, he was so convincing as Elvis — still is," Kimmel said, as the audience laughed. "I know Elvis would have loved your performance and in fact, according to my Q Anon Reddit page, he did."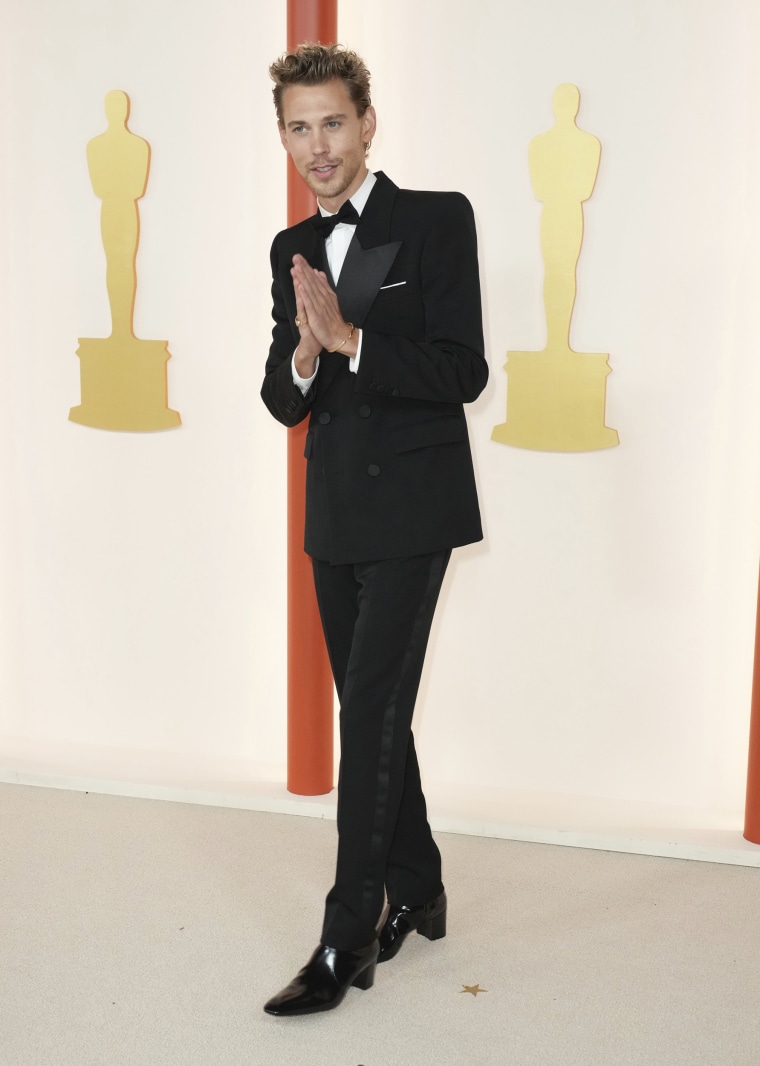 Hosted by Jimmy Kimmel for the third time, the 2023 Oscars are broadcast live from the Dolby Theatre in Hollywood in Los Angeles at 8 p.m. ET/5 p.m. PT, with the red carpet starting earlier. The 2023 Oscars are available to watch on ABC and various streaming platforms. 
Leading the list of nominees include "Everything Everywhere All at Once" and "The Banshees of Inisherin." The list of performers and presenters includes Rihanna, following her Super Bowl halftime show, and the viral Telugu-language hit "Naatu Naatu."
Follow TODAY.com for complete Oscars coverage, including this year's winners and unexpected moments.