Ariana DeBose deactivated her official Twitter account days after her rap performance at the 2023 BAFTA Film Awards went viral.
The Oscar-winning "West Side Story" actor opened the awards show on Sunday, Feb. 19 with a musical performance honoring the women nominees at the ceremony with a blend of song covers and original rap.
On Twitter, BAFTA (the British Academy of Film and Television Arts) shared a short clip from the longer performance, and many a meme was born.
In the clip, DeBose shouts out the supporting and leading acting nominees. She sings, "Angela Bassett did the thing / Viola Davis, my 'Woman King' / Blanchett Cate, you're a genius / Jamie Lee, you are all of us."
The moment was turned into an instant meme once it hit the internet. While DeBose sings with enthusiasm, some viewers were not enthused, replying to BAFTA's tweet with perplexed comments about how the segment got made.
As for what people in the room were thinking? Yes, Jamie Lee Curtis clapped — but commenters read into other audience members' minds, who sat more stiffly.
Amid the backlash, DeBose seems to have deactivated her Twitter account.
However, she's still engaging with the discourse. On Instagram, she responded to writer Evan Ross Katz, who shared playful and positive memes about the Angela Bassett line from her rap.
"Babe, wake up, Angela Bassett did the thing," Katz captioned his post, and DeBose responded, "Honestly I love this."
When BAFTAs awards producer Nick Bullen was asked about DeBose's performance, he told Variety on Monday, Feb. 20, that the backlash DeBose received online has been "incredibly unfair."
"We wanted to open the show with some energy, some fun, and also lay out straight away that this was hopefully going to feel like a different night, but with a familiarity as well, and what Ariana did was exactly that," he said.
Bullen said the segment was designed to inject some "razzmatazz" into the British awards show.
"I think a lot of people don't like change, and there's a view that the BAFTAs have to be this slightly stiff, traditional British, middle-England messaging," Bullen continued. "But American awards shows have much more razzmatazz, much more showbiz, and perhaps a broader range of people being involved. We felt we're not about revolution, we're about evolution."
Bullen added that he "absolutely loved" DeBose's performance and everyone in the room did so too.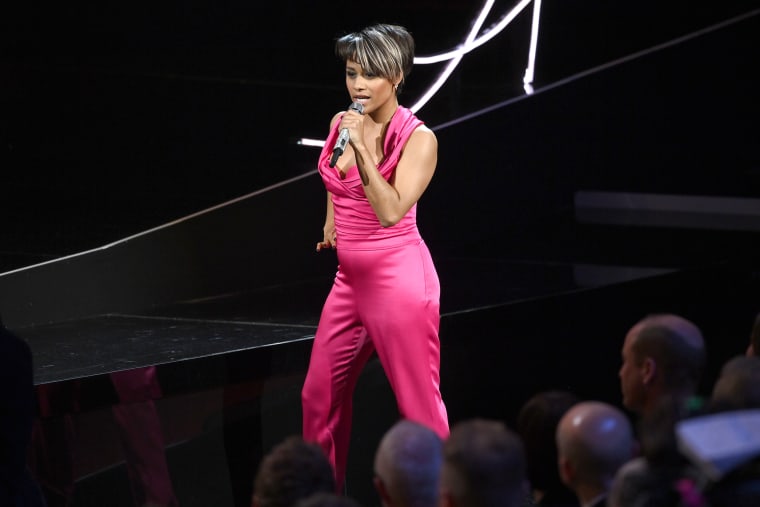 "The songs she was singing are very familiar songs, the room was clapping, and people were sort of dancing to the music," he said.
As to why she chose to mention different women in her rap, Bullen explained that she did it to pay homage to the different women in film since they've been having a "great year."
"We wanted to celebrate that. And here is a woman of color who is at the absolute top of her game. And she's opening the BAFTAs with a song that said so much on so many levels. All of those mentions, I felt, from the moment we were rehearsing it right through to the transmission last night, spoke to what we wanted to do," he said.
DeBose has her online supporters, too, giving the performance a second life and newfound appreciation (and remixes to Madonna).
"What y'all don't understand is that this is night 5 at theater camp ... Ariana DeBose needs to reactive her Twitter and stand in her greatness," someone wrote on Twitter.
People wrote more messages of support to DeBose: "i hope Ariana DeBose knows that we loved her musical number and it was camp and fun and it brought us all joy."
Love it or hate it, many people simply say they can't stop watching.
Looks like Ariana DeBose did the thing.