Fans are rallying around "Black Panther: Wakanda Forever" star Angela Bassett after she did not take home an Academy Award on March 12.
Bassett was nominated for best supporting actress for her portrayal of Queen Ramonda. Other nominees in the category included Jamie Lee Curtis for "Everything Everywhere All at Once," Hong Chau for "The Whale," Kerry Condon for "The Banshees of Inisherin" and Stephanie Hsu from "Everything Everywhere All at Once."
In the end, Curtis took home the award for her portrayal of Deirdre Beaubeirdre in "Everything Everywhere All At Once." In her euphoric speech, Curtis thanked her family, friends and everyone she's worked with to get her to this point.
"To my family, my beautiful husband, Christoper Guest, our daughters, Annie and Ruby, my sister Kelly, we just won an Oscar," she said. "To all of the people who have supported the genre movies that I have made for all these years, the thousands and hundreds of thousands of people, we just won an Oscar together."
She tearfully noted that both her parents, Janet Leigh and Tony Curtis, had been Oscar nominees as well.
While many celebrated Curtis' win, others were not thrilled Bassett did not win and tweeted their disappointment.
"Me stealing the oscar to give it to Angela Bassett," @bvbhive wrote alongside a video of someone moving a giant Oscar statuette.
"Angela Bassett is still a winner to me," @DJNYC1 tweeted.
Spencer Althouse, the editorial director of Buzzfeed, also tweeted.
"Angela Bassett's reaction to Jamie Lee Curtis' name being called…you can tell how much that Oscar would have meant to her. she is, was, and always will be incredible. I better see her on that stage SOON," he wrote.
"Angela Bassett was absolutely stunning in Black Panther: Wakanda Forever," writer Michael Patterson tweeted. "That performance was worthy of an Oscar, and incredibly worthy of being the first MCU performance to win an Oscar."
Despite Bassett not winning the award for best supporting actress, Michael B. Jordan, who appeared in the first "Black Panther" film, and Jonathan Majors paid tribute to her soon thereafter when they appeared to announce another award.
"Hey Auntie," Jordan quipped at Bassett as he walked onstage. It was a reference to a moment they shared in the first film.
When asked ahead of the ceremony by ABC what it was like to be the first person to be nominated for a Marvel film, Bassett said it was "pretty exciting," but they'd just gone into the movie focused on honoring the late "Black Panther" star Chadwick Boseman. Boseman died of cancer on August 28, 2020 at the age of 43.
"I think we just went into it with all our hearts set on honoring our dear brother, Chadwick Boseman," Bassett told ABC on March 12. "And we didn't think about anything other than that. And for this to come about as part of it is very satisfying."
Bassett did win a Golden Globe for her performance back in January. In her acceptance speech, she also paid tribute to the the "Black Panther" crew and their love for Boseman.
"Weeping may come in the evening," she told them. "But joy comes in the morning. We embarked on this journey together with love. We mourned. We loved. We healed. And we were surrounded each and every day by the light and the spirit of Chadwick Boseman.
"We have joy in knowing that with this historic 'Black Panther' series, it is a part of his legacy that he helped to lead us to. We showed the world what Black unity, leadership and love looks like beyond, behind in front of the camera."
As of press time, "Black Panther: Wakanda Forever" had won for best costume design by Ruth E. Carter. It is also nominated for best original song — "Lift Me Up," music by Tems, Rihanna, Ryan Coogler and Ludwig Goransson — as well as best visual effects and best makeup and hairstyling.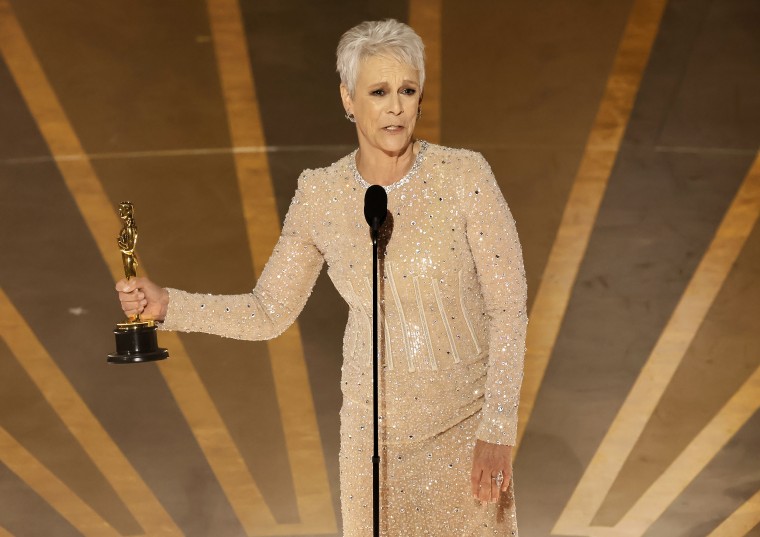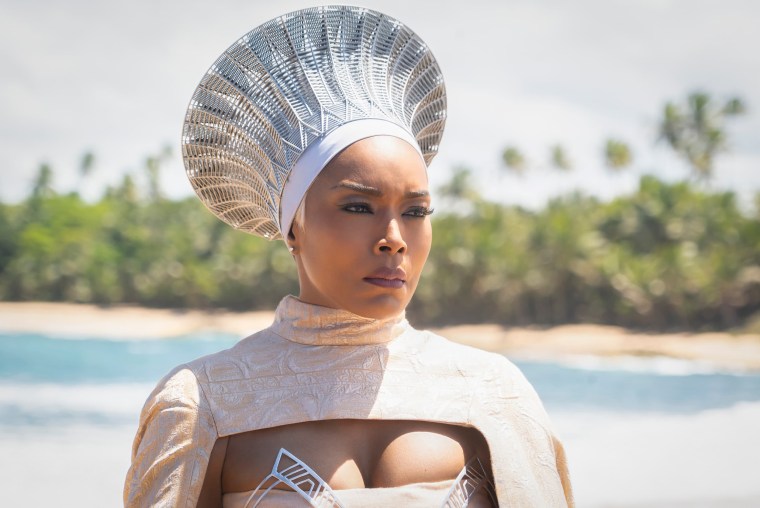 Hosted by Jimmy Kimmel for the third time, the 2023 Oscars are broadcast live from the Dolby Theatre in Hollywood in Los Angeles at 8 p.m. ET/5 p.m. PT, with the red carpet starting earlier. The 2023 Oscars are available to watch on ABC and various streaming platforms. Leading the list of nominees include "Everything Everywhere All at Once" and "The Banshees of Inisherin."
The list of performers and presenters includes Rihanna, following her Super Bowl halftime show, and the viral Telugu-language hit "Naatu Naatu."
Follow TODAY.com for complete Oscars coverage, including this year's winners and unexpected moments.