Despite "Top Gun: Maverick" being nominated for six honors, including best picture, the film's star Tom Cruise was not in attendance for the Academy Awards on March 12 in Hollywood.
His absence from the iconic Dolby Theatre on Sunday did not go unnoticed by host Jimmy Kimmel, who called out both Cruise and "Avatar" director James Cameron for skipping the event during his lengthy monologue at the beginning of the broadcast.
After quipping that Cameron might have skipped the ceremony after not being nominated for best director, Kimmel then launched into Cruise.
"Everyone loved 'Top Gun' I mean, everyone." Kimmel said. "Tom Cruise with his shirt off in that beach football scene? ... Hubba hubba!"
"Tom Cruise and James Cameron didn't show up tonight. The two guys who insisted we go to the theater didn't come to the theater."
Kimmel went on to joke that Cruise might actually be in the theater dressed as actor Judd Hirsch in a "Mission Impossible" mask. As the camera panned to Hirsch, the "Fabelmans" star pantomimed pulling his face off like a mask.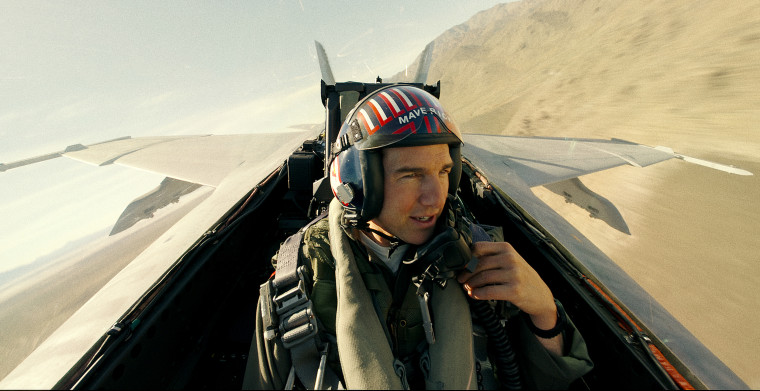 A spokesperson for Cruise confirmed to People that the actor had to miss the awards ceremony because he is filming "Mission: Impossible 8" overseas. Entertainment Tonight reports that if "Top Gun" wins best picture, producer Jerry Bruckheimer will accept the award.
The film, which is a sequel to the original "Top Gun" released in 1986, was also nominated for best adapted screenplay, best film editing, best original song, best visual effects and best sound.
Hosted by Jimmy Kimmel for the third time, the 2023 Oscars are broadcast live from the Dolby Theatre in Hollywood in Los Angeles at 8 p.m. ET/5 p.m. PT, with the red carpet starting earlier. The 2023 Oscars are available to watch on ABC and various streaming platforms. 
Leading the list of nominees include "Everything Everywhere All at Once" and "The Banshees of Inisherin." The list of performers and presenters includes Rihanna, following her Super Bowl halftime show, and the viral Telegu-language hit "Naatu Naatu."
Follow TODAY.com for complete Oscars coverage, including this year's winners and unexpected moments.