/ Source: The Associated Press
"Avenue Q," a cheeky little musical that uses puppets, four-letter words and catchy, jinglelike tunes, was the upset winner Sunday at the Tonys where history was made as Phylicia Rashad became the first black actress to win for a leading dramatic role.
"I Am My Own Wife," Doug Wright's gender-bending tale of survival, was named best play.
"Avenue Q" also received Tonys for the best book and score in beating out "Wicked," the lavish "Wizard of Oz" prequel for the top musical prize.
"It certainly doesn't suck to be us tonight," said Robyn Goodman, one of the musical's surprised and overjoyed producers, referring to the musical's opening number, "It Sucks to Be Me."
Rashad's acceptance speech was more composed.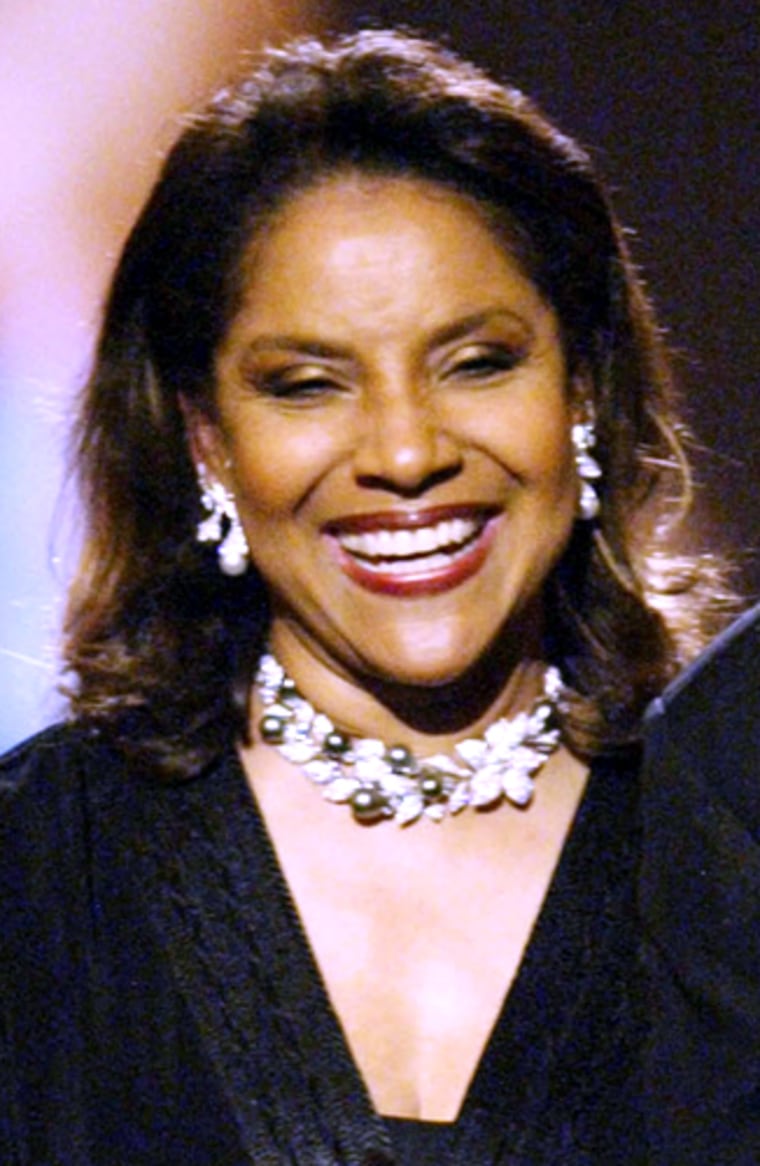 "Often I've wondered what does it take for this to happen," said the actress, who received the prize for her portrayal of Lena Younger, the tough-minded matriarch in a revival of "A Raisin in the Sun."
"And now I know. It takes effort and grace ... And in my life that grace has taken numerous forms. The first was the family into which I was born, parents who loved and wanted me, and a mother who fought fearlessly, courageously, consistently so that her children above all else could realize their full potential as human beings."
Jefferson Mays bested much better known competition (Kevin Kline, Christopher Plummer, Frank Langella) to take the top acting prize for his portrayal of a German transvestite — and some 40 other characters — in Wright's "I Am My Own Wife," a role he called "a labor of love."
"Our entire cast just won Tony Awards," joked Wright in accepting the best-play honor.
Hugh Jackman, besides serving as host of awards program, won the actor-musical prize for portraying flamboyant entertainer Peter Allen in "The Boy From Oz."
"Peter, it's an honor to play you and I dedicate this Tony to you," Jackman said in saluting Allen who died of AIDS in 1992.
"Wicked," a lavish, $14 million look at the "Wizard of Oz" witches, was celebrated for its for one of its leading ladies, Idina Menzel, who took the actress-musical prize and for its spectacle, picking up two design prizes for its gargantuan sets (Eugene Lee) and ornate costumes (Susan Hilferty).
A hint of the "Avenue Q" upset came earlier in the evening when the show won for book (Jeff Whitty) and score (Robert Lopez and Jeff Marx).
"When we started writing 'Avenue Q,' Jeff (Marx) was an intern and I was a temp," said Lopez. "Our lives kinda sucked so we came up with an idea for a show about people like us whose lives all kinda suck."
"But we're here to tell you as living proof that things get better. L and Carol just gave us the Tony Award," said an exuberant Marx after Carol Channing and LL Cool J gave them the prize.
Just before announcing the award, the Broadway legend and rapper did a duet that had the audience roaring.
Big night for 'Assassins'"Assassins," Stephen Sondheim's sardonic musical about presidential killers, picked up five Tonys, more than any other show. Its prizes included best musical revival and one for Michael Cerveris, who portrays John Wilkes Booth in the show.
"You don't have to kill somebody to get something like this. You can just pretend to on Broadway," joked Cerveris, winner of the award for featured actor in a musical.
The show also won for direction-musical (Joe Mantello), lighting design (Jules Fisher and Peggy Eisenhauer) and orchestrations (Michael Starobin).
Featured acting prizes went to Audra McDonald, her fourth Tony in 10 years, this time for her role as the hardworking wife in the revival of "A Raisin in the Sun," and to Brian F. O'Byrne, who plays a serial killer in "Frozen."
An emotional McDonald said, "The only thing I want ever wanted to do was be on Broadway." She thanked the cast, her family and said, "This belongs to Lorraine Hansberry," the play's author.
Anika Noni Rose won the featured-actress prize for her role as the defiant daughter in "Caroline, or Change."
Jack O'Brien received the director/play award, for Lincoln Center Theater's limited engagement of Shakespeare's "Henry IV," which also won for best play revival.
"I was so convinced, I talked myself out of this by repeating my mantra, 'We're a classic and we're closed,"' said O'Brien, who directed last year's Tony-winning musical "Hairspray."
The regional theater award was presented to the Cincinnati Playhouse in the Park. James M. Nederlander, patriarch of the family which operates nine Broadway theaters, was awarded a lifetime achievement prize.
It was a busy year with 39 productions opening on Broadway during the 2003-2004 season, compared to 36 shows the previous 12 months. Grosses were up, too, from $721 million to $771 million, but so were ticket prices. Attendance reached 11.61 million, an increase from 11.42 million a year ago, but still not as high as the 11.89 million during the season before the Sept. 11, 2001, terrorist attacks.
If there was no universally acclaimed, megamusical such as "The Producers" or "Hairspray," there were several high-profile successes. Besides "Wicked," audiences flocked to the revival of "A Raisin in the Sun," with hip-hop mogul Sean Combs the main box-office draw.
The Tony winners in 21 categories were chosen by 735 theater professionals and journalists.