Author Adriana Trigiani makes her debut in the teen world with her new book, "Viola in Reel Life." When Viola's parents leave for Afghanistan to make a documentary, they send her to boarding school in South Bend, Indiana. Homesick for Brooklyn, Viola does her best to fit in. With her trusty camera in hand, the year Viola was dreading becomes one filled with wonder, surprise, heartbreak and joy. An excerpt.
Chapter one
You would not want to be me.
No.
I'm marooned. Abandoned. Left to rot in boarding school in the dust bowl of Indiana like the potato we found in the cupboard in our kitchen in Brooklyn after months of searching for it. It was only when the entire kitchen began to smell like a root cellar from Pilgrim days that we figured out why—and when we finally found the potato—it was soft, rotten, and breeding itself with white barnacles with totally disgusting green tips.
Consider me missing. Like the potato.
I only hope it doesn't take an entire year for people to miss me as much as I can already tell that I'm going to miss them. And if I'm not good at explaining it in words, well, there's always my movie camera. I do better with film anyhow. Images. Moving pictures.
I flip the latch off the lens, look into the view finder, and press Record.
"I'm in South Bend, Indiana, on September third, 2009."
With my hand securing the camera and my eye behind the lens, I turn.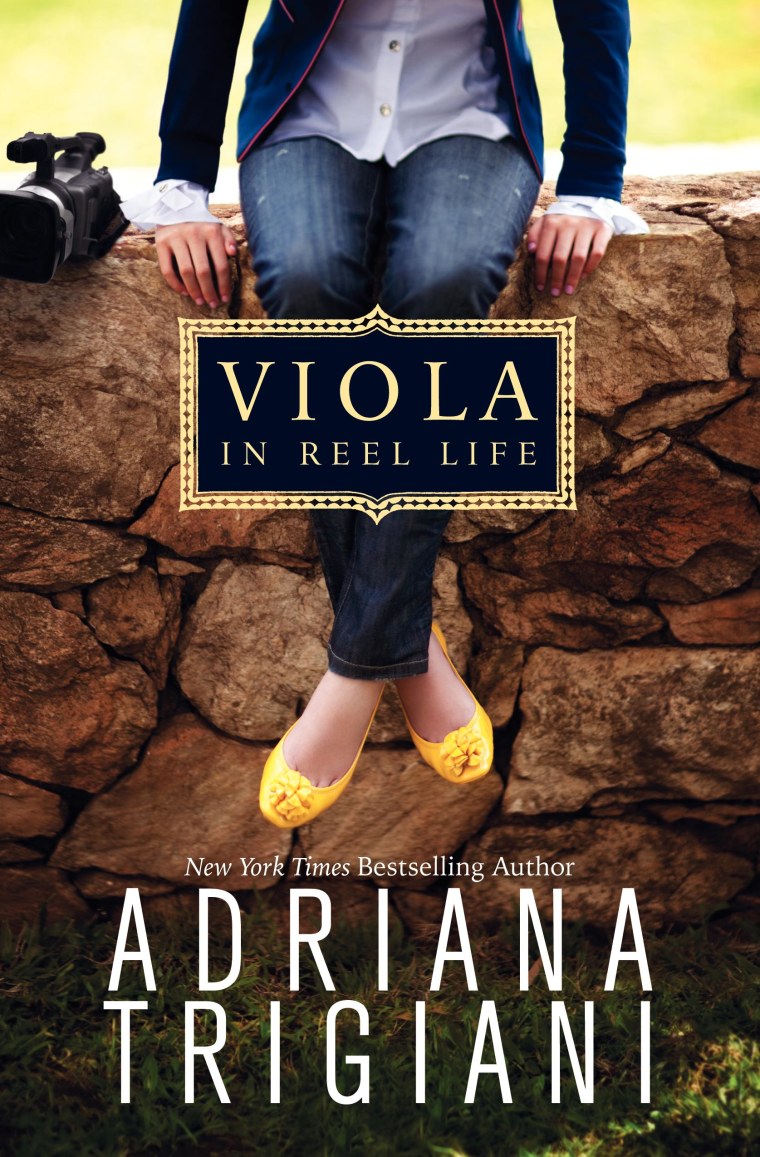 Through my lens, I slowly drink in three old brick buildings: Curley Kerner Hall is the dormitory where I'll be living, Phyllis Hobson Jones Hall (called Hojo for short, according to my resident advisor) is the theater with art studios on the basement floor, and Geier-Kirshenbaum is the classroom building. The Chandler Gym, a modern building that looks like a Moonwalk carnival ride covered with a hard shell of white plastic, is obscured by tall trees on a flat field.
What did I expect? Purple mountain majesties? I'm in the pre-great plains of the Midwest. The gateway to the west. This is Indiana—translated it's a Native American word for flat. Okay, I made that up.
I film the freshly painted black sign with gold lettering set in a stone wall.
THE PREFECT ACADEMY FOR YOUNG WOMEN SINCE 1890
It gives me little consolation to know that parents have been dumping their girls here for a solid education since bustle skirts, high-top shoes, and the invention of the cotton gin.
"This is my new school," I say aloud. "Or my own personal prison. . . your choice."
The stately brick buildings are connected by corridors of glass. From here, the glass hallways look like terrariums. That's right. The boarding school has glass atriums that look exactly like the scenes I made in summer camp out of old jelly jars filled with sand, cocktail umbrellas, and plastic bugs.
I pivot slowly to film the fields around the school. The land is the color of baked pizza crust without the tomato sauce. There are no lush rolling hills similar to the ones that appear on the school website. The babbling brook on the home page gushes crystal water, but when I went to film it, it was a bone-dry creek bed, with gross stones and tangled vines. Besides being marooned, I've been had—duped by my own parents, who, up until now, have made fairly intelligent decisions when it comes to me.
I lift the camera and film a slow pan. The endless blue sky has gnarls of white clouds on the horizon. It looks a lot like the braided rag rug my mother keeps in front of the washing machine in the basement of our Brooklyn brownstone. Everything I see makes me long for home. I wonder what color the sky is now in New York. It's never this shade of blue. This is cheap eye shadow blue, whereas New York skies have a lot of indigo in them. When the moon rises over Indiana, I bet it will be a cheesy silver color, but at home, it's golden: 24K and so big, it throws ribbons of glitter over Cobble Hill. I can already tell there will be no glitter in Indiana.
The first thing my parents taught me when I held a camera was to spend the least amount of film time on beauty shots, and the most amount of time on people. "If you film people," my mom says, "you'll find your story." I slip the camera back into its case and head back to the dormitory. I'm going to remember to tell my mom that sometimes you need beauty—and beauty shots. Beauty makes me feel less alone.
The gothic entrance hall smells like lemon furniture polish and beeswax. The dorm has the feeling of an old church even though it's not one. Heavy dark wood stairs and banister lead to a ceiling covered in wide squares of carved mahogany. A burgundy carpet runner over the wide staircase is frayed at the edges but clean.
The hallway that leads to my room on the second floor is filled with small groups of girls, my fellow (!) incoming freshmen, who laugh and chat as though moving into a boarding school is the most natural thing in the world. I'll try not to resent the smiling, happy girls.
Inside the rooms are more girls, hanging posters and unpacking, talking as if they've known each other forever. But then there are the other girls, girls who are quiet and clump together, looking around with big eyes full of dread and fear waiting for something horrible to happen.
I guess I'm somewhere in the middle of these two camps.
I don't want to be too quick to make friends because I don't want to get stuck with an instant BFF who seems totally nice on the first day, and then a week later is revealed to be the most annoying person on the planet. I don't want to be that freshman—the chirpy kind, who needs friends fast in order not to feel alone. So I am deliberately aloof. At LaGuardia Arts, my old school, this method worked very well for me.
I did make close friends when I was a photographer for the yearbook. I even made my best friend since childhood join the yearbook staff. Andrew Bozelli (BFFAA—the double A is for: And Always) and I have a lot in common. Never mind that everybody, I mean everybody, thinks we're boyfriend and girlfriend—we are not by the way, we just happen to spend a lot of time together. And we were both lucky enough to get variances to go to LaGuardia High School. I fish my phone out of my pocket as it beeps. It's Andrew.
Andrew: Unpacked?
Me: Yep.
Andrew: What have you filmed?
Me: Exteriors. I will download and send.
Andrew: You hate it already.
Me: Yeah.
Andrew: Hang in there.
Me: Trying.
Copyright © 2009 by Adriana Trigiani. Reprinted by permission of HarperCollins Publishers. All rights reserved.