/ Source: TODAY contributor
Glowing and bubbly like the newly engaged woman that she is, Ashlee Simpson came to the TODAY Show to sing a cut from her new album and to continue to duck a direct answer to the question everybody's asking: "Are you pregnant?"
"That's been going around for about a year now, so only time will tell with that," she told TODAY's Matt Lauer. But, she added with practiced aplomb, "I am giving birth to my record on the 22nd — it'll be out Tuesday. That's my new baby."
The album — her third — is called "Bittersweet World." Lauer said that with all the good things going on in her life, including her engagement to her boyfriend of two years, Pete Wentz, "Bittersweet World" seems a strange name for an album that's described as full of upbeat music.
"It's kind of a tongue-in-cheek thing," the singer said. "With the good comes the bad, you know."
Lately, she admitted, it's all been awfully good. "I feel like a really lucky lady," she told Lauer as she showed off her engagement ring. Lauer complimented Wentz, who is the front man and bassist for the group Fall Out Boy, on his taste in diamonds. She said the couple has not set a wedding date. "Right now, we're just enjoying the engagement," she said.
A natural blonde who had dyed her hair black in recent years, Simpson showed up at TODAY with long auburn hair set off by silver hoop earrings the size of saucers and adorned by a single silver star.
Simpson sang two songs in the TODAY studio, "Little Miss Obsessive" from her new album, "Bittersweet World," and "Pieces of Me" from her 2004 album "Autobiography." She's due back on the Plaza on July 4 as part of TODAY's Summer Concert Series.
Simpson told Lauer that she wrote "Little Miss Obsessive" about herself. "It's what we can all become in a relationship sometimes," she said. "We put our foot in our mouths and we wish we didn't — 'No, I didn't mean to say it. I take it back. I take it back.' "
Half the tracks on the new album were produced by hip-hop legend Timbaland and Simpson, who likes to get to bed at a reasonable hour, said she had to adjust her schedule for people who do their best work at 4 in the morning.
"It was definitely later hours than I'm used to. But it was fun. I had a great time," she said. "They're very talented and they were fun to be around. I just had to kind of sleep till 2 in the afternoon."
For one who is just 23 years old, Simpson, the younger sister of singer/actress Jessica Simpson, seems to have been around forever. Trained in classical ballet, she was a backup dancer for her sister before taking roles in films and television series, including a guest shot on "Malcolm in the Middle" when she was 16.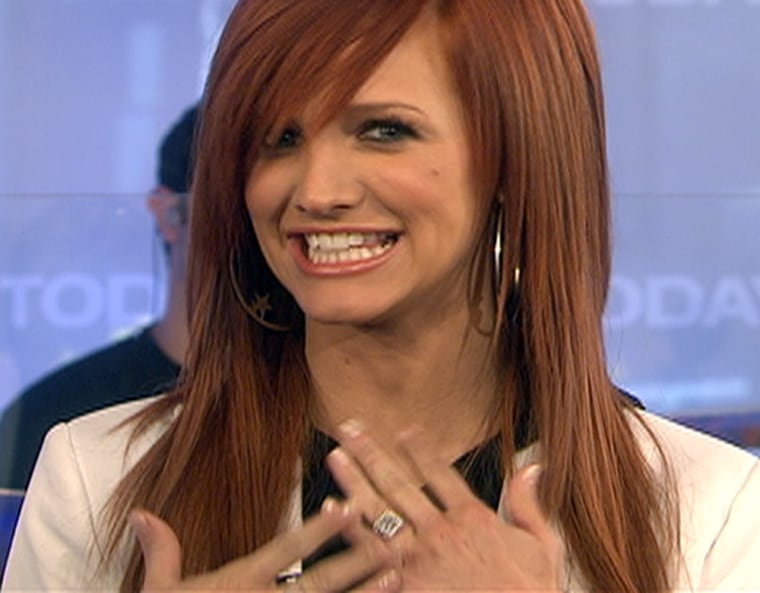 Her debut album, "Autobiography," hit No. 1 on the charts and went multiplatinum in 2004. A reality TV gig — "The Ashlee Simpson Show" — followed on MTV. She became the center of a controversy when she appeared on "Saturday Night Live" that year and lip-synced two songs because of a severely sore throat, but later made fun of the episode.
Though frequently panned in the mainstream media, the Texas native has thrived in her career and remains very popular with her fans. She has said she wants to move into acting and develop a clothing line.