/ Source: The Associated Press
It took death for anyone to notice Henry Darger.
The tiny, unkempt recluse spent 54 years in the most menial of hospital jobs. In his off hours, he attended Catholic Mass — as many as five times some Sundays — and rummaged through garbage cans. But most of his time was spent in a tiny, cluttered apartment, where he could be heard talking to himself in a bewildering array of voices while pecking away at an ancient typewriter.
Just before Darger's death in 1973 at age 81, volunteers cleaning out piles of newspapers, magazines and comic books from his room made an astounding discovery: three massive manuscripts, including a 10-volume tome estimated at 9 million words — 16 times longer than a standard English translation of "War and Peace" — and a trove of watercolors and collages he'd created to illustrate his stories.
Now, 35 years after his death, the man who lived a life of obscurity is one of the most famous and disturbing figures in the history of outsider art — produced by people who are untrained, visionary and sometimes demonstrably insane. His work fetches upward of $80,000 and his room is recreated at a new permanent exhibit at Intuit: The Center for Intuitive and Outsider Art, a Chicago gallery.
Part of Darger's attraction is the mystery surrounding his life and art.
Most of his stories and illustrations, some set on another planet, involve prepubescent girls — particularly the seven Vivian sisters, daughters of a general, who all are blonde and about 10 years old. Darger illustrated his works with hundreds of hand-colored collages, up to 12 feet long and many double-sided, assembled from images he had clipped or traced from magazines and other sources.
The differences in his depictions can be stark and startling. The Vivian girls and their companions sometimes play in fanciful gardens or are shown being aided by monsters called "blengins." But other pictures show the girls, often naked and with male genitalia, battling oppressor soldiers. Sometimes the soldiers are shown strangling the girls, impaling them with bayonets and disemboweling them. There is no rape, nor any mention of sexual activity.
Troubled childhood may have influenced artIt all deepens the mystery surrounding Darger and his troubled childhood.
Darger scholar Michael Bonesteel said in a recent interview that he believes Darger suffered from gender confusion, "possibly caused by sexual abuse when he was a child."
The strange sexuality of Darger's fantasy world, plus the striking colors and imagery of his art, also attracted the interest of pyschotherapist-turned-art historian John M. MacGregor in 1989. Every summer for 10 years, MacGregor took a train from his home in San Francisco to Chicago, where he spent weeks alone in Darger's former room.
MacGregor, who published the 2002 biography, "Henry Darger: In The Realms of The Unreal," learned that Darger was a product of the Chicago immigrant slums, and that his mother had died of septicemia a few days before his fourth birthday.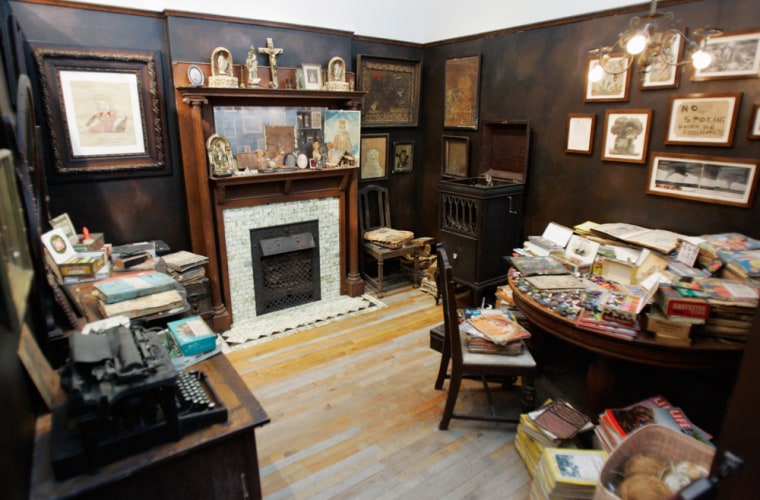 Darger's father, an invalid, could not care for his son and placed him in a Catholic charitable institution called the News Boys' Home.
Although Darger was intellectually gifted enough to skip two grades in elementary school, he was hard to control. At age 12 or 13, he was sent downstate to The Lincoln Asylum for Feeble-Minded Children in 1904. He escaped in 1909, took a train as far as Decatur and then walked 180 miles to Chicago. Except for brief military training in 1917, he never left the city again.
His manuscripts and the largest body of his collages and watercolors are housed at the American Folk Art Museum in New York. Another major collection is at the Musee de l'Art Brut in Lausanne, Switzerland.
American, European and, particularly, Japanese authorities on outsider art have praised Darger as one of the world's most significant artists in the genre. They point to his single-minded devotion to his vision, its complexity and his utter lack of self-censorship in letting his subconscious flow onto the page. They say he created his own dream world, and then moved into it.
Bonesteel, an art magazine editor who published "Henry Darger: Art and Selected Writings," in 2000, sees Darger as an innocent — an arrested child.
"I think his fiction and pictures are a projection of his horrific childhood," he said, noting that the asylum in Lincoln was the center of repeated scandals while Darger was a resident there.
The supervisor was accused of covering up abuses, including the scalding death of one child, severe burns to another and rat bites to a third. A physician assistant conducted anatomy lectures using body parts from deceased residents, referring to the dead children by name. And another staff member died after castrating himself in the belief that sexual urges were causing his epilepsy.
"But Darger didn't complain about the place after his escape," Bonesteel said. "It was as close to a home as any place he'd been."