Looking back on his 2011 divorce from Maria Shriver after a 25-year marriage, Arnold Schwarzenegger recalled the split as the worst period of his life while also wishing the two had never gone to marriage counseling.
In an interview with Howard Stern on his SiriusXM radio show on Wednesday, the "Terminator" star and former California governor opened up about his divorce, which came in the wake of his admission that he fathered a love child with the family's housekeeper a decade earlier.
"I had personal setbacks, but this was, without any doubt, the biggest setback and the biggest failure," he told Stern. "Without any doubt. Not only failure, but you feel like, 'I'm to blame for it. It was me that screwed up.' And you can't point the finger at anyone else. So yeah, I was disappointed in it. It's always easy to be smart in hindsight. The thing was, how do you make the best of that situation?"
Schwarzenegger claimed Shriver talked him into going to therapy, with negative results.
"It was the biggest mistake I've ever made,'' he said. "That guy was so full of s---. He said more crap and more nonsense. It was absolutely counterproductive to our future relationship. I went, and I felt instinctively maybe I shouldn't go because I know I screwed up. I don't have to go through anyone to have to explain to me anything. I apologized to Maria. I apologized to the kids."
Kathie Lee Gifford thinks blaming the marriage counselor on the dissolution of the marriage is a stretch.
"How about what he put his family through because of his choice, his selfish choices?" she said on TODAY Thursday. "We all are selfish at times, but that's a doozy."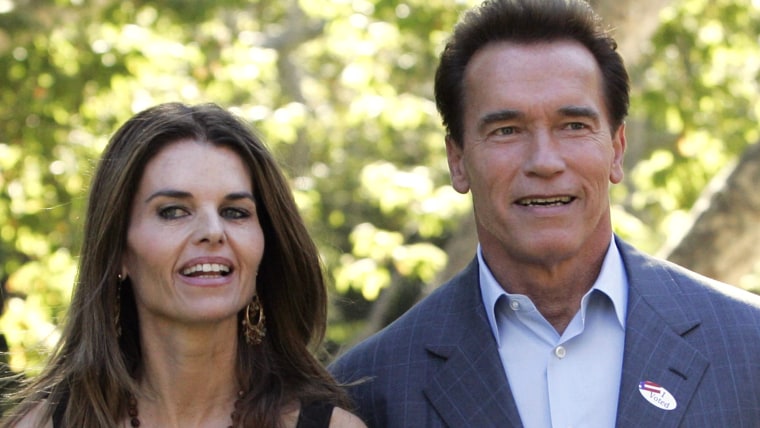 Schwarzenegger maintains that his relationship with his four children with Shriver, Patrick, Katherine, Christopher and Christina, remains strong. They recently surprised him with a room full of balloons and a kind note calling him "the greatest dad" while he was promoting the upcoming "Terminator Genisys" movie in Germany.
"My kids are a straight 10," he said. "I am so proud of them. I'm so in love with them."
He also spoke about his relationship with Joseph Baena, 17, the son he had with his housekeeper.
"He's terrific and he totally understands the situation," Schwarzenegger said. "So, it all has worked out. It's a very tough situation for him. It's a very tough situation for my kids. Very tough situation for my family. It was tough for everybody. But it has happened and now we have to figure it out, right?"
MORE: Arnold Schwarzenegger pranks fans by posing as 'Terminator' wax figure
Patrick Schwarzenegger previously dated pop star Miley Cyrus, and Arnold briefly opened up about the pop star.
"Under normal circumstances maybe I would be nervous, but I'll tell you the two reasons why not,'' he said about his son dating Cyrus. "One is, my kids are very strong. They have had their upbringing. They know exactly how far they can go and they should be adventurous, they should venture out and meet different people, so I was not worried about that. The other thing is, when I did meet Miley Cyrus, when she came up to Sun Valley skiing during the holidays, I found out that she was a fantastic person."