If a personal pep talk from Arnold Schwarzenegger doesn't give you the confidence to pursue your fitness goals, then we're not sure what will.
On Wednesday, a man took to Reddit to vent the frustration he felt after going to the gym by himself for the first time.
User GnashBrowns wrote that he felt "completely demoralized" after his struggles to complete squats and weightlifting exercises prompted fellow gym-goers to laugh at his embarrassment.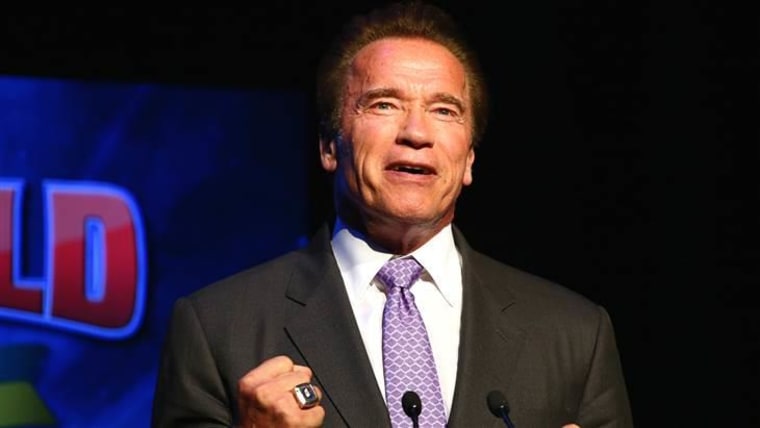 On Friday, Schwarzenegger responded with some spot-on advice (using the same account he did for his "Ask Me Anything" last year).
"I always say don't be afraid of failure, because how far can you really fall? You found out — to the ground," wrote the 67-year-old star and former professional bodybuilder, who noted that he wanted to "chime in" after someone told him about the man's Reddit post.
"It's right there. Now you know it isn't anything that should scare you. You should be proud that you weren't afraid — not embarrassed that you failed," he continued. "You could have made excuses not to walk into the door, but you didn't. You knew it would be hard, and it would be uncomfortable, and it might be awkward — and you did it anyway. That's courage. I'm proud of you."
Schwarzenegger added, "The last guy I rooted for broke a world record in the dead lift. You have more in common with him than you think," referring to Eddie Hall, who broke the dead lift world record at the Arnold Classic bodybuilding event in Australia earlier this month.
He ended his message by saying that he was "rooting" for the man.
"You took the first step and you fell, but at least you fell in the right direction, so get back up and take the next step. Keep moving forward," he wrote.
The man replied that he was "in total shock" over Schwarzenegger's words of encouragement.
"I'm going to make sure I come back to this subreddit bigger and stronger to show everyone here that supported me that I stayed on the path and didn't give up," he said.
Or in other words, he'll be back.
This article was originally published Mar. 23, 2015 at 4:13 p.m. ET.