If Fridays are for celebrating, that's truly what happened when pop star Ariana Grande paid a surprise visit to young victims recovering from the Manchester terror attack.
Eleven days after 59 people, many children, were injured in a suicide bombing at her concert, the 23-year-old singer toured the Royal Manchester Children's Hospital, where young fans were still being treated for injuries sustained by the attack at the Manchester Arena. She stopped to pose for selfies and bedside chats with the fans and their families.
Grande posted a photo with a girl identified as Jaden Farrell-Mann, captioning the post with a single heart, below.
On Twitter, Farrell-Mann went into more detail, gushing, "I got to meet my queen today ... love you @ArianaGrande ... xxxxxx"
Adam Harrison, the father of an 8-year-old girl recovering in the hospital, Lily Harrison, said he was almost as nervous as his daughter when they found out Grande was visiting Friday night.
"Our ward was the last ward," he told the BBC in an interview. "She just came skipping on to our ward. She was brilliant, I thought it may be a bit almost rehearsed, or a bit false ... but she was just amazing, there was no time limit, there was no 'Don't touch her, don't take pictures' ... She was just there for anything, everything. She was just there, she was brilliant. We're all fans for life now."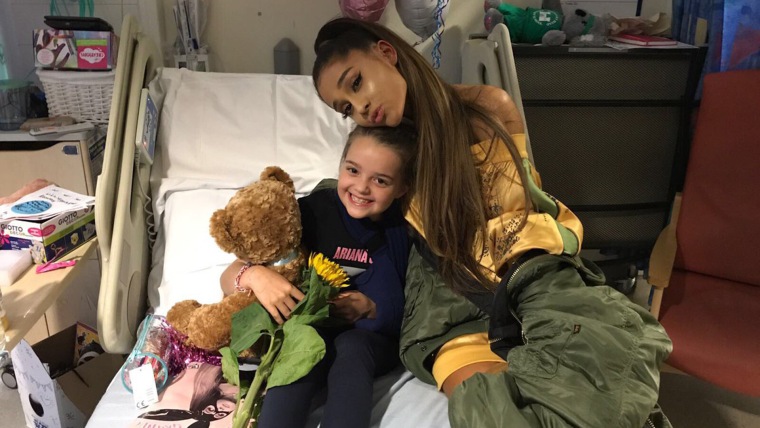 Grande's visit comes days before the "One Love Manchester" benefit concert, dedicated to victims of the attack, which she will host Sunday. The star-studded event will feature performances by Katy Perry, Justin Bieber, Miley Cyrus, Pharrell Williams, Coldplay and more. The event will take place at a stadium only four miles from the arena where the attack occurred. Tickets for the concert reportedly sold out in a few minutes, but fans who attended the previous show were offered free admission. Proceeds will go to the We Love Manchester Emergency Fund, which was set up to aid grieving families and victims of the attack.
The hospital wasn't the only stop Grande made on her rounds in the U.K., however. She reportedly met with a number of the deceased victims' families on Friday as well.
Dan Hett, the brother of 29-year-old Martyn Hett, who died in the explosion, shared his gratitude to Grande on Twitter with this simple post.
He wrote, "endless respect to @ArianaGrande for coming back to our city and meeting my family and so many others. (I couldn't be there, babies etc)."
Roughly 130,000 ticket holders are expected at Sunday's event.
RELATED:
Ariana Grande's Manchester benefit concert sells out in under 6 minutes
Ariana Grande 'broken' following Manchester concert attack: 'I don't have words'