/ Source: TODAY contributor
Bravo may have left a sunny California gated community for the heart of the Big Apple in the latest season of "The Real Housewives of New York City," but the housewives aren't all that different from their Orange County counterparts.
The flashy clothes, perfect figures and big spending are still there. One Orange County cast member said she was surprised by how similar the East Coasters seem to be.
"I was a little surprised with the women," said Lauri Peterson, a tall blonde with a Barbie doll-like figure whose lavish wedding was featured on the latest season of "The Real Housewives of Orange County." "I was thinking that every woman would be beautiful brunettes with chiseled features and business suits, hitting the streets walking as fast as they can. But the women didn't seem that different than us. Maybe a little more uptight, a little busier."
In the first episode of "The Real Housewives of New York City," scenes did seem to evoke youth-obsessed California, like when Ramona Singer, a fashion entrepreneur, went to the dermatologist for "beauty maintenance," shook it on the dance floor with her husband and showed her mortified 13-year-old daughter Avery the collection of short skirts she was packing for the Hamptons.
The show is a spin-off of the popular reality series "The Real Housewives of Orange County," which, over the course of three seasons, followed a group of women navigating relationships, raising children, advancing in their careers — and occasionally getting Botox. The new installment moves from West Coast McMansions to Upper East Side apartments and luxury Hamptons vacation homes, focusing on women who — despite their similarities to their California counterparts — would never dream of living behind the gates.
"I don't ever want to live in the suburbs," graphic designer and mother-of-two Alex McCord said in the opening episode, visibly wincing at the thought. "It is expensive living in the city and raising children, but I wouldn't want to live anywhere else."
Singer thinks that everyone in the country aspires to be like New Yorkers.
"There is a chicness about us that you don't find anywhere else in the country," Singer said. "There's a savviness that comes with living in New York City."
While the Orange County women wanted to impress everyone in Coto de Caza, the New York housewives seem to have more expansive tastes, from helping their children get into the best private schools to hobnobbing with celebrities.
"Housewife" LuAnn de Lesseps is a real-life countess who married into the French aristocracy that built the Suez Canal and presented the United States with the Statue of Liberty for France. The mother of two also hosts a show on local cable in the Hamptons called the "Countess Report" and has appeared in segments on etiquette on CBS and Fox.
McCord hires a French au pair so her sons will grow up bilingual and, rather than spending lots of time in the Hamptons, prefers to spend part of the summer in St. Barts.
Socialite and reality-show veteran Bethenny Frankel, the runner-up on 2005's "Martha Stewart Apprentice," is a natural foods chef whose high-profile clients have included Paris Hilton, Alicia Silverstone and Mariska Hargitay of "Law & Order." And not to be outdone is Jill Zarin, who operates a fabric and home furnishings store with her husband. In the first episode, Zarin scans her mail, noting invitations to events with celebrity guests like Donald Trump and designer Tom Ford.
"I am now a Manhattan socialite and get my picture taken for a lot of fancy magazines," Zarin said. "I love it."Not every New York housewife has liked what she has seen of the show so far. McCord told Amy Robach on TODAY Tuesday that she originally thought the show could be a moving photo album of her family.
"I had a misguided faith that producers and the network would show us as we are, but I don't think we feel this way at this point," McCord said. "We'll see."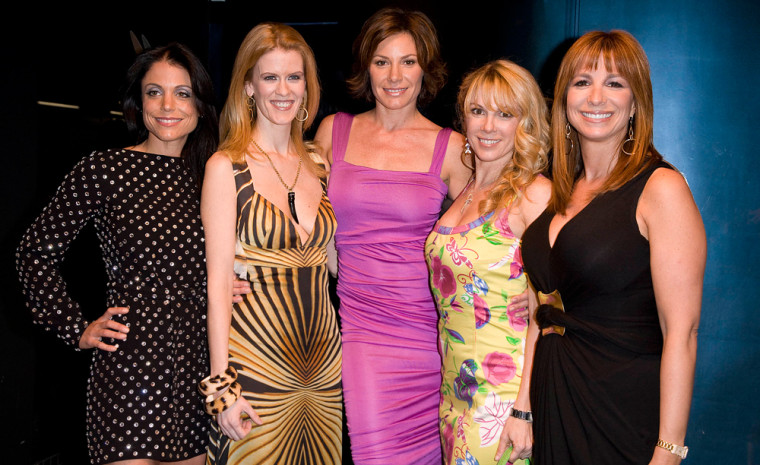 Despite a likely cult following (as its Orange County counterpart has), many critics have given the show poor reviews, arguing that the women aren't real socialites, but aren't average housewives either. The New York Daily News' TV critic David Hinckley wrote, "Saying these women represent 'New York housewives' is like saying Alex Rodriquez represents the New York working class."
Frankel said that is missing the entire point of the show.
"It's just entertaining. How many housewives are there really? We don't even have houses in New York City," Frankel said. "It's not to be taken so seriously."
And what's so bad about being different?
"There are 8 million people living in New York City," de Lesseps said in an interview. "Our lives are different from a lot of people's lives. A lot of people would like to live like us, and a lot of people would like to kill us. But we've got a big audience so far."