If every Academy Award winner winds up performing on "Lip Sync Battle," that'd be perfectly fine by us.
Two years after winning an Oscar for playing Fantine in the musical adaptation of "Les Misérables," Anne Hathaway is back channeling another emotional heroine with a pixie cut, this time for Spike's addictive new competition series.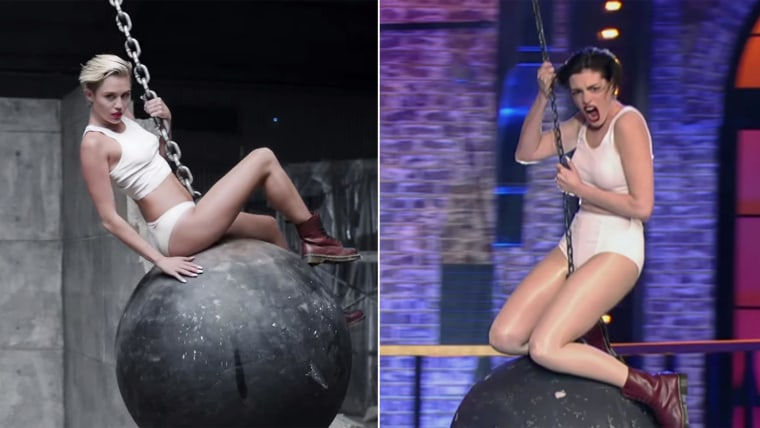 Sporting a familiar white tank-top and underwear combo, Hathaway does her best Miley Cyrus imitation as she launches herself atop a "Wrecking Ball" and mouths the words to Cyrus' biggest hit.
Aboard said ball, she playfully flips the bird to her "Lip Sync Battle" opponent, Emily Blunt, who laughs while seated beside host LL Cool J (Note: Depending on your office, this might spark a moderate NSFW alert).
Premiering last week, "Lip Sync Battle" has already had its share of memorable moments.
In an epic showdown with "The Tonight Show's" Jimmy Fallon, Dwayne Johnson fully committed to his take on Taylor Swift's "Shake It Off," earning bonus points for imitating Swift's giggle to perfection. Johnson, as he predicted, wound up being "The People's Champion" in this showdown.
Not to be outdone, Common donned a wig and busted out some legit breakdancing moves for his rendition of Lionel Richie's "All Night Long." He wound up defeating his Oscar-winning collaborator, John Legend, who countered with Hammer pants and the Running Man for "U Can't Touch This" — all while wife Chrissy Teigen looked on in shock/horror/amusement.
Hathaway and Blunt's episode of "Lip Sync Battle" airs Thursday.
Follow TODAY.com writer Chris Serico on Twitter.