Anna Nicole Smith continues to live up to her reputation as a party girl.
The former reality-TV star stunned crowds with her outrageous behavior in Myrtle Beach, South Carolina recently. "She entered a wet T-shirt contest at a club called Freaky Tiki and exposed herself and got into a loud fight with some guy everyone says is her boyfriend," a source tells The Scoop.
Fans were buzzing about Anna's antics on her Web site. "I just want to tell all y'all out there in Anna land that all this stuff is true because I saw  . . . it with my own 2 eyes!!!!!!!!" one person posted. "She is there with her boyfriend and his friends and family. She was wandering aimlessly around [a] house looking for [pills]. Her boyfriend kept telling her to quit."
"What surprised me is she was slamming shots after she took [some "nerve pills,"] according to another poster. "Then she continued drinking and by night's end the boyfriend, (he said his name was Larry) tried to calm her down she smacked him in the face and was kissing on girls and dry humping some old man on his lap who she left with but not without help from her attorney Howard [K. Stern] who had to hold her up and went wagging behind her like a puppy dog, with in fact Anna's puppy dog in his arms."
The alleged boyfriend was apparently Larry Birkhead, who was wearing a T-shirt that declared: "I love my girlfriend." Smith, in October, told The Louisville Courier Journal "Larry keeps me occupied so I don't have to worry about being lonely anymore."
The postings about Smith's shenanigans were all removed from her Web site and the forum was closed, but a few photo highlights of the weekend still exist on the Web.
"The reason we took down the postings was that we don't want Anna defamed on her own Web site," Stern told The Scoop. He says that she did enter the wet T-shirt contest, but did not expose herself — she was wearing pasties. He also denies that Smith took or asked for any pills or that she has a boyfriend. "The only thing that was true is that I went there to save her because she didn't feel safe," he said. "She met some good people in South Carolina and some bad people and I question their motives. I'm glad we got her out of there on time."
Don't call her Madam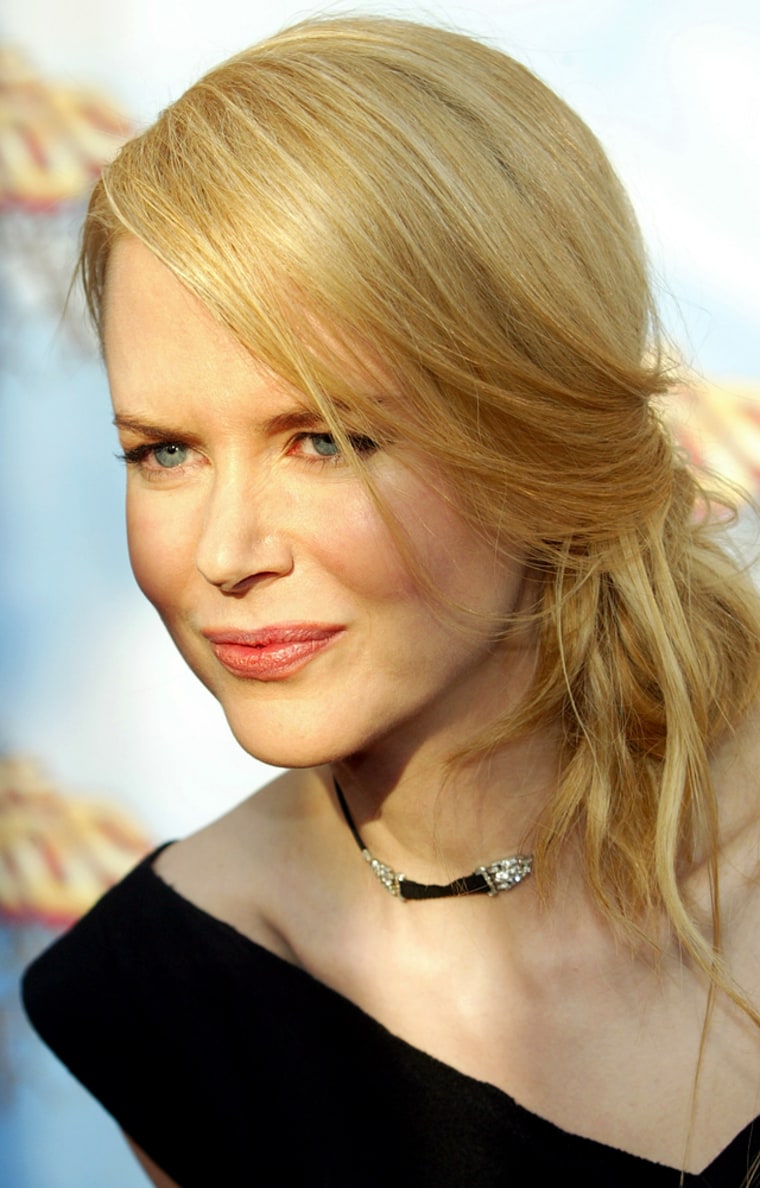 Looks like Nicole Kidman won't take on the role of the Hollywood Madam after all.
The "Bewitched" star was reportedly interested in starring in a feature film based on the life of Heidi Fleiss, but the ex-con madam says that Kidman is off the project.
"It had something to do with age," Fleiss tells The Scoop. "She'd have to play a 22-year-old, and she's nearly forty. I think she's amazing and could play a 22-year-old or whatever she wanted, but they said 'How about Hilary Swank?' and I said, great, fine, whoever. I would have said great, fine, whoever, if they had said Roseanne Barr. I stopped paying attention because I'm focusing on my future, not my past."
Kidman's rep tells The Scoop that it was Kidman's decision not to play Fleiss. "At some point a long time ago Nicole had expressed some interest in it," she says. "But [she] was never attached to it and is no longer even considering it."
Fleiss explained that she's immersed in a new business venture in Nevada, where prostitution is legal in certain counties. "I'm building a brothel that will change the way America views sex," she says. "I'm a perfect example of the fact that prison does work. I have served my time, now will do my crime legally."
Notes from all over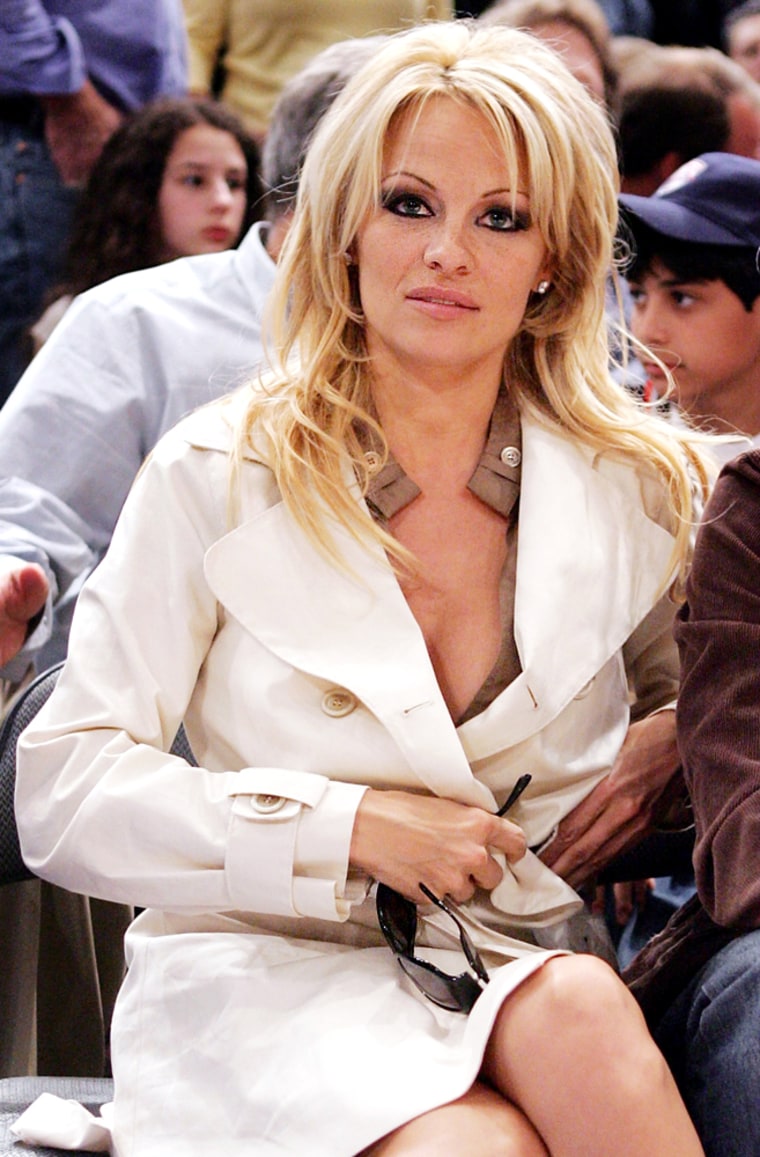 Speaking of Nicole Kidman, she missed her first big acting break because she didn't want to smooch with another girl. "In high school I loved to act because you'd get to kiss the boys you had crushed on.  [Director] Jane Campion came to my school and wanted to cast me in her student film, but she wanted me to wear a shower cap on my head and kiss another girl," Kidman told Glamour magazine. "I did not want to kiss another girl, so I told her I had my school exams and couldn't." Campion later directed Kidman in "The Portrait of a Lady."  . . . Some habits are hard to break. Pam Anderson (shown at left) may be marching down the aisle for the third time with bad boy rocker Tommy Lee, according to  Radaronline. "Stephen [Dorf, Anderson's sweetie] told all his friends he was going to marry Pamela," says a pal of the actor's. "Since he found out she was in Hawaii with Tommy ­and was staying in the same room with him all last week­ he's been all messed up. He hopes it's just another one of her flings." But a friend of Anderson's tells The Scoop "I don't believe they're getting married. I don't think they're even involved. They stay friendly for the kids' sake."  . . . Johnny Depp is disputing reports he modeled on Michael Jackson. "It never entered my mind," Depp said, according to World Entertainment News Network. "Michael Jackson loves children, but Willy Wonka doesn't." Depp's actual inspirations were Captain Kangaroo and Mr. Rogers. "There were memories I have as a little kid watching children's shows and children show hosts," Depp said. "I distinctly remember thinking their speech pattern was strange."
Mondays through Thursdays on MSNBC.com