Anna Kendrick's new book may be titled "Scrappy Little Nobody," but she's hardly a nobody in Hollywood.
In fact, we can't think of much she can't do. The 31-year-old actress has already earned an Oscar nomination, starred in a beloved musical movie series and ruled the Twitterverse with her quips. Now, we're getting more insight into Kendrick with her book of autobiographical essays.
"There was a genuine moment where I kept thinking, 'I'll, like, submit a chapter. And they'll be, like, 'Let's just, like — let's pretend that it was a mutual decision to not go forward,'" she told Sunday TODAY's Willie Geist.
Long before she was sending out tweets, Kendrick was a young actress in Portland, Maine, where she was born and raised.
Her first acting gig? Kendrick appeared in a local production of "Annie" at the age of 6.
And then, her first big break: She found herself on Broadway, playing Dinah Lord in "High Society" and receiving a Tony Award nomination at just 12 years old.
RELATED: Anna Kendrick, James Corden sing 'Soundtrack to a Love Story' — and it's delightful
So much success at an early age, but she'd rather you didn't call her a child star.
"I'll always try to make a joke about it. I'm a little bit on the defense about it. Because it does seem like kind of a dirty word. Like, 'child actor,'" she said.
We think Kendrick has managed just fine, though she joked to Geist that a belated child star collapse is "coming."
We think she's safe.
After starring in the 2007 film "Rocket Science," Kendrick's career soared when she was cast in the George Clooney movie "Up in the Air." In her usual self-deprecating style, she said she initially didn't have high hopes she'd land the part.
"When my agents called me and were like, 'I think they're gonna make you an offer on Monday,' I was like, 'I really don't think they are. But that's really sweet of you to say,'" she said.
When she did get the offer, she joked that she went into "anxiety mode."
"I'm the worst at receiving good news," she said.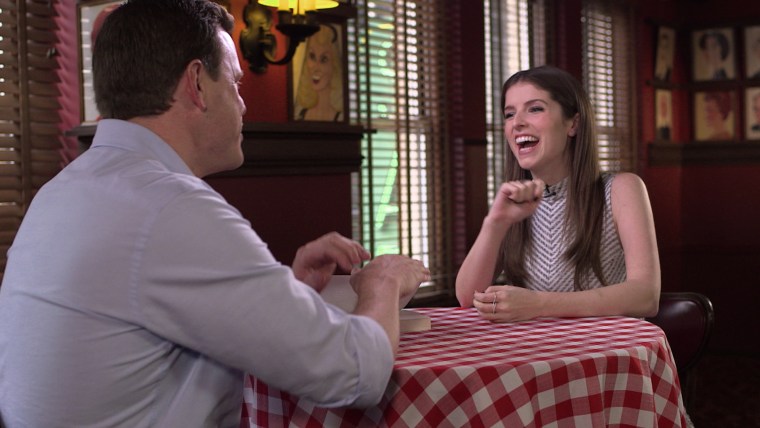 However, Kendrick earned an Oscar nod for her performance in that film, and a few years later, the "Pitch Perfect" franchise took off.
Once again, Kendrick wouldn't let herself get too optimistic.
"I was just hoping that, like, a couple of nerds would really like it," she joked.
It turned out a lot of people really liked "Pitch Perfect" and her version of the song, "Cups," for the movie, which peaked at No. 6 on the Billboard Hot 100.
"I was just like, 'How is this just ha — happening?'" she recalled. "Like, the other people on the charts were, like, Miley Cyrus and Macklemore. And I was, like, they're out, like, promoting."
"Pitch Perfect" continues to hit all the right notes, with a sequel out last year and a third in the works.
RELATED: The Bellas will be back! Anna Kendrick, Rebel Wilson to star in 'Pitch Perfect 3'
She may be waiting for that collapse, but it's all good news for Kendrick these days!
Follow Shane Lou on Twitter.