There are many untold stories about World War II, and until two dedicated women took on the tale of Olympic athlete-turned-World War II POW Louis Zamperini, many had never heard his. 
But thanks to a best-selling book by Laura Hillenbrand and a new movie directed by Angelina Jolie — both called "Unbroken" — that's changing.
Jolie and two of her "Unbroken" stars, Jack O'Connell and Miyavi, joined TODAY's Savannah Guthrie and Tom Brokaw on TODAY Tuesday to talk about the importance of telling Zamperini's story. 
["Unbroken" is a sponsor of TODAY.com.]
Brokaw, who speaks with Jolie Tuesday night on the NBC special "Angelina Jolie: Unbroken," said that while Hollywood is not always the best venue for message movies, this film is special.

"You do want to send a message with this film," he said. "About values, and about a different time in our lives."
Jolie agreed. "We are losing these men and women," she said of the World War II generation. "Their commitment to their community, their family, their faith — it's extraordinary."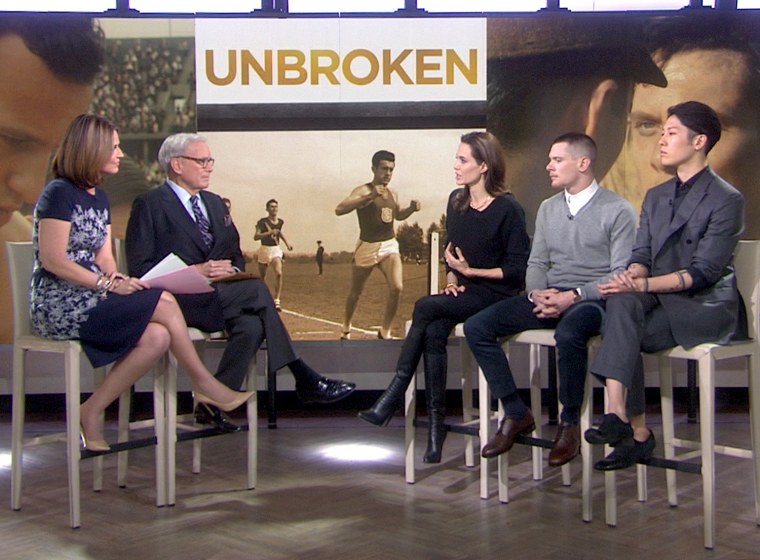 Read how Angelina Jolie was Louis Zamperini's neighbor all along
O'Connell said he had the chance to meet Zamperini before the war hero passed away in July at age 97, and got some advice: to "be hearty."
"Still not sure what it means," O'Connell admitted, "but it helped me carry something anyway through the shoot."
Miyavi, known in Japan as a musician, had a harsher role playing Mutsuhiro "The Bird" Watanabe, a cruel prison camp guard. He was anxious about taking on the role, but was reassured by Jolie.

"[Jolie] said she wanted to create something meaningful which could be a bridge between America and Japan," he said. "This is all about [Zamperini's] message: forgiveness and how strong a human being can be."
"Unbroken" opens Dec. 25. "Angelina Jolie: Unbroken" airs Tuesday at 10 p.m. on NBC.