Angela Bassett took home three honors at last night's 2023 NAACP Image Awards.
Among her awards, Bassett was honored with the entertainer of the year award at the ceremony on Saturday, Feb. 25 at the Pasadena Civic Auditorium in California. When she got on stage, the 64-year-old actor took a moment to reference Ariana DeBose's viral rap from the 2023 BAFTA Film Awards, beginning her speech with, "I guess Angela Bassett did the thing!"
"When I think about my career, I can't help but reflect that oftentimes when I'm seeing the light at the end of the tunnel —  it was often someone there who looked like me with open arms, assuring me that there was a place for me as an actor," Bassett said.
"'What's Love Got to Do with It' was a wonderful moment, but there were other amazing milestones that assured me that I was indeed living my purpose," she added.
Bassett credited film directors John Singleton, Spike Lee, Kevin Rodney Sullivan and "Black Panther" co-writer and director Ryan Cooler, who she said "showed us that we are royalty."
"I'm deeply, deeply grateful," she said. "Gratitude is the universe's way of saying that we are not existing in this world alone. You have each other. I love you, thank you."
Bassett also took home two other prizes during the NAACP Image Awards, including best supporting actress in a motion picture for "Black Panther: Wakanda Forever" and best actress in a TV drama for "9-1-1."
During the event, she was also photographed with Viola Davis, another actor who received a shoutout from DeBose during her BAFTAs rap.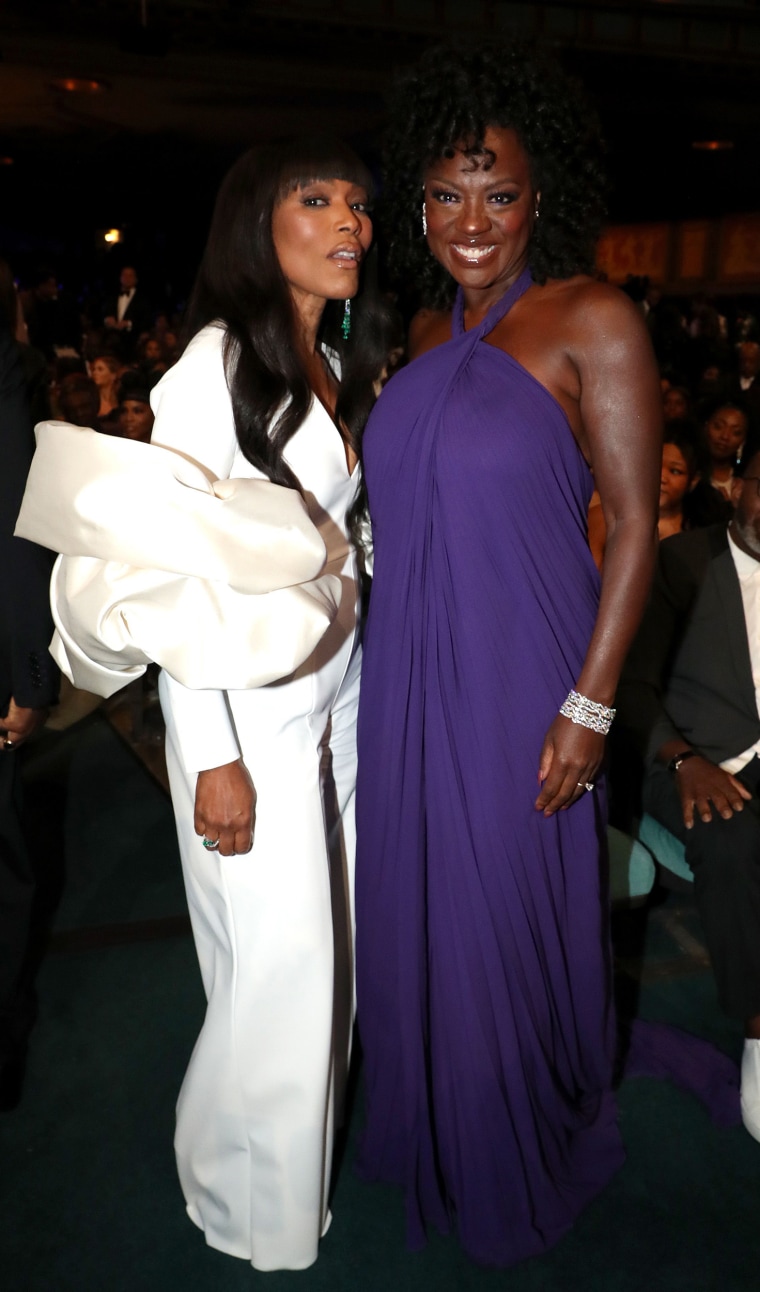 On Sunday, Feb. 19, DeBose opened up the 2023 BAFTA Awards with a performance that aimed to honor all of the women nominees at the ceremony, including the heavily meme'd lines: "Angela Bassett did the thing / Viola Davis, my 'Woman King' / Blanchett Cate, you're a genius / Jamie Lee, you are all of us."
The rap received harsh criticism on social media, which appeared to lead DeBose to deactivate her Twitter account.
However, Bassett shared her support for the "West Side Story" star on the red carpet at the NAACP Image Awards, telling Variety, "I DMed her last night. I did. And it was beautiful. I just wanted to make sure she was okay because it's a lot of attention and she is A-OK."
Jamie Lee Curtis, who also got a shoutout in the rap, shared her support for DeBose with Deadline on the red carpet at the 2023 Producers Guild Awards. The actor said that she was "unclear" about the hate, adding, "For me it was joyous, celebratory, sisterly, hot, spicy, and she's just so incredibly talented."
DeBose broke her silence in the days that followed the viral performance, posting a carousel on Instagram of Lizzo, Adele, and Halle Berry all referencing the meme along with other hilarious social media posts about the moment. In the caption, she simply wrote, "The internet is wild y'all. Appreciate all the love." 
The 32-year-old actor also addressed the controversial performance during an appearance on BBC Radio 2. 
"It's not like I was like, 'Hey BAFTA, let me in!' They actually called me, believe it or not," she explained. "But that was the assignment: come celebrate women. And I was like, 'Absolutely' and we did that and it was fun. I'm not going to lie, I had a blast."