Pam Anderson is making a plea to Siegfried & Roy: Free the tigers. The former Baywatch babe — who is also a staunch animal rights advocate — is spearheading a campaign to have the beasts from the long-running show released into an animal sanctuary.
"I (am) urging the show to use some of the millions of dollars it has made from exotic animals to build a state-of-the-art sanctuary and immediately retire all the animals in the Mirage compound," Anderson writes on her Web site.
She and People for the Ethical Treatment of Animals are helping organize a Free the Animals rally outside the Mirage, where Siegfried & Roy performed, scheduled for this Saturday.
Anderson also scoffs at the notion that the tiger-taming duo have helped protect endangered white tigers: she says they're not endangered, and in fact, are not even a species.
"All captive white tigers are inbred and many suffer from serious congenital defects, including cataracts, club feet and near-crippling hip ailments," she writes. "They are simply bred to bring in money-spending curiosity seekers, such as Vegas tourists."
'Scrub' the spill
Looks like "Scrubs" star Donald Faison doesn't enjoy the prospect of scrubbing his pants.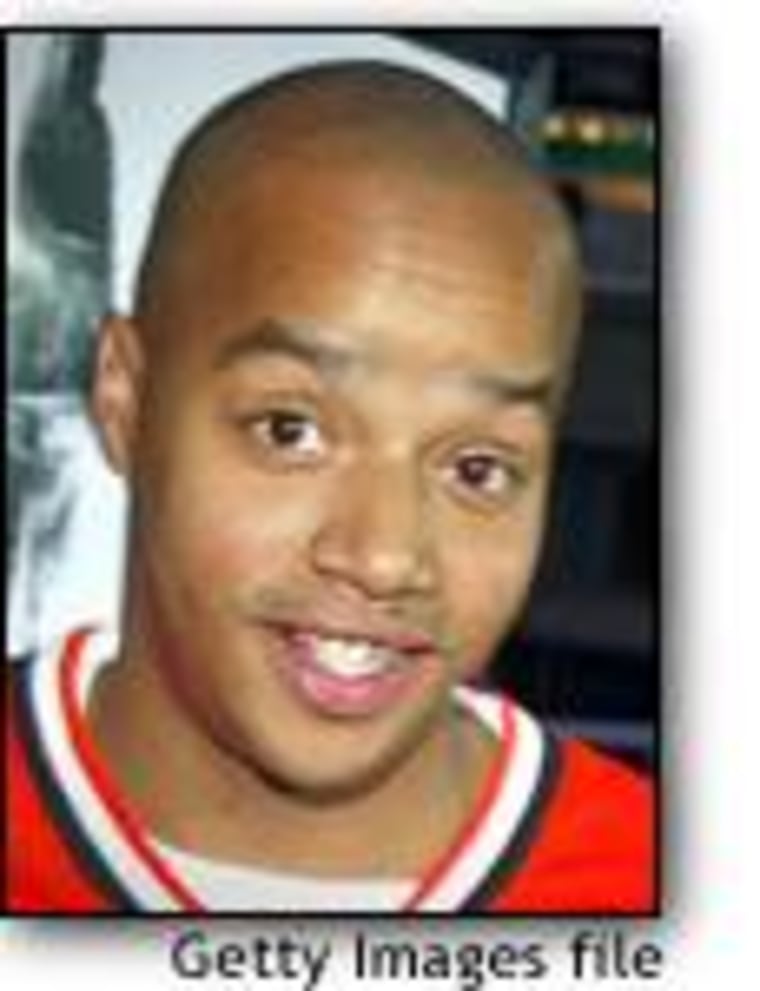 The hunky actor from "A Big Fat Liar" got into an "ugly altercation" with some other patrons at Los Angeles restaurant The Lounge when someone spilled a drink on his britches. "Whoever spilled the drink was up on the balcony, and Donald Faison went ballistic," says our source. "He ran up stairs and was very confrontational. He kept pointing to the spot on his pants and got in peoples' faces. He kept demanding to know who spilled it. He was shouting and using the F-word. It was pretty startling."
A spokeswoman for the star insists there was no altercations and no shouting. "Donald has never been a fight verbally or physically in his entire adult life," she says. "Someone spilled his drink on him and he went upstairs and was like, 'hey, who spilled a drink on me?' and it was like, no problem."
Notes from all over
Ben Affleck reportedly doesn't want his L'Oreal commercial to be seen in the U.S. Luckily for his fans here, technology makes it possible. . . . Michael Jackson's former Rabbi buddy is skeptical of Madonna's obsession with Kabbalah, calling it a "publicity stunt." Jewish cleric Shmuley Boteach, who was a buddy and promoter of Wacko Jacko before they had a falling out, told the London Sun: "Dependence on depraved pop cultural icons to make it appeal to the masses is a sign of desperation." . . . Sharon Osbourne isn't shy about discussing her plastic surgery. The talk show host shared with her audience the extent of her tips and tucks: "I had my face lifted, my neck lipo'd, my old bum lifted 'cause it was kind of down here somewhere, I had my arms lipo'd, my hips lipo'd, a tummy tuck, a leg lift — I bet none of you have heard of a leg lift. It's like pulling up a pair of socks, that's what they do to your skin. I had my boobies lifted 'cause I looked kind of like Miss National Geographic 'cause they were like down here. So anybody who wants to know anything about plastic surgery, just call me, OK, 'cause I know everything."
Jeannette Walls delivers the Scoop Monday through Thursday in MSNBC Entertainment.