In her "Saturday Night Live" debut, Amy Schumer took on gun enthusiasts in a parody PSA that emphasized the comedian's recent commitment to anti-gun legislation.
The skit, simply entitled "Guns," depicts an exaggerated world where guns are extremely common.
Featuring a father presenting a handgun to his newborn, a group of teens playing spin the bottle (with a gun instead of a bottle) and a jogger running with a handgun — and firing it into the air.
"They unite us, comfort us, bring us strength," the narrator says as Schumer's character cuddles her boyfriend in bed, gun in hand. The skit ends with the tagline: "Guns. We're here to stay."
WATCH: Amy Schumer opens up on 'Daily Show' after gun control speech
In August, Schumer joined her father's cousin, Sen. Chuck Schumer, to announce a bill that called for tighter gun background checks. The conference took place less than a month after a gunman fatally shot two women and injured nine others before killing himself at a screening of Schumer's movie "Trainwreck" in Lafayette, Louisiana.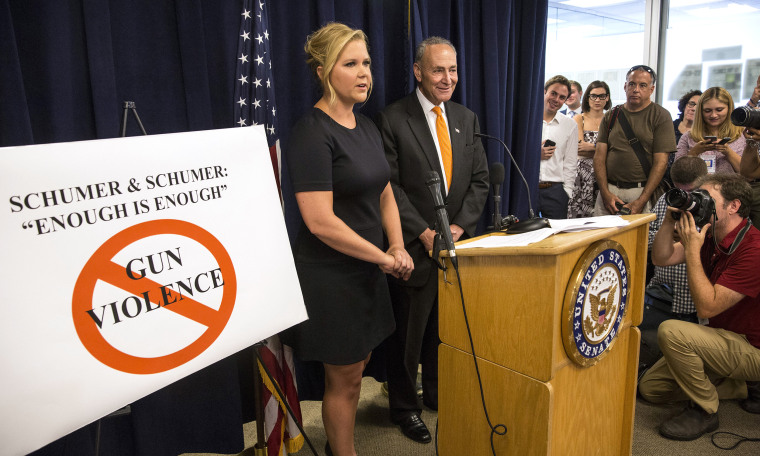 "These are not extreme ideas," Schumer said during the August press conference. "No one wants to live in a country where a felon, the mentally ill or other dangerous people can get their hands on a gun with such ease."
Also in August, Schumer spoke further about her feelings on the shooting with then-"Daily Show" host Jon Stewart.
"I was like, legit heartbroken," she said. "To hear that news, it broke my heart ... It was so horrible."
She added, "The second this happened, you want to act. I wanted to go down there and do whatever I could."