Two days after responding to an essay pleading for advocacy against gun violence, actress Amy Schumer joined her father's cousin, Sen. Charles Schumer, at a Monday news conference to address the issue.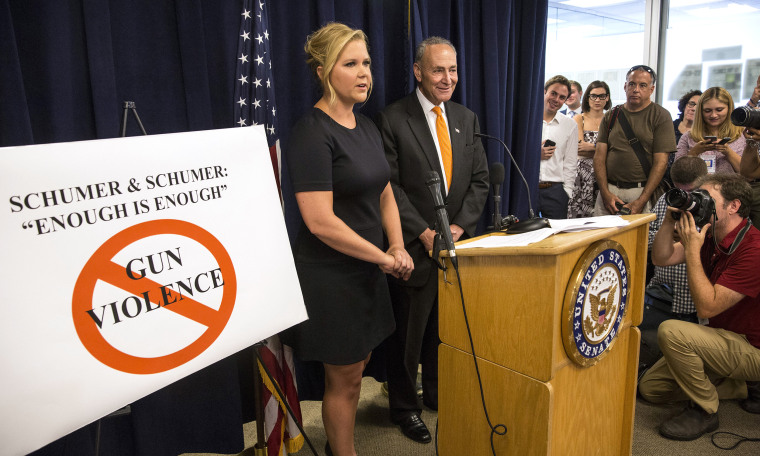 "These shootings have got to stop," said the actress, whose movie "Trainwreck" was playing at a Lafayette, Louisiana, theater where gunman John Russell Houser fatally shot two women and injured nine more before killing himself on July 23. "I don't know how else to say it."
She joined the New York senator in announcing a bill that, according to NBC News, would:
Reward states that submit records on felons, spousal abusers and the mentally ill to the federal background check system;
Penalize states that don't;
Encourage the Justice Department to survey states to determine which have the best standards for involuntary commitment to mental health facilities; and
Restore proposed Congressional cuts to mental health programs.
"These are not extreme ideas," she added. "No one wants to live in a country where a felon, the mentally ill or other dangerous people can get their hands on a gun with such ease."
Her father's cousin agreed. "How many breaking news flashes will it take for Congress to act?" Charles Schumer said. "How many tears? How many lives lost?"
Two days earlier, the actress told her Twitter followers that the two women who had been gunned down in Lafayette had been on her mind.
"I think about [Mayci Breaux] and Jillian [Johnson] everyday," she tweeted, replying to someone who'd linked to an open letter by activist Sarah Clements, who called for the actress to take action.
Posted Friday on the blog Medium, Clements' letter pleaded with Amy Schumer to continue to speak out about issues surrounding the Lafayette tragedy.
"All of this may seem like it's playing out on your computer  —  a safe world away from where you live and work in Hollywood," Clements wrote. "But as a woman, a daughter and sister, a national figure, and a role model, you have a real stake in gun violence happening all around you."
Within hours of the Lafayette shooting, Amy Schumer tweeted that her "heart is broken," adding, "all my thoughts and prayers are with everyone in Louisiana."
Clements' letter hailed the actress as a "strong, powerful, self-aware champion for the experiences and truths of being a woman and an American today" — and asked for more.
"I know deep down that the tweet you sent after the shooting was not all that you've got," Clements wrote. "And we need your voice in this movement. We need your help."
In what could be seen as a response to this request and a reference to Monday's news conference, Schumer ended her Saturday tweet with, "Don't worry I'm on it. You'll see."
Sunday on Twitter, Clements thanked Schumer for her initial response, and asked her to mention the issue when she appears as a guest on Monday's episode of "The Daily Show."
At the Monday press conference, staged prior to the broadcast of her "Daily Show" episode, Amy Schumer mourned the victims of gun violence.
"I was heartbroken when I heard about Columbine and Sandy Hook and Aurora and so many other names of places that are seared into our memories, and I was heartbroken again when I heard about Lafayette," she said Monday. "And I still am."
Clements thanked Schumer for her words and actions Monday.
"I just wanted to thank you again for reading my piece, for remember Jillian and Mayci, and for being on it — for promising that this is only the beginning," Clements said in a video posted to her Twitter account. "You could have prayed, and moved on, but raised your voice instead."
It's an issue that hits home for Clements, whose letter stated that her mother survived the December 2012 shootings at Sandy Hook Elementary School in Newtown, Connecticut.
"Six of her colleagues  —  all women  —  were killed, as were 20 first-graders," Clements wrote. "After the shooting, I dedicated my life's work to gun violence prevention, and what I noticed immediately was that women are taking the reins in the movement."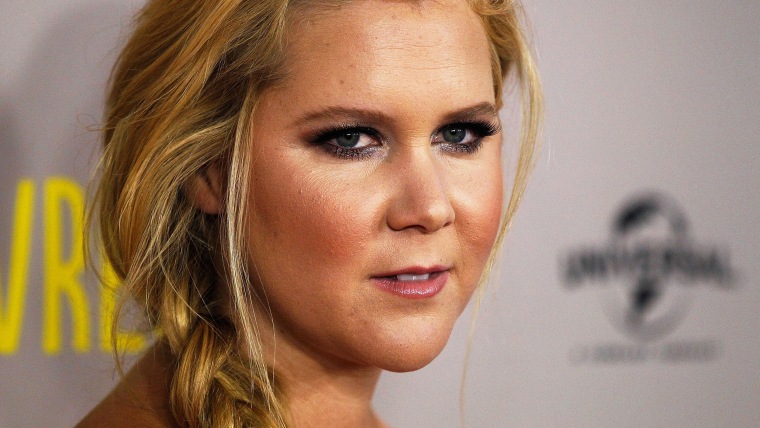 The letter-writer acknowledged that the most recent season of Amy Schumer's Comedy Central series also touched upon the issue. In a sketch that first aired in May, the actress' character finds it far more difficult to obtain birth control than it is for a boy to acquire a gun.
In her letter, Clements wrote that she wants to shut down ideologies that contribute to the harassment of women online, as well as combat "anti-feminism and anti-women ideals, the over-idolization of firearms and fetishization of what they stand for, and the easy access to guns." Citing the advocacy of comedians Sarah Silverman and Kristen Schaal, she encouraged Amy Schumer to "demand change" by being a "voice for our generation and for women  —  two groups who make up most of the victims of the gun violence in our country."
Clements' letter concluded, "As you said and as I've learned, what truly matters in life is how you decide to write your own story. And in doing so, don't apologize to the frightened millions who resent that they never had it in them to do it. Instead, show them it can be done."
Follow TODAY.com writer Chris Serico on Twitter.