Amy Schumer is extremely funny. But as she notes in her new stand-up show for Netflix, "The Leather Special," according to showbiz experts often another "f" word applies.
"I'm what Hollywood calls 'very fat,'" People magazine reports the comedian jokes during her Netflix special, which premieres Tuesday.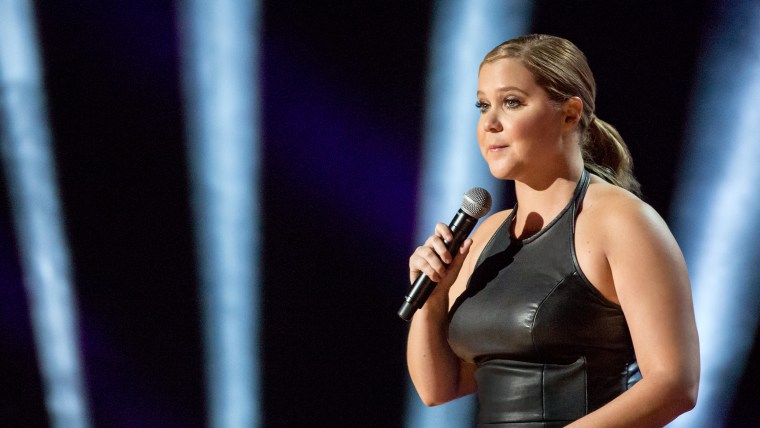 Before she began shooting 2015's "Trainwreck," the 35-year-old was advised to drop a few pounds.
RELATED: Amy Schumer gets emotional talking about body image, empowerment on TODAY
"Somebody like explained to me, 'Just so you know, Amy, no pressure, but if you weigh over 140 pounds, it will hurt people's eyes,'" she quips. "I just bought it. I was like, 'Okay, I'm new to town. So I lost weight."
But she had a revelation after losing weight: she didn't think it improved her look.
Instead, she says, "I look very stupid skinny. My dumb head stays the same but then my body, like, shrivels and [I] just look like ... a Thanksgiving Day parade [balloon] of Tonya Harding ... Nobody likes it. It's not cute on me."
So, after she finished making the movie, she happily gained the weight back — and with it came the wisdom of experience (and the guts to go on stage in a leather outfit).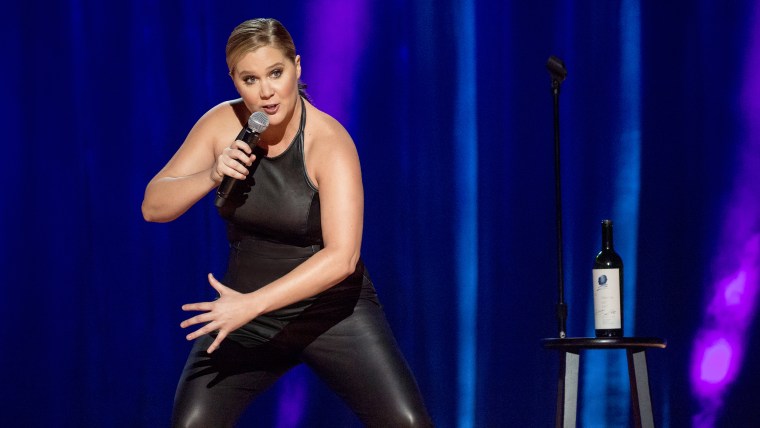 "I got worried because it gets in your head — just everything on television and movies and magazines and the internet," she says. "I'm like, 'Oh, my god! Are men still going to be attracted to me?' And that's when I remembered ... they don't care."
RELATED: Amy Schumer buys back the farm her family lost — and gives it to her dad
Despite her joking, clearly Schumer does take her message seriously; ahead of the premiere she posted this earnest message to her fans on Instagram:
For now, says Schumer in the special, she has a new outlook on health, and body size. "I feel very good in my own skin," she says in the special. "I feel strong. I feel healthy. I do. I feel sexy."
Follow Randee Dawn on Twitter.