Before Amy Poehler co-hosted three hilarious Golden Globes Award shows with pal Tina Fey, before she led the way on the hit sitcom "Parks and Recreation," and even before she gained fame on "Saturday Night Live," she helped carve out a comedy troupe that's still going strong today.
In honor of 25 years of the Upright Citizen's Brigade, Willie Geist sat down with founding members Poehler, "Veep" star Matt Walsh and fellow actor-comedians Matt Besser and Ian Roberts for a chat about how far they've come.
"We always had a big picture idea of us working together and big dreams, but to be honest, it was small little steps," Poehler said of the early days.
And they were lean days for the gang, too.
"I couch hopped," Walsh recalled. "We were legit poor."
"I was still a waitress for a long time," Poehler added. "I remember the day that I quit waiting tables and thinking, 'OK ... comedy is going to now be what I do for a living. Wow!'"
By 1996, they were able to afford a theater of their own in NYC (what Poehler described as a former "gentle burlesque house"). And by 1998, they had their own show on Comedy Central.
But the true mark of UCB's success comes from the talent that's come up from their ranks, including the likes of "SNL's" Kate McKinnon and Sasheer Zamata, as well "Unbreakable Kimmy Schmidt" star Ellie Kemper.
"It's the best thing about it — that our name is associated with great talent," Poehler insisted. "In no way are we taking credit for that talent, but we feel like we provided an environment for that. ... It's just so cool!"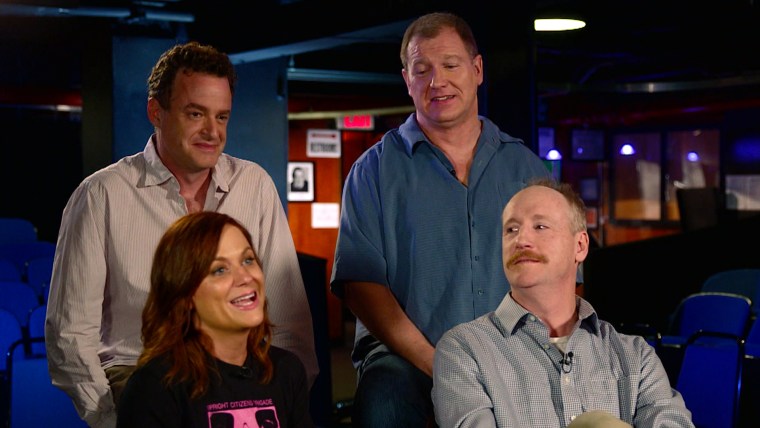 If you're in NYC, you'll have plenty of opportunities to see some of that talent this weekend. Starting Friday night, UCB will kick off 72 hours of solid improv.
Follow Ree Hines on Google+.