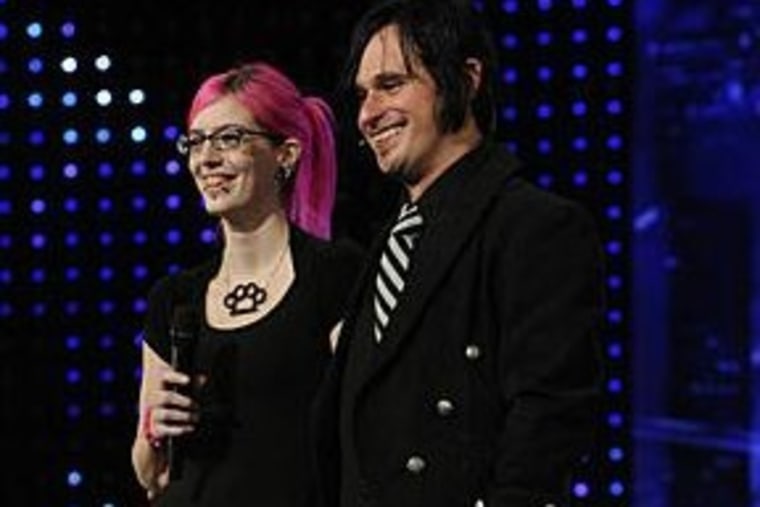 You really gotta love Austin, Texas.  Even their worst acts are awesomely funny! Who'd have guessed that a circus act involving chainsaws, apples and a girl with pink hair could end up providing the biggest laughs of the night on "America's Got Talent"?
Enter Doppleganger Circus Sideshow.  He's 36, she's 23.  They don't tell us their names but say they met at a goth club and quickly discovered they "had a lot of same interests." Turns out, those interests involve jamming an apple into the girl's mouth and carving it with a chainsaw.
 At first it looks like this guy if going to chop off her tongue -- but nerves quicky turn to laughter at the end of the trick when the girl comes down with a case of lockjaw!  Really.  We wouldn't make this up.
 The medics are called and their chances of advancing are immediately dashed.
Controversy! Soldiers say Tim Poe is a fraud
"(The lockjaw) was the funniest part of this," judge Howard Stern said."If I were this girl's parents I would get her away from him so quick."
 And on we go to the real talent of the night:
Aurora Light Painters, 38 - 46 (Performance Artists)
This is one of those things you just have to see to really appreciate.  A group of six artists from San Francisco use colors lights as paint brushes and project their images onto a giant screen.  Howie Mandel quickly notes that this act is kind of like a cross between two of last season's finalists -- Team iLuminate and The Silhouettes.
 "I have never seen anything like this," Howard praised. "I like the originality."
 These guys could give some competition to one of our favorite acts from Tuesday night, sand artist Joe Castillo.  
Eric & Olivia, 20 (singer and guitarist)
Howard won't let them do their bluesy acoustic cover of "Moves Like Jagger," first dealing with the question on everyone's mind:  is their relationship, um...strictly business?  Well yes it is, the University of Texas students explain. Then the drama. Howie Mandel said they belong in a lounge and votes not to send them through. Luckily, Howard and Sharon Osbourne are there to avert disaster and the un-couple are passed through to the next round.  As Howard reminds them:  "What happens in Vegas..."
Andrew De Leon, 19 (Opera singer)
He looks like Marilyn Manson -- but sings like Jackie Evancho!  Where do they find these people?
 Andrew -- who is dressed all in black with spike dog collar-like wrist bracelets -- said he has always felt alienated and out of place.  "I was never interested in athletics or what everybody else in my family was interested in," he tells the judges.  "Singing was always an escape."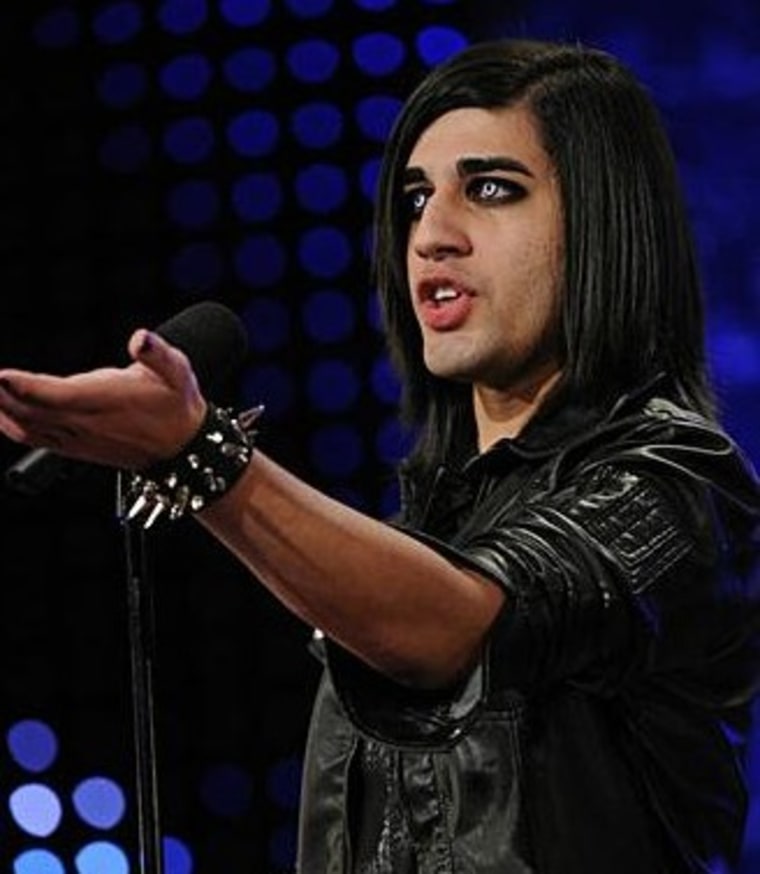 But he's self taught and has never sung for anyone before. (Unless you count the multiple rounds of auditions for producers and casting folks).
 Anyway, he turns out to be a real rock star -- or as much of a rock star as an opera singer can be. "I think my days of being shy and being an outcast have reached an end," he said. The judges agree.
"I am desperately in love with you now," Sharon said. 
"All these years, you never let the world see who you are or what you are." Howie added. "And it is not that you are good at anything.  You are great!"
Which act caught your eye on Tuesday night? Tell us on Facebook!
Related content: