Taya Kyle, the widow of the Navy SEAL who inspired the movie "American Sniper," came to Sunday night's Academy Awards ceremony to represent her husband Chris, and opened up to TODAY's Al Roker about how she's coping these days.
"I'll be honest with you: I had nightmares last night, and I woke up today really trying to get out of a funk, and not cry the whole way here," she told Roker on the Oscars red carpet, where she was spotted carrying dog tags with her clutch. "I miss my husband, and I want him here."
Kyle, who described her experience at the Oscars as "surreal," talked about the film based on her husband, and the effects war can have on families.
"It's not just our story; it's every veteran's story," she said. "People have been relating to it so much, as well as healing. We're hearing stories of couples who were in combat 30 and 40 years ago, who are walking away [from the film], opening a dialogue they haven't been able to open before. So, I think it's just an honor to be able to help in some way, and have it be more than just our story."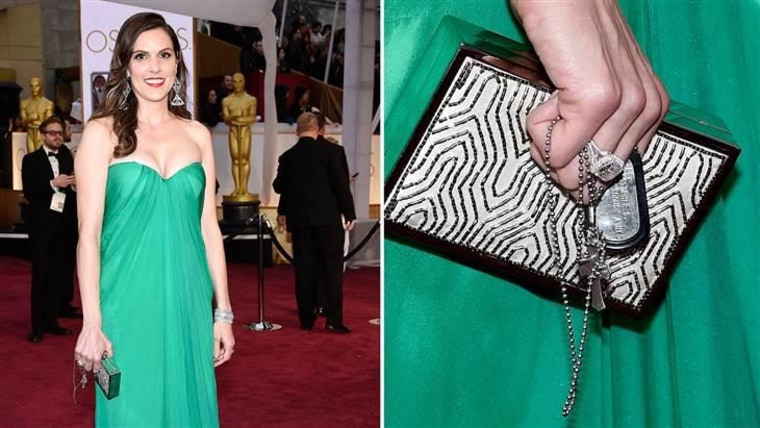 When Roker noted that war's impact on veterans and their families can last for years, Taya Kyle added that recurring tours of duty can make circumstances even more difficult.
"It just gets to be really complicated on many different levels," she added, emphasizing the importance of programs that help military families heal. "If they can keep their family together, their support system will keep them in a much better place."
Hours before the ceremony, she expressed similar sentiments on her husband's public Facebook page. "So, I am always real with you," she wrote Sunday afternoon. "Today is no different. ... I am on a balcony trying to get some fresh air and taking advice of friends to just breathe."
Kyle told TODAY the trial has taken a toll on her these past two weeks. Back in her home state of Texas, Eddie Ray Routh faces murder charges for shooting and killing her husband and their friend, Chad Littlefield, at a gun range two years ago. Prosecutors and defense attorneys agree that Routh killed Chris Kyle and Littlefield, but Routh's lawyers are pleading not guilty by reason of insanity. Closing arguments are expected Monday or Tuesday, and jurors will be asked to determine Routh's intent.
"I know I'm not supposed to talk about it, [but there are] just details that are horrific and hard to listen to, but I have faith in the jury and I think they'll come to the right conclusion," she told Roker.
On her Facebook page, Taya thanked Warner Brothers — the studio behind "American Sniper" — for their support, which included airplane fare, an evening gown, jewelry and shoes for Sunday's event. "Turns out they are like the fairy GodMother for a regular woman who has kids, a murder trial for her beloved and dear friend," she wrote. "[I] am honestly exhausted."
Adding she doesn't like "whining," she acknowledged "blessings" and thanked her supporters. At the Oscars, she'd planned to "represent my husband, military families and the beautiful people who put more than they had to to make this movie happen," then board a red-eye to Texas for the remainder of the trial.
"It's by the Grace of God and the support of people like you who literally give me the energy to get out of bed each day and see the beauty through the ashes of my life," she wrote. "I hope the same for all of you."
She ended her post with, "God Bless you all," "United We Stand," and a reference to Micah 6:8, a Bible verse that encourages followers to "do justice, and to love kindness, and to walk humbly with your God."
Follow TODAY.com writer Chris Serico on Twitter.
This article was originally published Feb. 23, 2015 at 5:29 p.m. ET.